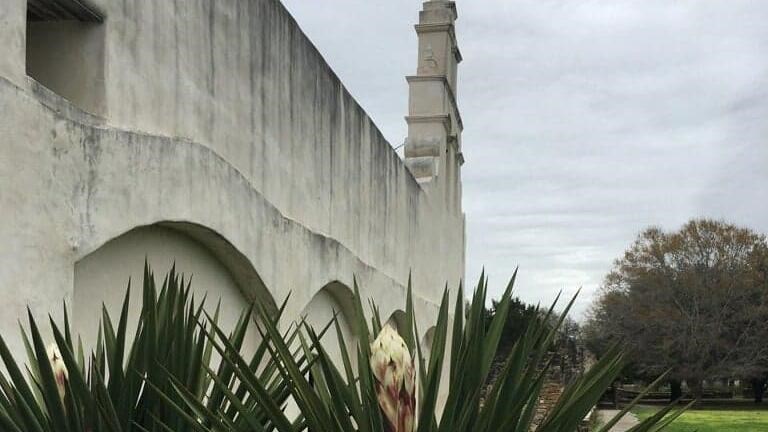 Significance:
Historic acequias and farm fields
Designation:
UNESCO World Heritage site
Accessible Rooms, Accessible Sites, Benches/Seating, Bicycle - Rack, Bicycle - Rental, Bus/Shuttle Stop, Cellular Signal, First Aid Kit Available, Historical/Interpretive Information/Exhibits, Information, Information - Maps Available, Information - Ranger/Staff Member Present, Internet/WiFi Available, Parking - Auto, Picnic Table, Public Transit, Recycling, Restroom, Restroom - Accessible, Toilet - Flush, Trash/Litter Receptacles, Water - Drinking/Potable, Wheelchair Accessible, Wheelchairs Available
Originally founded in 1716 in eastern Texas, Mission San Juan was relocated in 1731 to its present location along the banks of the San Antonio River. This church, although smaller than the churches found on the mission sites to the north, still represents one of the most dramatic changes that indigenous people undertook as they moved from their traditional way of life to that of being a citizen of Spain. Walk the mission grounds and visit the church and park museum. Explore the Yanaguana Trail, a paved 1/4 of a mile loop trail that takes you to an original stretch of the San Antonio River. South of the mission behind the tree line, you will find historic farm fields that are still in use today. Follow the acequias, or irrigation ditches, that still carry water from the San Antonio River to the mission fields.   

Mission San Juan is part of the World Heritage Site. To check out the audio tour visit: San Juan Audio Tour (worldheritagesa.com)

Explore the Missions 
On June 13, 1691, A Spanish expedition of Govenor Teran de los Rios, first governor of the Spanish province of Texas, and Franciscan Priest Damien Massanet were en route to East Texas when they stopped in the area of  Mission San Juan and met the Payaya tribe. It was on the feast day of San Antonio de Padua and so they named the river the San Antonio River.
Mission San Juan was originally founded in East Texas, not far from Cushing, and named Mission San Jose de los Nazonis, an indigenous group. The French pushed the Spanish out o East Texas requiring the mission to move to its current location. They moved supplies and renamed the mission San Juan Capistrano. The name was changed because there was already a Mission San Jose along the San Antonio River.   
In 1756 the mission was home to 265 indigenous people and the first stone church with sacristy, granary and convento were completed.  The mission would build and complete two churches with a third church never being finished. The second and current church was completed in 1772.  The third church was built beginning around 1775 and would accommodate a growing population. The church was never complete because the mission population declined.    
The mission was partially secularized in 1794 and fully secularized in 1824 by Mexico.   
Bicycle Information 
Please walk bikes on sidewalks inside the missions. 
The bike rack is located near the mission entrance. The San Antonio Bike Share docking station is located NW of the mission.   
Last updated: November 1, 2022