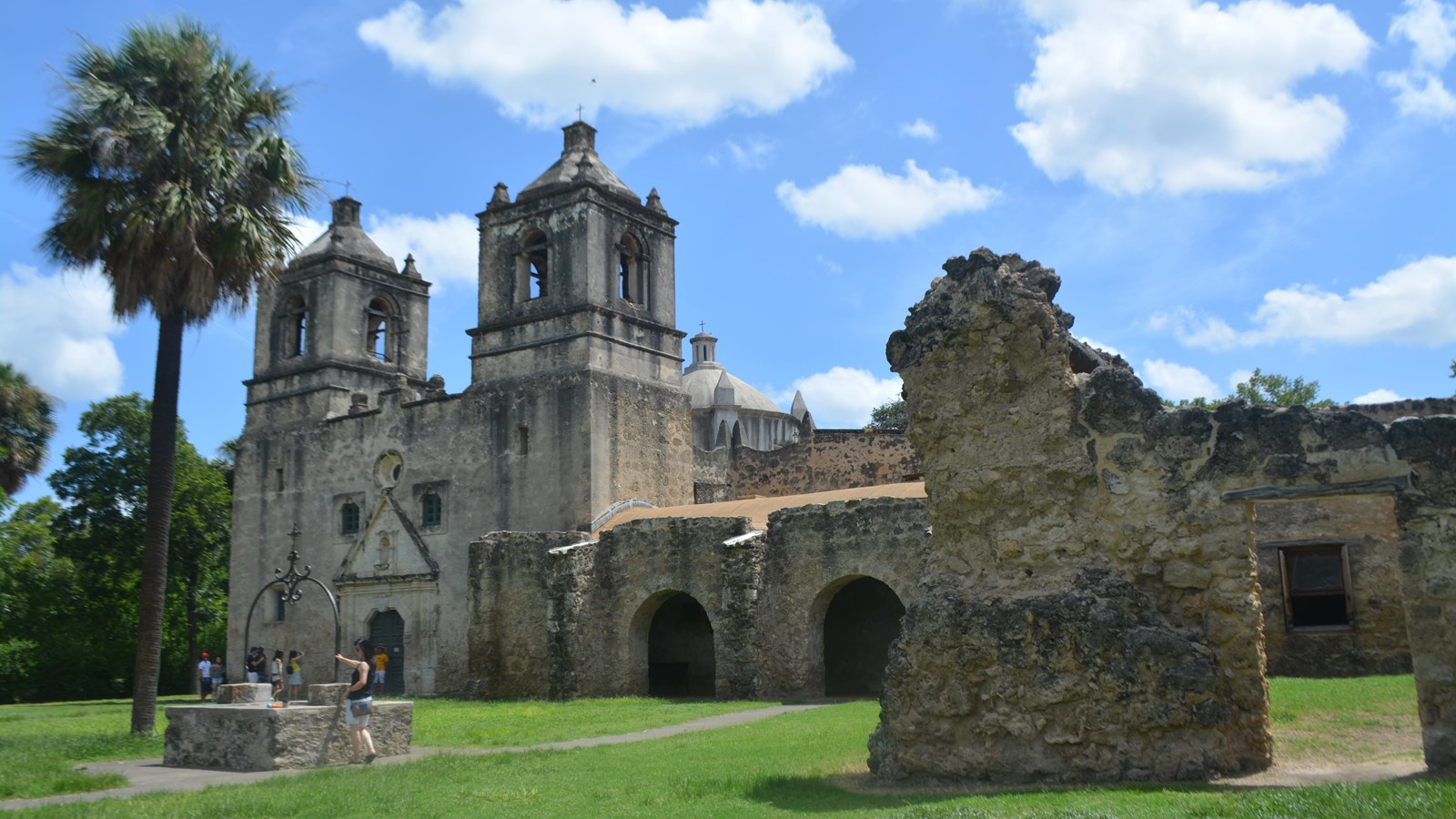 Location:
807 Mission Road
Significance:
One of the oldest unrestored stone churches in the United States
Designation:
UNESCO World Heritage site
Accessible Rooms, Accessible Sites, Benches/Seating, Bicycle - Rack, Bicycle - Rental, Bus/Shuttle Stop, Cellular Signal, First Aid Kit Available, Historical/Interpretive Information/Exhibits, Information, Information - Maps Available, Information - Ranger/Staff Member Present, Internet/WiFi Available, Parking - Auto, Picnic Table, Recycling, Restroom, Restroom - Accessible, Restroom - Family, Toilet - Flush, Trailhead, Trash/Litter Receptacles, Water - Drinking/Potable, Wheelchair Accessible, Wheelchairs Available
Originally founded in 1716 in eastern Texas, Mission Concepcion was relocated to the present site in 1731. The thick weathered church and convento (priest's residence) walls and roofs of Mission Concepcion still stand tall 250 years later making the church one of the oldest unrestored stone churches in the United States. If you look closely at these faded walls, you will find remnants of their colorful past. Colorful geometric designs covered the church inside and out. The exterior frescos have long since faded or worn away but frescos are still visible inside the buildings. There are several rooms in which to see the remaining frescos, the most famous being the "Eye of God" located on the ceiling in the library. Explore the convento, the limestone quarry, and the church. As you explore the convento look on the ceilings and walls for the surviving frescos. 

Mission Concpecion is part of the World Heritage Site. To check out the audio tour visit: Concepción Audio Tour (worldheritagesa.com)
Explore The Missions
The church, convento, and quarry are all that remain. Mission Concepcion during the mission period would've been a walled compound. The walls were originally completed in 1745 following with the completion of the church in 1755. The walls were later deemed insufficient and were rebuilt with living quarters along the walls in the early 1760's. Explore the four rooms in the convento: the store room, the porteria, the library, and the refectory (dining hall).   
The quarry is located in front of the church near the parking lot. The tuffaceous limestone here was quarried and used for building the mission structures. The limestone was also used to make mortar and plaster.   
Mission Concepcion was home to the Father President of the  
College of Querétaro. The Queretaro Father President was in charge of the three Queretaro missions in San Antonio: Mission Concepcion, Mission San Juan and Mission San Antonio de Valero. The mission was partially secularized in 1794 and fully secularized by Mexico in 1824.   
Bicycle information
Please walk bikes on sidewalks inside the missions. 
The bike rack is located in the parking lot median. The San Antonio Bike Share docking station is located at the corner of Mission Road and Felisa. 
Last updated: January 29, 2021