Place
Lost Spring Station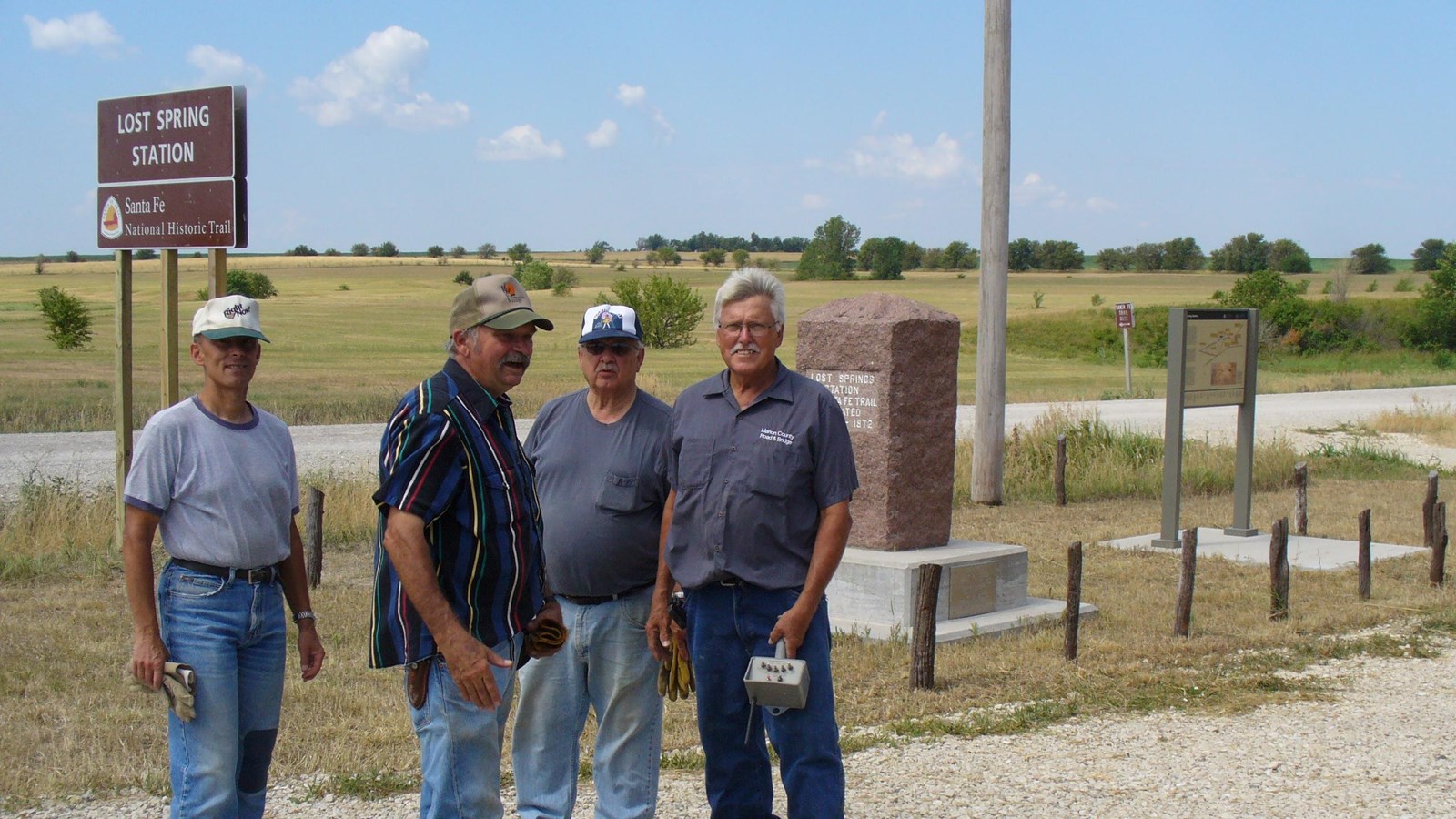 Location:
From the Town of Lost Springs, KS, go west on 340th St approx. 2.4 miles.
Significance:
Site of road ranche, mail stage station, and post office on the Santa Fe Trail.
MANAGED BY:
The Shields Family Trust
The "original" Lost Spring is located on Lyon Creek, approximately ¾ mile east and ½ mile north of the Lost Spring Station site, and is inaccessible to the public. In 1859, George Smith established a road ranche in Sec. 20 about a mile to the southwest of the "original" Lost Spring, but soon lost it in a poker game to Jack Costello. Not long after, Costello acquired a partner in the station, Thomas Wise. The road ranche was a station operated for the contractors transporting mail between the Missouri River and Santa Fe. The station, which was located close by this site, included a hotel, and provided meals, supplies, and a place of entertainment for travelers.

The station gained a reputation for catering to the rougher element including visitors such as "Bloody" Bill Anderson in 1861 (who later became notorious as Quantrill's lieutenant). There are numerous legends about events that supposedly occurred at Lost Spring Station, but few can be confirmed with primary documentation. A US Post Office named Lost Spring was operated at the station 1861-1864. 

Activity on the Santa Fe Trail between the Missouri River and the Great Bend of the Arkansas River greatly diminished in 1866 when the railroad reached Junction City, Kansas. Costello sold out to Wise in 1868. Wise and Costello were active in establishment of the Town of Marion and organization of the County of Marion. 
The station took its name from its proximity to the "original" Lost Spring on Lyon Creek a mile to the northeast. Over the years, however, the spring a few yards northwest of the station on Cress Creek came to be known as "Lost Spring" because of its proximity to Lost Spring Station. In 1908, the Marion County Old Settlers organization and the Shields family erected a large granite marker to commemorate the station. A blue and white metal sign at the site contains misleading information about the site, but a new historic interpretive sign was erected adjacent to the granite monument in 2010.
Site Information
Location (From the Town of Lost Springs, KS, go west on 340th St approx. 2.4 miles.)
Last updated: January 15, 2023