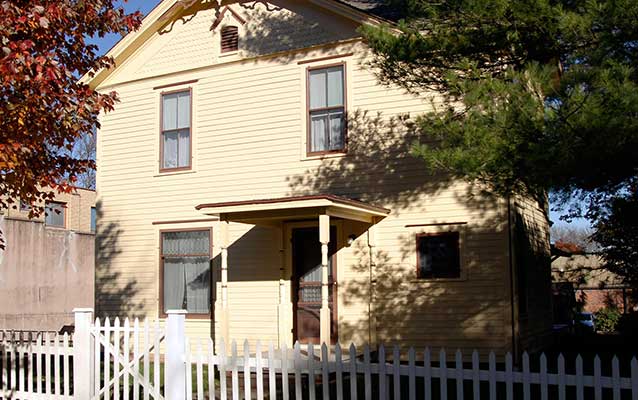 Quick Facts
Location:

West Branch, Iowa

Significance:

Part of Herbert Hoover National Historic Site

OPEN TO PUBLIC:

No
This yellow, two story L-shaped structure with the offset porch was built sometime between 1869 and 1872. Cedar County Deed Records show that in 1875, Laban Miles purchased the home at 113 S. Downey Street for $2,250.00. In 1870, Miles had married Hulda Hoover's younger sister, Agnes Minthorn, just five days after Hulda and Jesse Hoover were wed. Now they were settling down with a family of their own.
Hoover & Miles Family Ties
There was much visiting back and forth between the Miles and Hoover homes, and the two families became close friends. The short walk on Downey Street often brought the Hoover children, Tad, Bertie, and Mary, together with their cousins for playtime or a shared pot of soup that had spent the day simmering on a wood stove. But their time together was short-lived.
Service As An Indian Agent
In the spring of 1878, President Rutherford B. Hayes appointed Miles to serve as an agent responsible for the care and education of the Osage and Kaw tribes in the Oklahoma territory. When Laban, Agnes and their children left that summer, they rented their home first to the Methodist Church for a parsonage, and then to Dr. L.J. Leech, a well-known and respected physician in West Branch.
Adventures In Indian Country
But the ties between the Miles and Hoover families remained strong. Following Jesse Hoover's death, Laban Miles asked Hulda if his nephew could come to live with them on the Osage reservation. In 1882, eight-year-old Herbert spent eight months there with his aunt, uncle and cousins. For the future President, they were memories that lasted a lifetime.