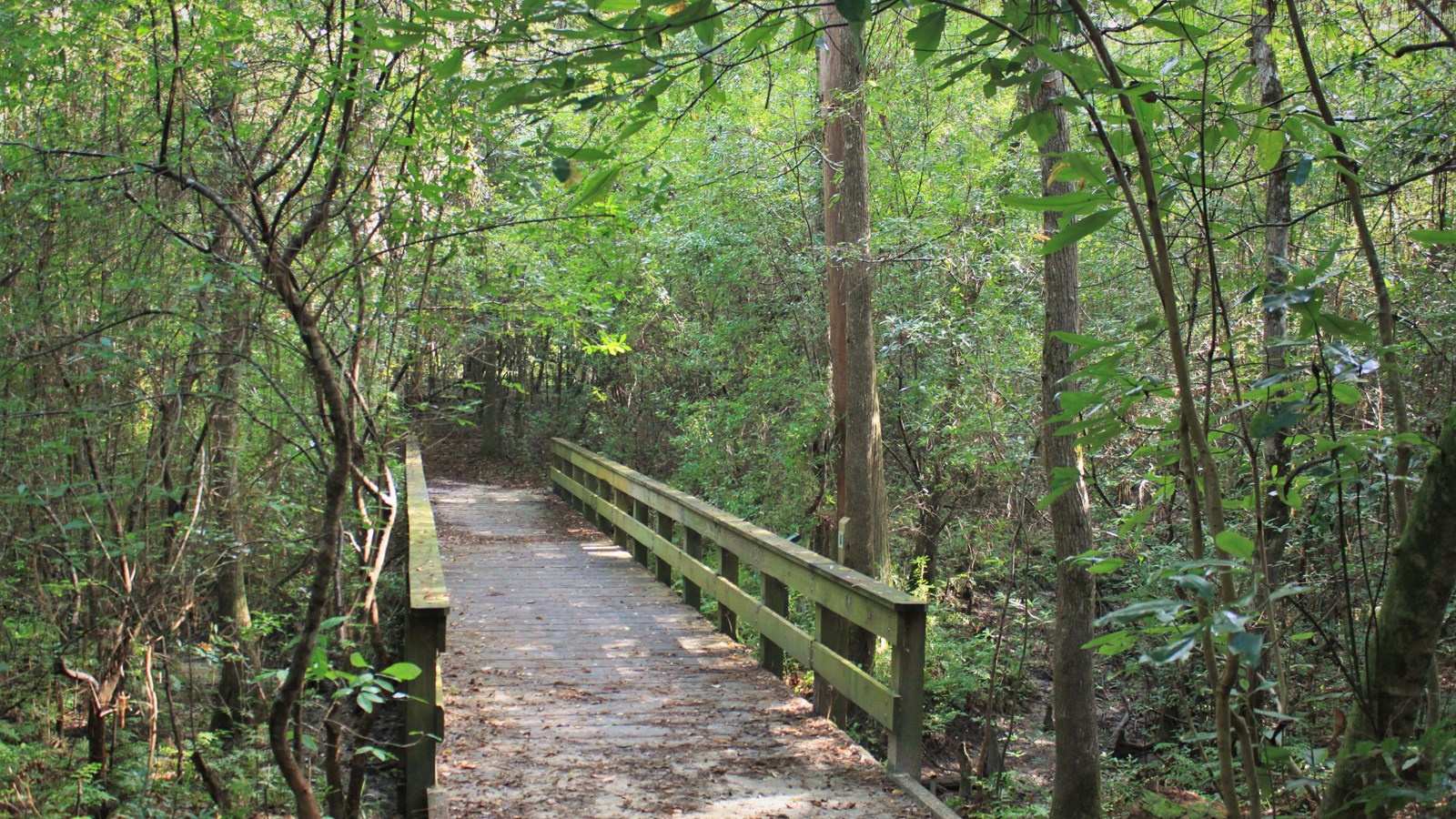 Benches/Seating, Historical/Interpretive Information/Exhibits, Information Kiosk/Bulletin Board, Parking - Auto, Pets Allowed, Picnic Table, Restroom, Restroom - Accessible, Toilet - Vault/Composting, Trailhead, Trash/Litter Receptacles, Wheelchair Accessible
The Hike
Experience the biodiversity of the Big Thicket on the Kirby Nature Trail. This is a great place for first-time visitors and experienced naturalists alike. Life is abundant in this neck of the woods, with grand, old cypress trees, swampy baygalls, dense forest, and the tranquil waters of Village Creek.

The inner loop is 1.5 miles, with an additional (highly-recommended) 0.3-mile loop to see the cypress trees and knees. The outer loop is 2.5 miles and encompasses most of the inner loop's scenery, plus a little extra.

The 17-mile Turkey Creek Trail begins on the north side of the Village Creek Bridge, across from a picnic area on the Kirby outer loop.
Getting Here
GPS Coordinates:
30.462038, -94.350882

The trailhead is on FM 420, about 8 miles north of Kountze. From US 69/287, head east on FM 420 for 2.5 miles. Follow the signs to the parking area. The trail begins next to historic Staley Cabin.
Accessibility
Staley Cabin and the first ¼-mile of the loop (going clockwise) are wheelchair-accessible, with a downhill grade. The path from the parking lot to Staley Cabin is a mixture of pavement and wooden boardwalk. The trail is mostly hard-packed soil and leaves, with several wooden boardwalks. The trail is wide enough for wheelchairs but the surfaces can be uneven with slight dips, tree roots, and washouts.
More Information
Last updated: September 20, 2022