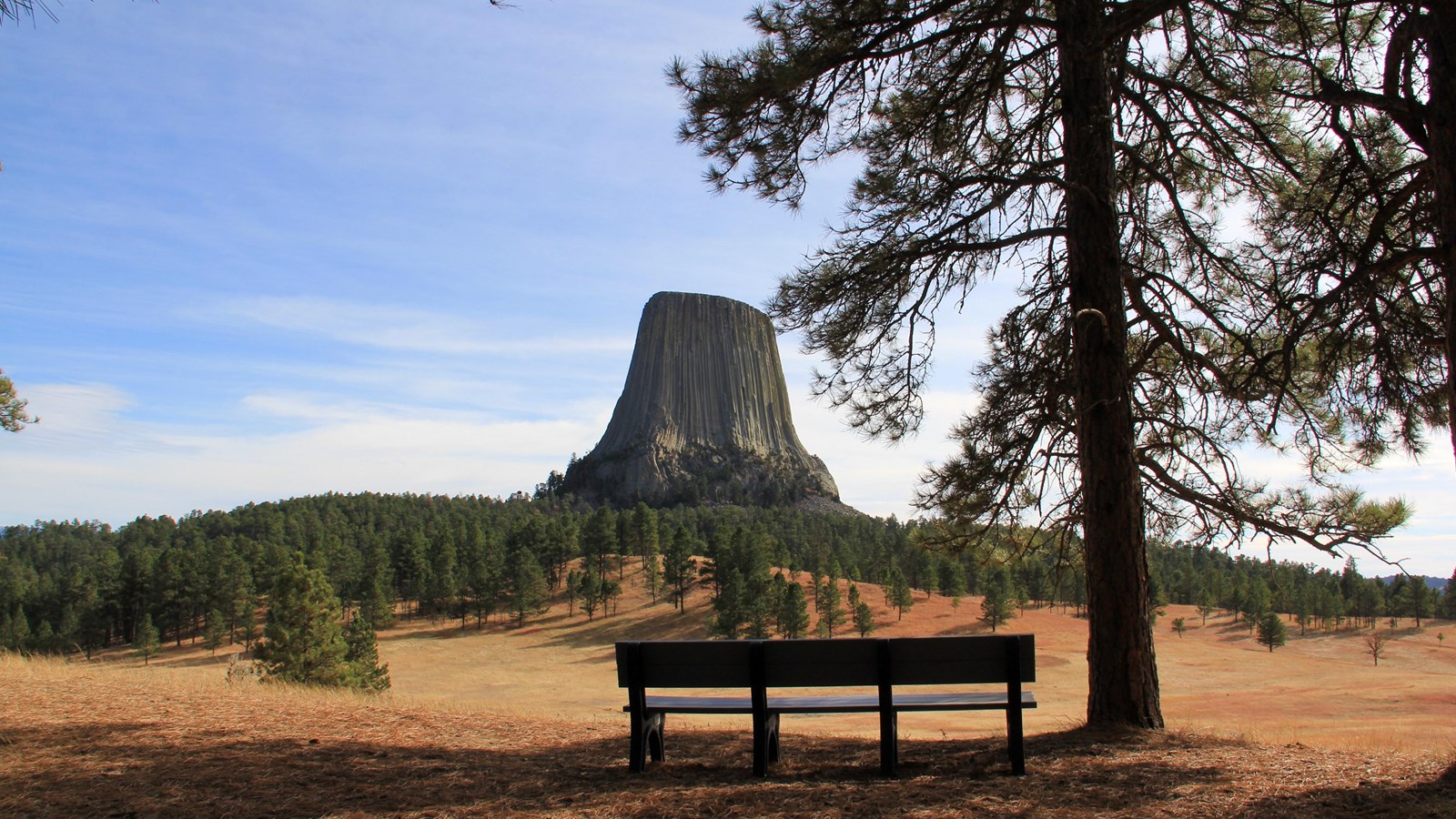 Location:
Devils Tower National Monument
Significance:
Scenic area named after Newell Joyner
Designation:
In a national park, no official designation
Benches/Seating, Historical/Interpretive Information/Exhibits, Parking - Auto, Scenic View/Photo Spot, Trailhead
Joyner Ridge is one of the quietest, yet most scenic, places in Devils Tower National Monument. Set to the north of the Tower, Joyner Ridge offers brilliant views of the Tower itself and surrounding landscape as well as choice examples of ponderosa pine forest and mixed grass prairie. This area is also popular with stargazers and astro-photographers because of its wide open, dark night skies. The ridge is named for the monument's most notable custodian, Newell Joyner. 
What to Do 
Joyner Ridge has a small parking area with great views of Devils Tower during the day and the stars at night. Take in the scenery from your vehicle or hike Joyner Ridge Trail, a 1.5 mile loop trail that explores the ridgeline and valley below.  Wayside exhibits along the trail interpret the monument's natural and cultural significance. A bench sits at the top of Joyner Ridge, along trail and close to the parking area, for comfortable contemplation of the Tower. 
How to Get There 
From the park entrance station, take the park road about 2 miles, then turn left onto the gravel road. There is a sign just before the intersection for Joyner Ridge. Take the gravel road about 0.3 miles, then turn right into the small gravel parking area. Joyner Ridge trail leaves from here. RVs and motorcycles are not recommended on the gravel road. 
Considerations When Visiting 
No Restrooms or Water – both are available at the picnic area or visitor center (seasonally) 

No camping overnight – camping in the park is only allowed at the Belle Fourche River Campground 

You may visit at night to hike or stargaze, but you cannot park or camp overnight 

Joyner Ridge is exposed to the elements – summers are hot and sunny and the trail is covered in ice and snow during the winter months 

Dogs are not allowed on Joyner Ridge Trail. Dogs on leash may be walked along the gravel road to Joyner Ridge. 
Last updated: October 17, 2020