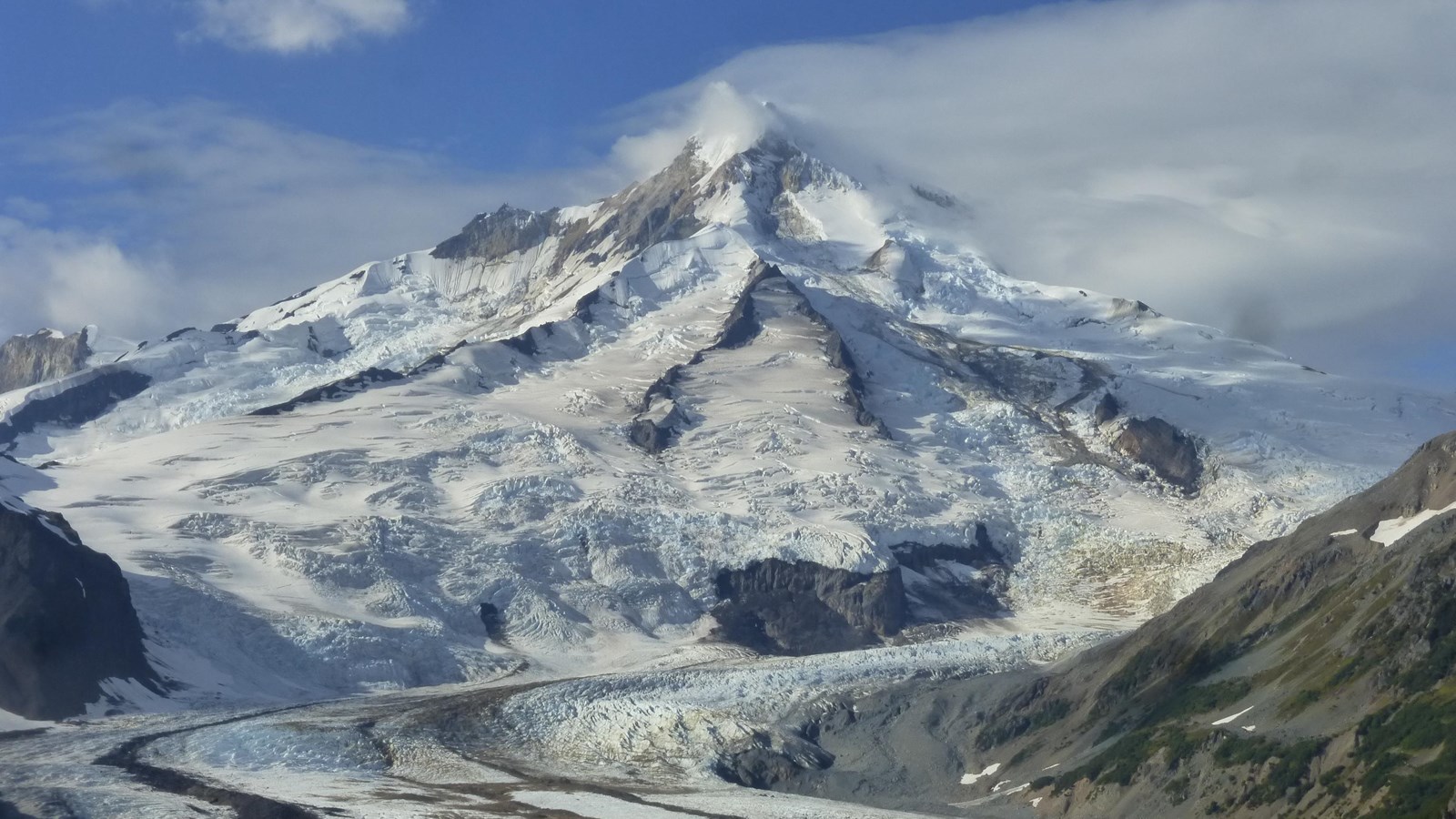 Location:
Lake Clark National Park and Preserve, Alaska
Significance:
An active stratovolcano
Designation:
National Natural Landmark
Iliamna is a classically handsome cone-shaped volcano that soars to 10,016 feet tall from nearby Cook Inlet. This active stratovolcano is covered in glaciers and sits in the Chigmit Mountains within Lake Clark National Park and Preserve. Iliamna is a composite volcano comprised of andesite lava flows and pyroclastic rocks on a base of Jurrasic-era granite. 
Fire and Ice
The area north of Chinitna Bay [a popular bear-viewing destination in Lake Clark] is dominated by the mass of Iliamna Volcano, whose summit rises' 10,016 feet above Chinitna Bay, and by the peaks associated with it, all of which are more than 5,500 feet in altitude. Ten glaciers radiate from the slopes and snowfields of Iliamna Volcano. Tuxedni Glacier is the longest, extending about 16 miles north to within 3 miles of Tuxedni Bay. End moraines beyond the present ice margin indicate that the glacier entered the bay in the not too distant past. Red Glacier is the next largest, extending 10 miles east toward Cook Inlet. Deep, glacially scoured U-shaped valleys radiating from the snowfields of Iliamna Volcano indicate that all the glaciers reached sea level during at least one stage of glaciation.
Recent Activity
In 1958 the volcano was sending up four columns of vapor from vents in the precipitous eastern face. The last eruption was in 1867; since then smoke, and possibly light ash, was ejected in 1876, 1933, 1941, and again in 1947. A reported ejection of smoke and some light ash in the late winter of 1956 or early spring of 1957 has not been confirmed. Gravel cemented by reddish volcanic ash is exposed in the stream banks of Red Glacier River; this ash probably dates from one of the recent eruptions.
Nearby Communities
There are several communities within a 200 mile radius of the volcano that could be affected in the event of an eruption. 
| Nearby Village/Town/City | Distance |
| --- | --- |
| Pedro Bay | 39 mi (63 km) SW |
| Port Alsworth | 44 mil (70 km) NW |
| Ninilchik | 47 mi (76 km) SE |
| Anchorage | 136 mi (218 km) NE |
Monitoring
The Alaska Volcano Observatory monitors Iliamna along with the 51 other active volcanoes in the state. Their website is a wealth of information and includes current alerts about volcanic activity.

To learn more about volcanoes in Lake Clark National Park and Preserve, visit their Volcanoes page. 

 Text for the Fire and Ice and Recent Activity sections of this page are from Geology of the Iniskin-Tuxedni Region, Alaska (USGS).
Last updated: July 15, 2020