Place
Hulls Cove Visitor Center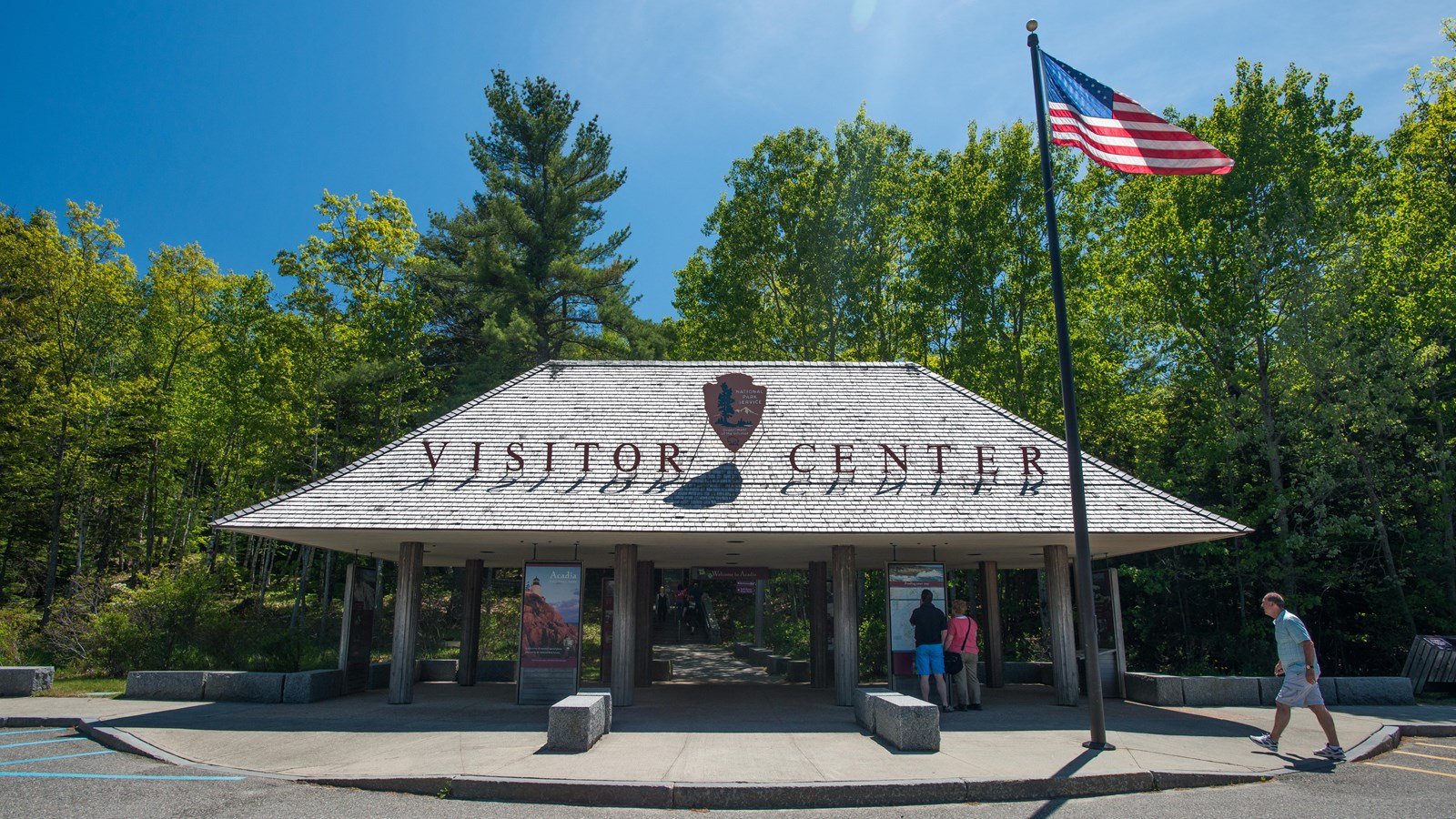 Location:
Acadia National Park
Significance:
Park Visitor Center
Entrance Passes for Sale, Historical/Interpretive Information/Exhibits, Information - Ranger/Staff Member Present, Parking - Auto, Parking - Bus/RV, Restroom, Restroom - Accessible, Restroom - Family
Hulls Cover Visitor Center is Acadia National Park's main visitor contact station. It is located off of Route 3 in Bar Harbor, Maine. Hours changes seasonally so check our Hours & Seasons page prior to your arrival.

Upon entering the parking lot, visitors can access information and (seasonal) Island Explorer bus stops via a covered pavilion. From the parking lot, you can enjoy your first hike in Acadia National Park up the 52 stone steps to the visitor center. There you can purchase your entrance pass, speak with a ranger about planning your visit, use self-service maps, enjoy art from our Artist-In-Residence program, and shop at the Park Store. Visitors requiring an accessible entrance can follow signs to drive up to the rear of the building and use the accessible entrance and elevator. 
History of the Building
Hulls Cove Visitor Center was originally both the park's administrative headquarters and visitor center. It was designed and construction began in 1967. Construction was completed by December of 1986. It was an example of the dual purposes administration/visitor center building type created by the National Park Service (NPS) in the mid-20th century. Funding for the building came from the Mission-66 Program, a nationwide effort to improve infrastructure in America's national parks from 1956-1966.  

In a departure from the more rustic pre-World War II style of NPS architecture, Mission 66 designers embraced contemporary structural forms for the new centers as well as for ancillary buildings, in part because of the scarcity of buildings materials following WWII and changes in materials and labor. Mission 66 buildings demonstrated a new commitment by the NPS to interpret park resources and accommodate visitors and increased staffing levels. For the first time in NPS history, these buildings grouped park interpretive presentations, auditoriums, administrative offices, restrooms and other visitor services into one complex. 
Design Features
Hulls Cove Visitor Center is situated on a small cleared plateau on the northeast side of Paradise Hill. It is a flat-roof, rectangular trapezoid building clad in shingles and built upon a granite ashlar first story. An original concrete and wood bridge provides access to the center's main lobby. The bridge is faced with granite stones surmounted with diagonal boards and flat handrails. The building and the approach use readily available local materials - wood and granite. The building is 65 feet in length and 22 feet in width.  

In 1995, a small two-story addition expanded the visitor center to the northeast to accommodate an accessible entrance and restrooms. A secondary entrance was added at this time via a second concrete bridge supported by two columns. This provided egress from the now-removed auditorium.  

Once inside the building, a large array of windows look out into what once was a beautiful view of Frenchman's Bay. Alas, the trees have grown to now block this once iconic view.  
Last updated: July 18, 2023