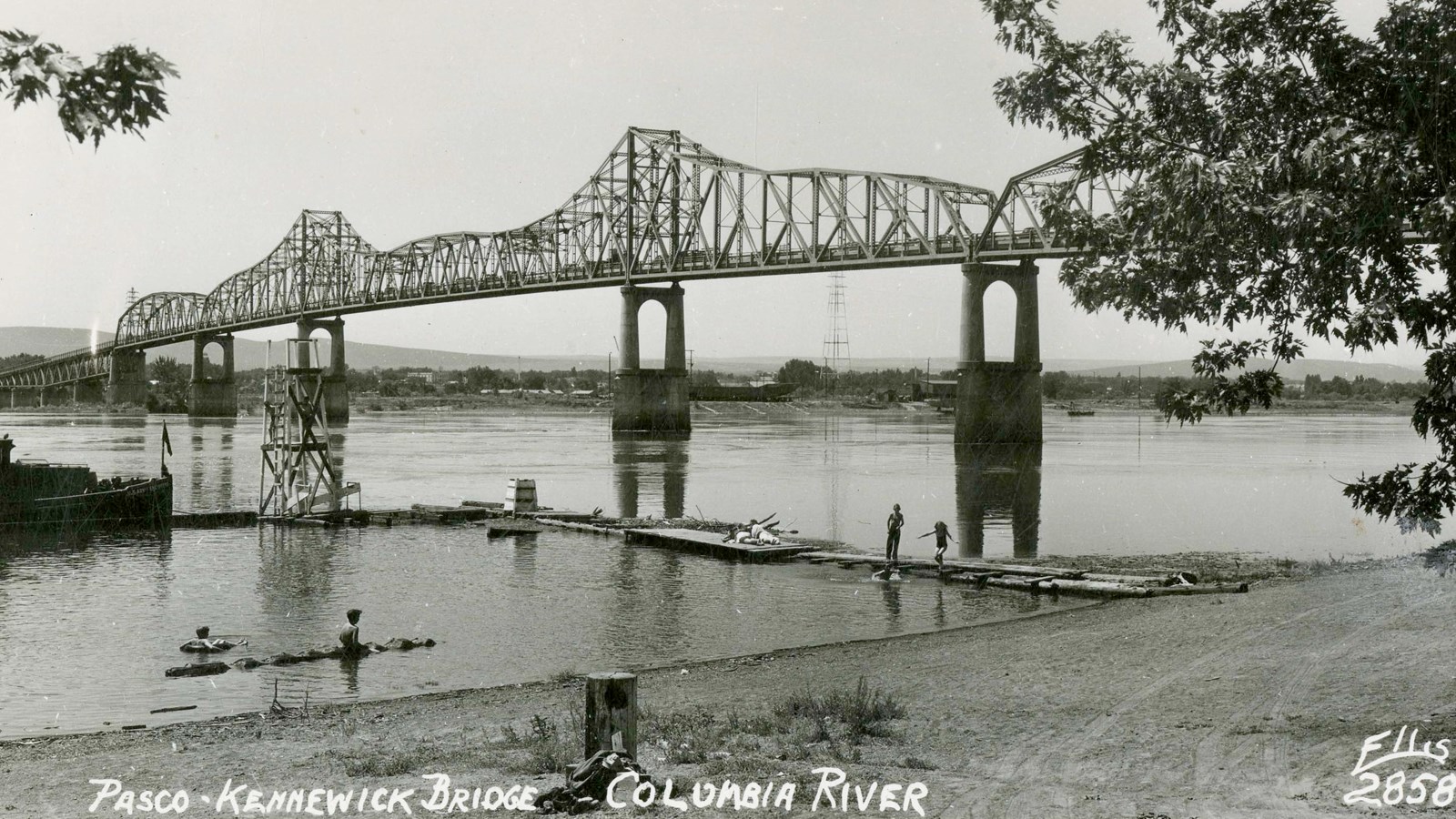 Parking - Auto, Scenic View/Photo Spot, Trailhead
In 1922, the Union Bridge Company of Seattle built the Pasco-Kennewick Bridge across the Columbia River between the rural towns of Kennewick and Pasco. This bridge replaced a dated ferry system that could only transport six cars at a time across the river. Like two other bridges that span the Columbia River, the Longview Bridge (now the Lewis and Clark Bridge) and the Bridge of the Gods, the Pasco-Kennewick Bridge was a steel cantilever truss. A cantilever bridge is a structure that project horizontally into space and a truss is a is an assembly of beams, connected by nodes, that creates a rigid structure. 
Construction required 1,115 tons (1,011,511 kg) of steel for the 3,300-foot (1,006 m) structure and more than a million board feet of timber in the decking and approaches. It was the first the steel cantilever truss bridge to be built across the Columbia River. The simplistic design reflects the structural advice of J.A.L. Waddell, a writer and leading bridge engineer in the early 1900s. At its completion, green paint covered the steel bridge earning it the nickname "the Green Bridge." 
Groundbreaking took place on the Pasco side on March 15, 1921. Cars paid .75 cents, bicycles paid .20 cents, and trucks weighing less than one ton paid $2.00 to cross the bridge. The bridge you see here today, the Cable Bridge, officially called the Ed Hendler Bridge, replaced the Green Bridge in 1978. The Green Bridge was demolished in 1990 at age 68. The Historic American Engineering Record of the National Park Service recognizes the Green Bridge as a significant engineering achievement. 
The Green Bridge began as a symbol of unity and progress. No one could have known then that the bridge would eventually gain a new and menacing significance, one of exclusion. The Green Bridge became dividing line between Kennewick, a community that sought to exclude Blacks, and Pasco, a community that sought to confine Blacks. To learn more about this history and see a section of railing from the Green Bridge, visit the Green Bridge Historical Marker located in Kennewick  
Continue Your Journey  
The Green Bridge would come to have a direct impact on the social and economic development of this region. Places like Lewis Street Underpass were the unofficial dividing line that separated Pasco from East Pasco, the only section of town where African Americans were allowed to live during the Manhattan Project. Go to Morning Star Baptist Church, the literal and figurative center of the African American community in East Pasco, to visit the city's first Black congregation. Its roots date back to the Manhattan Project. Stop by Kurtzman Park and learn about the grassroots efforts that created the first community park in East Pasco. Take a tour of B Reactor and stand in the shadow of this world-changing building that teams of African American laborers helped construct.
Last updated: May 18, 2022