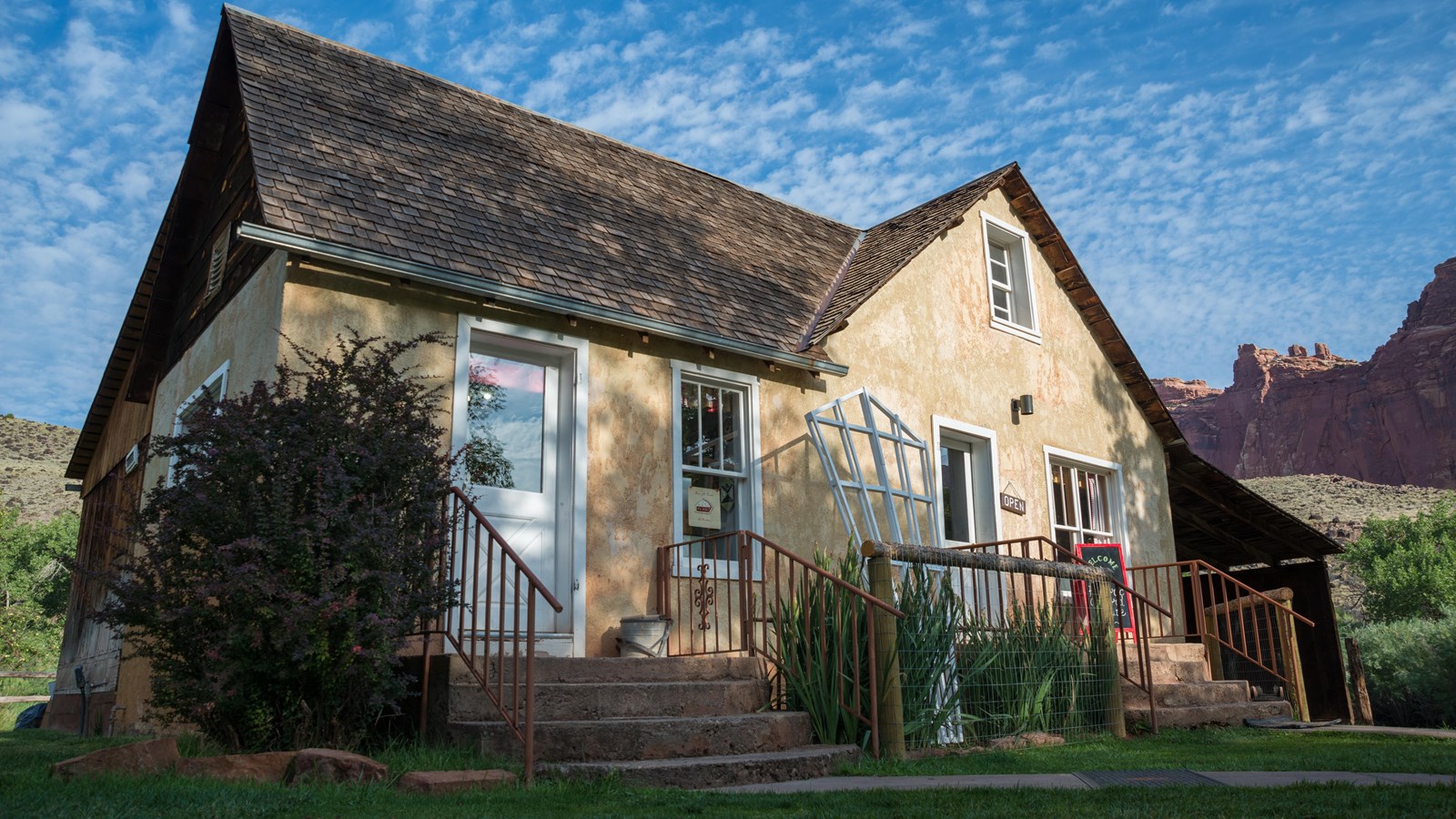 Location:
Fruita District
Firewood For Sale/Available, Food/Drink - Snacks, Gifts/Souvenirs/Books, Historical/Interpretive Information/Exhibits, Parking - Auto, Picnic Table, Recycling, Scenic View/Photo Spot, Trash/Litter Receptacles, Water - Drinking/Potable
The Gifford farm lies in the heart of the Fruita valley, a desert oasis described by Wallace Stegner as "...a sudden, intensely green little valley among the cliffs of the Waterpocket Fold, opulent with cherries, peaches, and apples in season, inhabited by a few families who were about equally good Mormons and good frontiersmen and good farmers." The 200 acre Fruita Rural Historical District is listed on the National Register of Historic Places.
The Capitol Reef Natural History Association, in cooperation with the National Park Service, has renovated and refurnished the Gifford farmhouse as a cultural demonstration site to interpret the early Mormon settlement of the Fruita valley. The house depicts the typical spartan nature of rural Utah farm homes of the early 1900s. In addition to the farmhouse, the Gifford homestead includes a barn, smokehouse, garden, pasture, and rock walls.

The Gifford House is open seasonally from March 14 (Pi Day) at least through October 31 each year. Open season may extend in November some years.

Read a transcript of Dewy Gifford's recollections (audio file below). 
Dewey Gifford

Dewey Gifford calls Fruita "paradise" as he remembers his time farming and ranching in the area from 1928 to 1969. He describes growing apples, peaches, and pears in the orchards while his children attended school at the Fruita Schoolhouse. Gifford lived in what is now the Historic Gifford Homestead.

Date created:

2020-10-14 00:00:00.0
Last updated: October 31, 2022