Place
Gold Bluffs Beach Day Use Area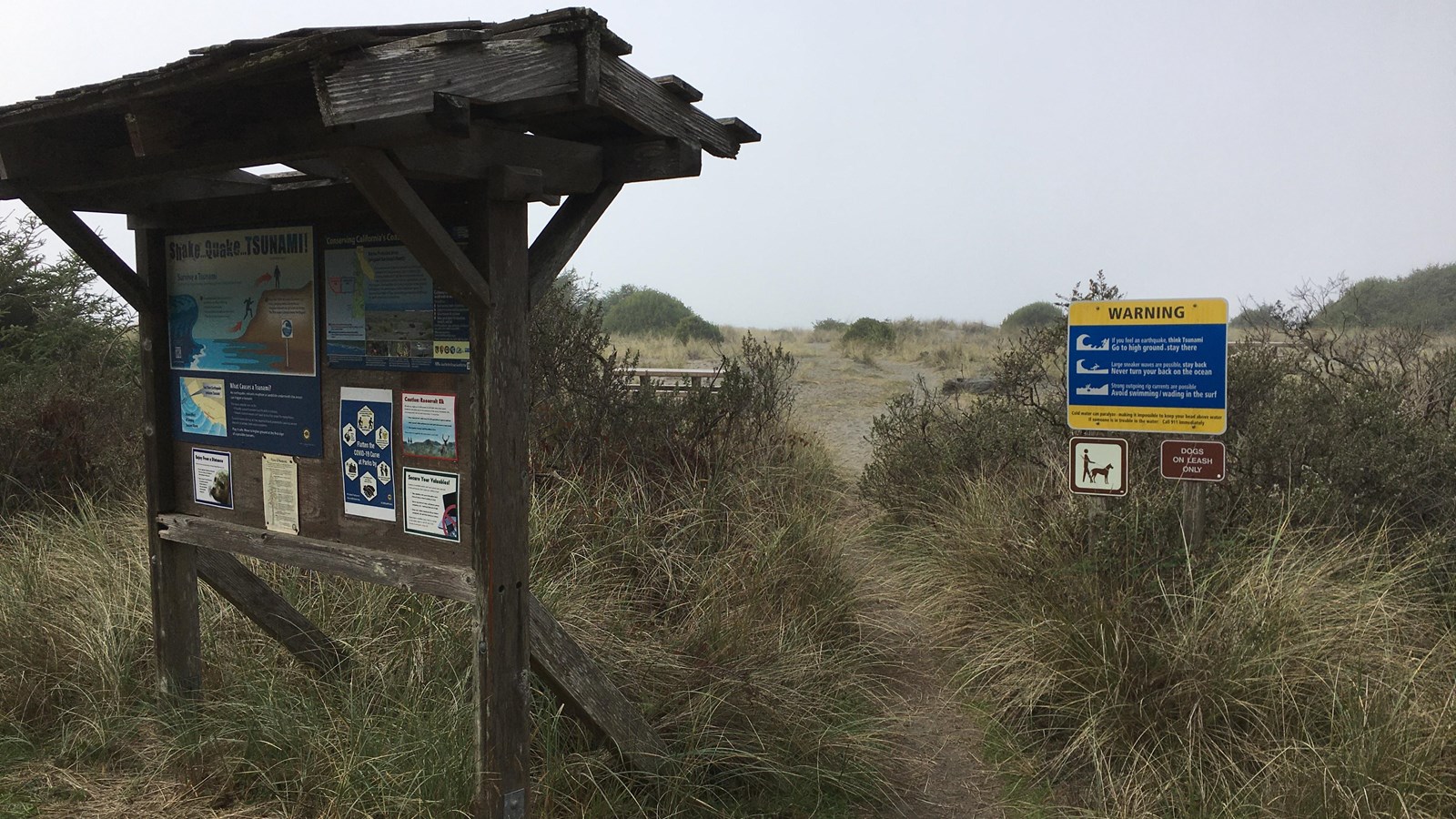 Location:
Pull outs and parking along Gold Bluffs Beach
Significance:
A popular day-use area on the coast northwest of Orick.
Beach/Water Access, Information Kiosk/Bulletin Board, Parking - Auto, Picnic Table, Scenic View/Photo Spot, Trailhead, Trash/Litter Receptacles
Permit Requirement - If you plan to drive to Gold Bluffs Beach or park at Fern Canyon from May 15th - Sept 15th, you will need to apply for online - and have been issued - a free Gold Bluffs Beach / Fern Canyon Parking permit. Read the official news release about how we are protecting the public and this area with timed-entries. 

For those exploring Gold Bluffs Beach, or eventually parking at Fern Canyon, pullouts and parking areas along this road provide places for picnics, walking, wildlife viewing, or fishing.

Visitors will need to pay the day-use fee, or show their federal pass or CA state park passes at the Gold Bluffs Beach entrance station. National Park Service and CA State Park passes are accepted here. Credit cards are not accepted.

The access road (Davison Road) is dirt, very narrow and windy. Recreational vehicles and vehicles towing a trailer are not permitted on Davison Road.

There are not toilets at every pullout along the Gold Bluffs Beach day use area. There are vault toilets at the northern end of the road - next to the Fern Canyon parking area. Picnic tables are plentiful along the length of the day use area, and the ocean is just a few hundred yards to the west. However, this is not a good swimming beach - the water is very cold and currents are swift. Vehicles are not allowed on the beach. Leashed pets are allowed.

Gold Bluffs Beach is known for it's miles of gray sand, driftwood, and protected dunes. Mammals like seals and rare birds like snowy plovers nest and rest along the beach. To protect these species, it is important to keep out of any closures that the park staff might have set up. Sadly, wildlife on these beaches have been killed by off-leash dogs. Learn about our BARKRanger program.

The orange-colored bluffs along the road were formed by sediment coming from the Klamath River. In the mid-1800s, it was these cliffs that drew gold miners to the area. Sections of the California Coastal Trail pass along here, and the waters offshore are part of California Marine Protected Areas. (MPAs).

In recent years, a lot of beach restoration and removal of invasive plant species has occurred along Gold Bluffs Beach. Wildlife, and the parks' ecosystems have benefited from this ongoing project.
Last updated: May 23, 2023