Place
Fern Canyon Loop Trail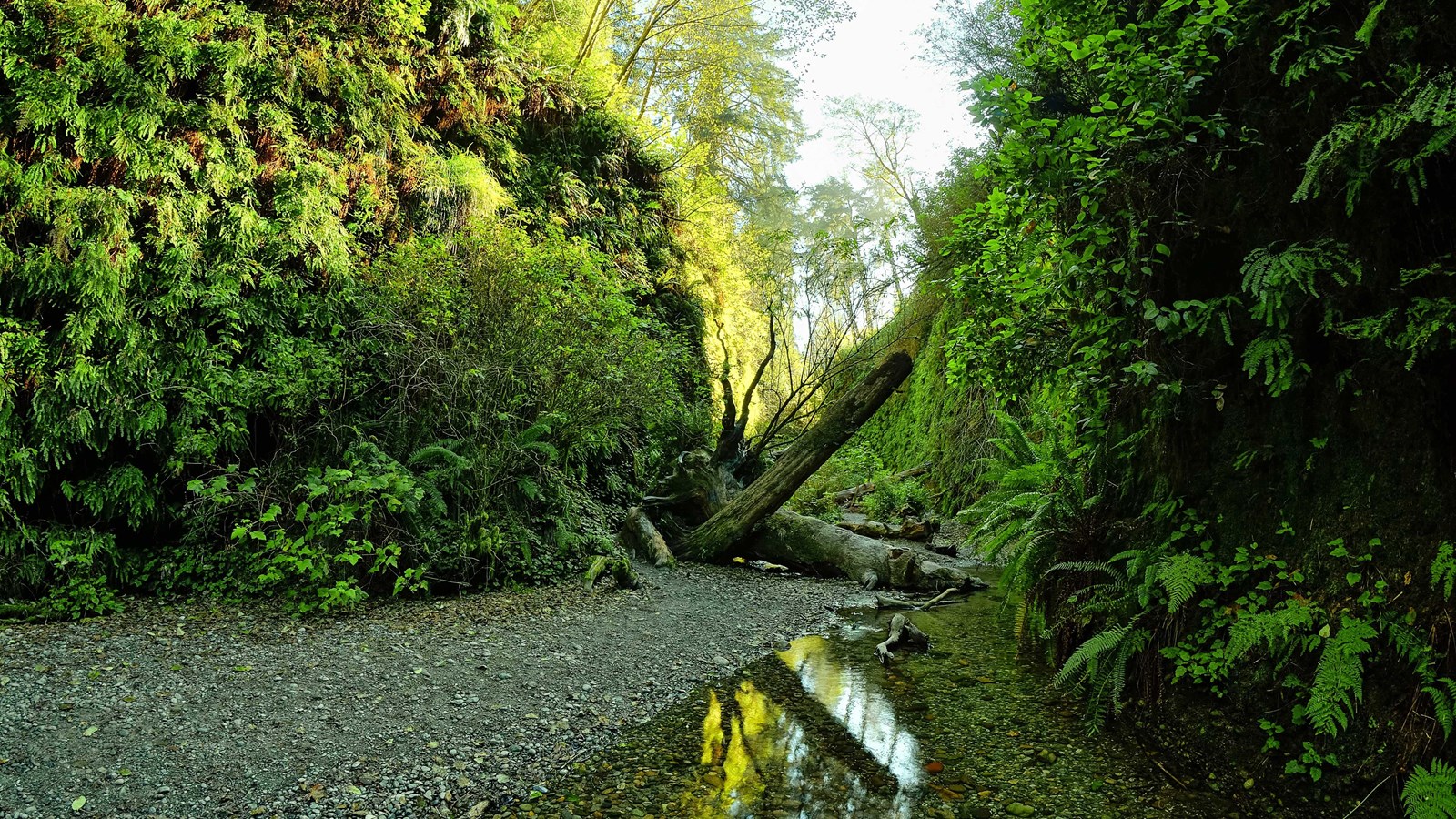 Location:
North end of Gold Bluffs Beach
Significance:
A popular destination where ferns cover steep walls
MANAGED BY:
California State Parks
Beach/Water Access, Historical/Interpretive Information/Exhibits, Information Kiosk/Bulletin Board, Parking - Auto, Picnic Table, Scenic View/Photo Spot, Toilet - Vault/Composting, Trailhead, Trash/Litter Receptacles
A Popular Walk That Comes With Stream Crossings and Walls of Greenery.

NEW in 2022!
If you plan to drive to Fern Canyon from May 1st - Sept 30th, you will need to apply for online - and have been issued - a free
Gold Bluffs Beach / Fern Canyon parking permit.
Read the official
news release
about how we are protecting this area with timed-entries. Summer visitors now will have a safer and much less crowded experience at Fern Canyon. Note: Hikers can still hike the 11-mile round trip to Fern Canyon from the Prairie Creek Visitor Center without any permit.
Prepare to get your feet wet to really explore this short walk into a stunning mini-canyon covered with ferns. This is a very popular walk up a cobbled stream. Many travel writers and bloggers talk about the natural beauty of this area. You won't find huge redwoods right here, but it is surrounded by Sitka spruce and other conifers.
From the parking lot by Gold Bluffs Beach, the trail can be done as a 1-mile "lolly-pop" loop with an elevation gain of 150 feet. If you want to do the loop, a quarter of the mile up the canyon keep an eye out for stairs leading up the left side as the canyon walls get less steep. This side-trail will then eventually loop back to the mouth of Fern Canyon. 
Or, if you want to go in and out, hikers can stick to the bed of Home Creek. Within quarter of a mile you see the steep, leafy walls of Fern Canyon. This easier option has a 30-foot elevation change. Either of these options might mean walking or winding in-between or under log jams that occur in winter floods.
Normally from June to September there are wooden footbridges installed in Fern Canyon to help walkers get partway up Home Creek without getting their feet too wet. Our advice is to wear waterproof footwear with good traction, and bring a pair of dry shoes to wear after your walk.
Be aware that Davison Road (a windy, dirt road) is has limits on vehicle sizes. Vehicles need to be less than 24-feet long. Therefore getting to Fern Canyon is 
not an option for large recreational vehicles or anything towing a trailer
. Also, people driving 
low-clearance vehicles often get stuck when trying to cross two streams
 on the way to the Fern Canyon parking area.
There is a California State Park entrance kiosk to access the area. Fees are $12 for a regular vehicle. California State and federal entrance passes are honored at this kiosk.
Credit cards are not accepted
.
A herd of Roosevelt Elk is often in the area and these are wild animals. 
Learn how to be safe around elk
. It is important to keep your distance - don't approach them at all. In early summer, the females will protect their fawns by kicking at a human head with their massive front legs. In autumn, the male elk will be fighting for dominance and their antlers can be deadly.
Before you set off to visit Fern Canyon, be sure to check 
current conditions
 and make sure that the roads are open - or to see if the seasonal footbridges have been installed.
Safety Tips
We recommend you purchase and use a good map and trail guide for your adventures in Redwood National and State Parks. Don't rely on online maps when you are here.

To protect the habitats, leave no trace also means staying on the developed trail. Please don't go off-trail and make any new trails. These forests grow by the inch, and will die by your foot.

To protect the wildlife (and you and other visitors), pets are not allowed on park trails.

Cell coverage is very limited and cannot be relied on in an emergency. Have a plan for checking in and checking out with a friend when you are here.
Last updated: March 24, 2022