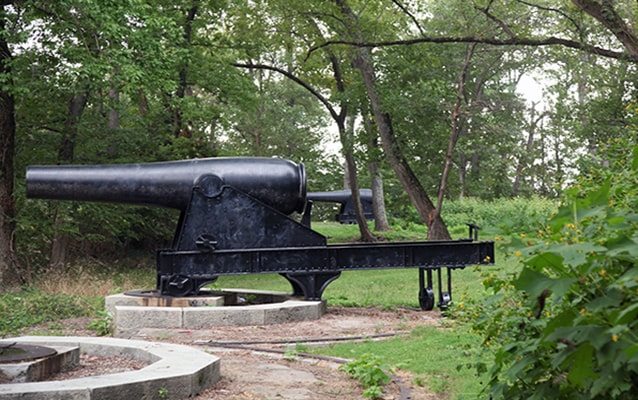 Quick Facts
Location:

Fort Washington, MD

Significance:

Civil War Fort

Designation:

National Park

OPEN TO PUBLIC:

Yes
In October 1862, Secretary of War Edwin M. Stanton appointed a commission to examine the efficiency of the Defenses of Washington. The commision evaluated each of the forts, and made recommendations for improvement. Toward the end of the account, one gap was noted in the defensive arrangement:
"The commission furthers their opinion that the Defense of Washington cannot be considered complete without the defense of the river against an enemy's armed vessels. Foreign intervention would bring against us always in superior naval force on the Potomac, and we are, even now, threatened with Confederate iron-clads fitted in English Ports. The Commission believe on Jones' Point near Alexandria, a battery of six guns of the heaviest caliber, say four 200-pounders and two 15-inch guns in casements, and by constructing a battery of ten guns and a covering work on the opposite shore of the Potomac, at the near Roziers Bluff. An examination had been made, revealing a most favorable and strong position on that side, easily communicated with by water. Surveys are in progress."
The suggestion of the committee was accepted, and the work on Fort Foote began at Rozier's Bluff in 1863. 
Fort Foote was constructed for the purpose of defending, in connection with Battery Rogers, the water approach to the city. It was situated six miles below Washington, on a commanding bluff of the Maryland shore, elevated 100 feet above the river. The fort was essentially completed in the fall of 1863, and was designed as a water battery with eight 200-pounder Parrott rifles and two 15-inch guns. Fort Foote was named in honor of Rear Admiral Andrew H. Foote, who distinguished himself in the actions against the confederate forts on the Mississippi Rivers and died of wounds on June 26,1863.
The first unit to garrison Fort Foote was four companies of the 9th New York Heavy Artillery that arrived on August 12, 1863. The post was commanded by lieutenant Colonel William H. Seward, Jr., the son of the Secretary of State. The secretary visited the post often while his son was in command, and President Lincoln visited the fort on August 20, 1863, with the Secretary of War and number of high-ranking army officers.