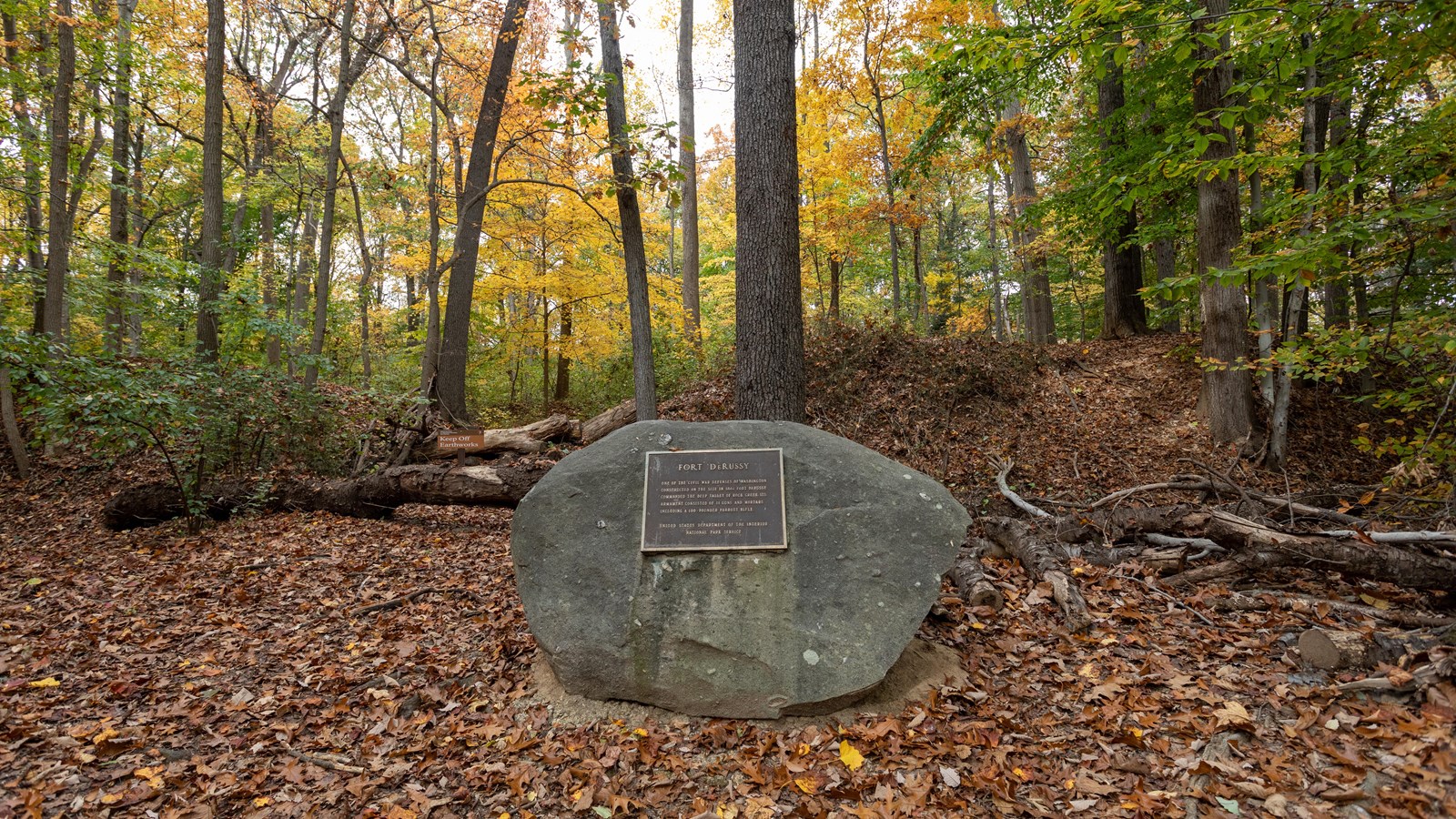 Fort DeRussy was built on a high hill with the purpose of providing crossfire upon the approaches to Fort Stevens on the 7th Street Pike (now Georgia Avenue NW). Together with Fort Kearney and Fort Reno to the west, it controlled the country roads between Rockville Pike and Rock Creek Valley.
It was built in 1861 by the 4th New York Heavy Artillery and named for the regiment's commander, Colonel Gustavus A. DeRussy. Fort DeRussy was sited upon high ground on the west bank of Rock Creek to control movement along and across the valley. The fort coordinated its fire with Fort Stevens on the east and Fort Kearny on the west. It was built originally in the shape of a trapezium, armed with 7 guns, and afterwards expanded to mount 11 guns and mortars, including a massive 100-pounder Parrott rifle located at reshaped northeastern angle
The fort was heavily engaged during the Battle of Fort Stevens on July 11-12, 1864. Fort DeRussy's provided battery support to Fort Stevens to the northeast and also engaged rebel infantry north of the Defenses of Washington.. Altogether, Fort DeRussy had 11 guns and mortars which fired a total of 109 rounds to aid in the defense of Fort Stevens. Its 100-pounder Parrott rifle was the largest piece of artillery in the engagement, and was very effective in checking the Confederates' advance. It had a range that reached nearly all the way to Silver Spring, Maryland, and could destroy large bodies of troops.
Fort DeRussy is in a good state of preservation. The parapet which consists of high earth mounds with openings where guns were mounted, and the deep ditch (dry moat) around the parapet, remain in clear and distinct outline. Also, there is visible evidence of where the powder magazines were located inside the fort. Near the fort, on the outside, well-defined rifle trenches extend in each direction.
 
Visit our keyboard shortcuts docs for details
Duration:

2 minutes, 5 seconds
An overview of the Civil War Defenses of Washington, the roles of Fort Stevens and other forts in the Civil War, and how park visitors can experience these places today.
Last updated: May 22, 2023