Place
Oklahoma: Ed Galloway's Totem Pole Park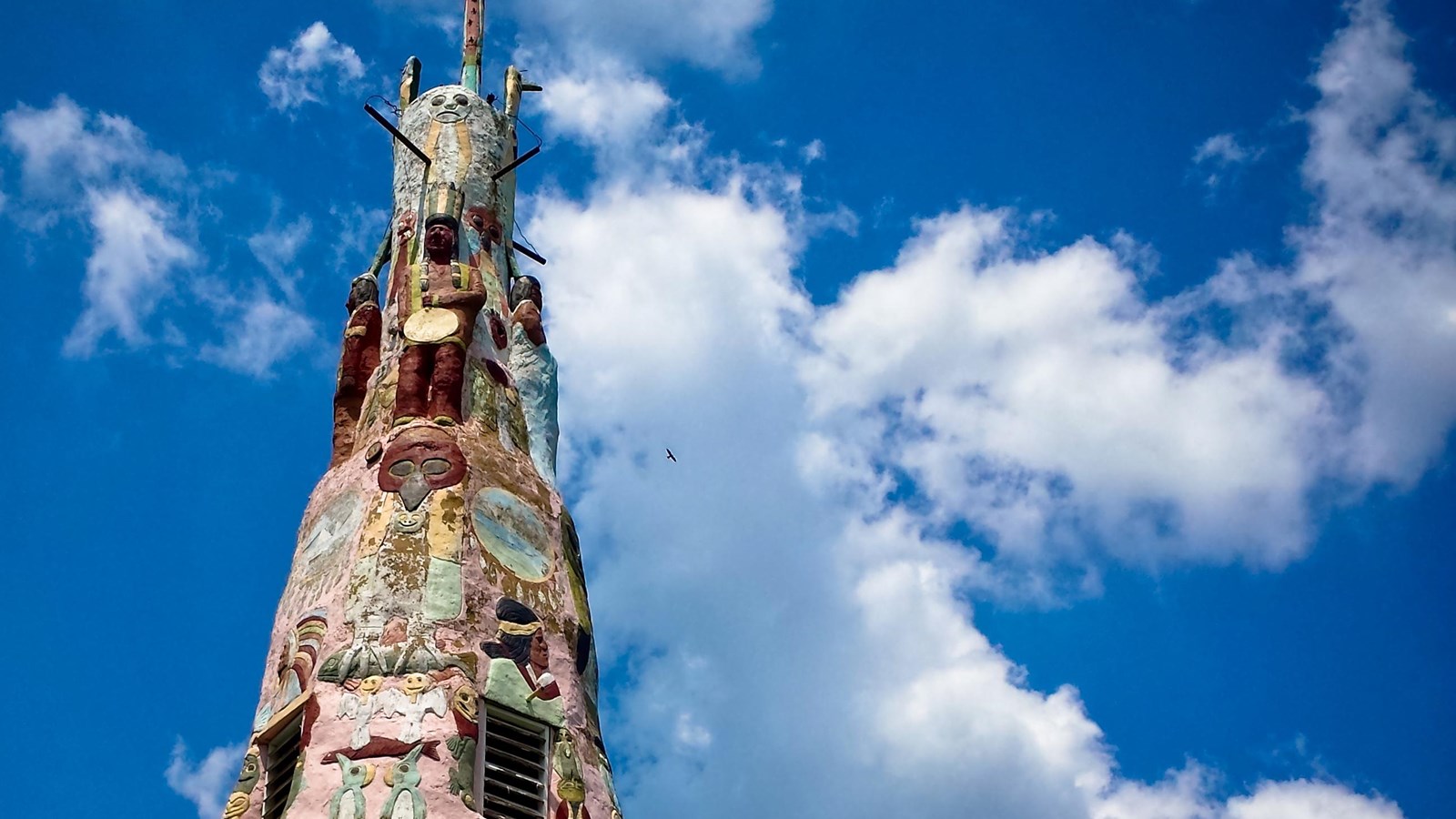 Location:
21300 OK-28 A Chelsea, OK 74016
Significance:
Historic park along Route 66
Designation:
National Register of Historic Places
Ed Galloway's Totem Pole Park is the oldest and largest example of a folk art environment in Oklahoma; its construction lasting from 1937 to 1961. Totem Pole Park contains the original, highly decorated creations of Galloway, one of Oklahoma's premier folk artists and significant in the "visionary art" movement. The park is located just 3.5 miles off the Mother Road. All of the art objects are made of stone or concrete, reinforced with steel rebar and wood. Galloway incised and carved the objects in bas-relief and applied paint to decorations that generally include representational and figurative images of birds and Native Americans of Northwest Coast/Alaska and Plains cultures arranged facing the four cardinal directions.

Nathan Edward Galloway was born in 1880 in Springfield, Missouri and began wood carving as a boy. He became proficient in woodworking and blacksmithing and obtained employment at Sand Springs Home, teaching manual arts to orphan boys. In 1937, he retired to live on the property now known as the Totem Pole Park. He constructed a vernacular Craftsman residence, a smokehouse, and a workshop (which no longer exists). He began to make violins, furniture, and decorative wall art. Galloway became interested in Native Americans and found inspiration in post cards and National Geographic magazines to construct totem poles in the park. 

Between 1937 and 1948, he created a 90-foot tall main totem pole heavily carved with bas-relief designs, the largest art object on the property. This totem pole is made of red sandstone framed with steel and wood with a thick concrete skin and sits on a large three-dimensional turtle. The turtle forms the base and is carved from a broad, flat outcrop of sandstone in place on the site. The totem pole is hollow and ascends nine "floors," with the ground floor measuring nine feet in diameter. The plastered interior depicts painted murals of mountain-and-lake scenes and bird totems. Native American shields and arrow points line the tops of the murals. At the very top, the cone is open to the sky.

Other totems include a pre-1955 Arrowhead Totem, a ca.1955 Birdbath Totem, and a Tree Totem dating ca.1955-1961. The park also includes two sets of concrete totem picnic tables with seats, a concrete totem barbeque/fireplace, small bird gateposts, as well as the Fish-Arch gates designed by Galloway to look like a gar-like fish with bird images facing east and west.
 
A museum stands on the property called the "Fiddle House" which houses Galloway's fiddles and other creations. The eleven-sided building resembles a Navajo hogan, decorated with totemic columns and Native American portraits. 

In 1961, Galloway died and the park fell into disrepair until the Rogers County Historical Society acquired it in 1989. In a restoration effort conducted from 1988-1998 by the Rogers County Historical Society and the Kansas Grassroots Arts Association, art conservators and engineers studied the site and repainted, replaced, and replicated materials in disrepair.

Ed Galloway's Totem Pole Park is located on Oklahoma State Highway 28A, 3.5 miles east of U.S. Route 66. The junction of these two roads occurs in the center of Foyil, OK. 

For more information, call 918-342-1169 or 918-342-9149, or visit the Rogers County Historical Society website.

Find the Ed Galloway's Totem Pole Park National Register nomination form.
Last updated: June 6, 2022