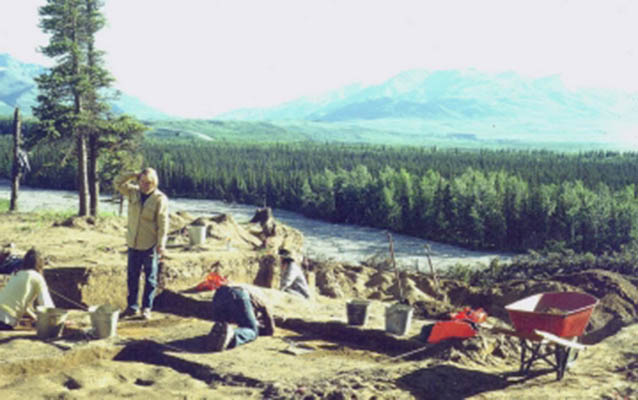 Quick Facts
Location:

Yukon-Koyukuk, Alaska

Significance:

When the Dry Creek archeological site was designated in 1978, it was the oldest site in Alaska.

Designation:

National Historic Landmark, since June 2, 1978

OPEN TO PUBLIC:

No

MANAGED BY:
When archaeologist first discovered the Dry Creek Archaeological Site in the early 1970s, its 11,000 year old archaeological artifacts were the first pieces of evidence to confirm that people migrated across the Bering Land Bridge and hunted Pleistocene megafauna in Alaska.

Not only does the site validate a long standing cultural connection between Asia and Alaska, but it also informs us on the earliest trade, communication, and migrations between Alaska and the rest of the Americas. The Dry Creek Archaeological Site is significant to our understanding of the earliest Americans.

Additional Information
Dry Creek: Archaeology and Paleoecology of a Late Pleistocene Alaskan Hunting Camp, by W. Roger Powers, R. Dale Guthrie, and John F. Hoffecker, edited by Ted Goebel, 2017