Place
Church of the Holy Ascension National Historic Landmark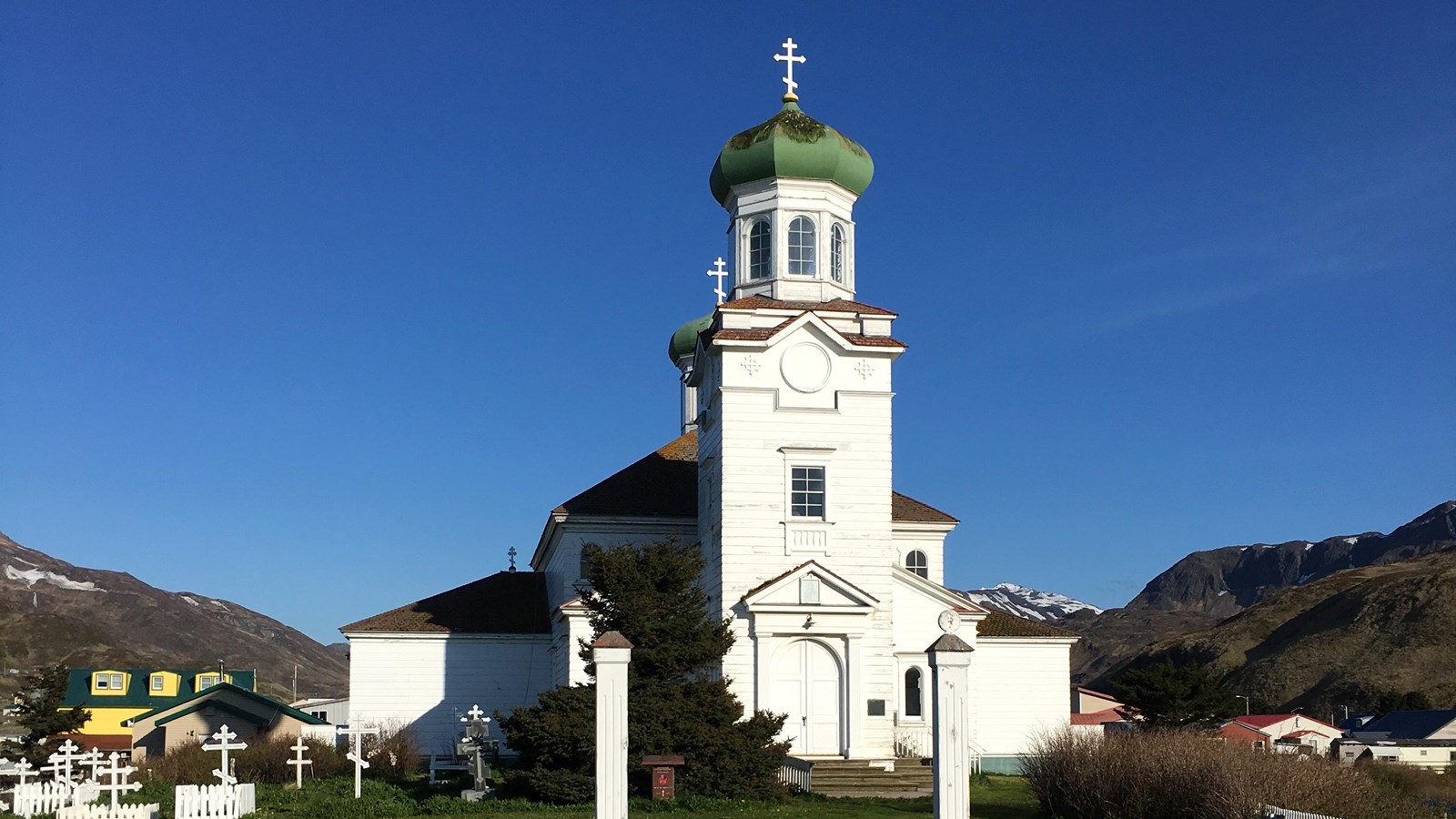 Location:
Unalaska Island, Alaska
Significance:
Early Russian missionary in the Aleutian Islands and association with Father Veniaminov (Rev. Ioann Veniaminov)
Designation:
National Historical Landmark designated on April 15, 1970


Faith and the Written Word of God in the Aleutians
The Church of the Holy Ascension is associated with Father Ioann Veniaminov, who served in the Aleutians and Sitka for 15 years and was later canonized as Saint Innocent of Alaska. Father Veniaminov led the Unalaska parish, with his wife and children, beginning in 1824. After training local residents in Russian building methods and metal working, he led the construction of the original Church of the Holy Ascension in 1826.
Today's Church of the Holy Ascension was built between 1894 and 1896, on the site the original church built in 1826, and a second church that was built in 1858. Timbers from both of the older churches were used in the construction of the newer, as is customary.
Father Veniaminov is revered for having developed a Cyrillic alphabet for Unangan (an Aleut dialect), for translating the Catechisms and Gospels to Unangan, and for studying and documenting several Alaska Native languages and customs from the Aleutians and Southeast Alaska. His efforts included establishing schools in Sitka and Unalaska where Alaska Natives could learn trade skills and scripture in their own dialects.


Historic Architecture
The separate forms of the sanctuary, nave, two side chapels, narthex, and bell tower are arranged in a cruciform plan. The high hip roof over the nave, which culminates in a cupola and onion dome, is complemented by the hip roofs over the lower chapels and sanctuary, all leading the eye upwards. The three-story bell tower is also crowned by a cupola and onion dome.
The interior of the church and flanking side chapels contains a high level of craftsmanship and its icons are of rare quality. The ikonostasis of the Chapel of St. Innocent also demonstrates the craftsmanship and artistry of the Aleut people.

Additional Information
Library of Congress, Historic American Buildings Survey - Photos and Drawings
National Register of Historic Places - Official Nomination Form
Last updated: May 7, 2020