Place
Camp Columbia (Horn Rapids County Park)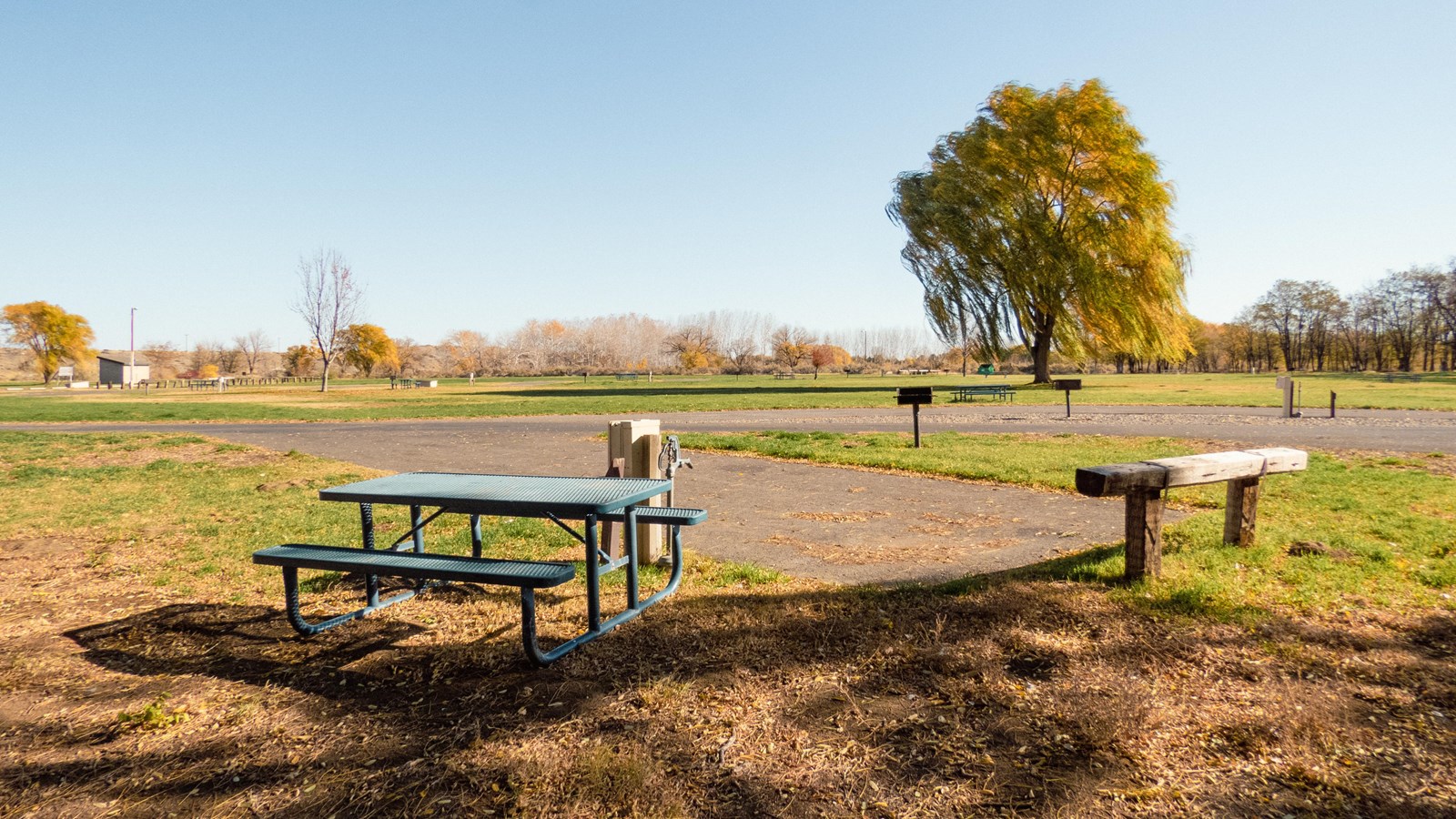 Location:
Benton City, WA
Benches/Seating, Electrical Hookup - Boat/RV, Fire Pit, Grill, Picnic Table, Sewage Dump Station - Boat/RV, Tent Campsites, Toilet - Vault/Composting, Water - Hookup - Boat/RV
By the end of January 1943, the government had acquired 670 square miles (1740 square kilometers) of land for the Hanford Site from 2,000 landowners at a cost of approximately $5.1 million in 1943 dollars. In March, most residents received eviction notices giving them just 30 days to leave their land and crops. While the majority moved on, others wanted to return to their orchards and fields by day to harvest their spring crops—generally their only source of income. Focused on building the plutonium production facilities, the US Army saw these requests as both a logistic and a security impossibility and denied the requests.   
Farmers protested. Their concerns reached President Franklin Roosevelt just as his administration became concerned about the nation's food supply. A bipartisan committee led by Senator Harry S. Truman to investigate waste and fraud in wartime spending sent a letter to the Department of War, questioning the military's need for "such an extensive tract of farmland." 
Colonel Franklin Matthias, commander of the Hanford Engineer Works, reacted to this political pressure by negotiating a contract with Federal Prison Industries, a US government agency responsible for finding uses for and deploying inmate labor. Under the contract, the army would build and maintain a prison camp on the Hanford Site. Federal Prison Industries agreed to provide inmates and undertake the maintenance of "all good orchards, vineyards, and some of the better farm lands . . . and retain all harvested fruit and produce." The army would supply "all necessary automotive and fencing equipment and would furnish power and coal for the camp." Minimum security prisoners from McNeill Island, a federal prison in Puget Sound, transferred to Camp Columbia.  
When it opened on February 1, 1944, the camp consisted of 11 wooden buildings salvaged from a former Civilian Conservation Camp in Montana. They served as offices, a hospital, mess hall, and storage buildings. The inmates lived in Quonset hut barracks identical to those that housed construction workers at Hanford. Later, an additional dozen smaller Quonset huts housed administrators and prison guards, plus their families. There was no security fence because there was no need for one. There was no place to go. Most men served their time without incident. Twelve prisoners escaped from Camp Columbia but were quickly apprehended.   
The prisoners harvested crops from 550 acres (222.5 hectares) of orchards, 280 acres (130 hectares) of hay and potatoes, 125 acres (50.6 hectares) of vineyards, and 73 acres (29.5 hectares) of asparagus. Altogether, they harvested nearly 5,669 tons (5,142.8 metric tons) of produce.  
Camp Columbia closed October 14, 1947, after America's nuclear program transitioned from the army to the Atomic Energy Commission. Camp facilities continued in use until 1950, briefly housing men who worked on the Hanford Site railroad, Columbia River levee projects, and McNary Dam. No structures from Camp Columbia remain on the site. 
Today, Camp Columbia is Horn Rapids County Park operated by Benton County. Visitors can camp, grill, picnic, hike, mountain bike, or launch a watercraft on the Yakima River from this site. Nature enthusiasts value the park for the quality and quantity of its dragonflies and birds. 
Continue Your Journey
Camp Columbia was not the only place in the Tri-Cities that used prison labor during World War II. Visit Big Pasco to learn about how Italian prisoners of war supported this major logistics and shipping center. You can learn more about the region's agricultural history by taking the Pre-War Historic Sites Tour offered by the Department of Energy. The tour visits the remains of the farming towns of Hanford and White Bluffs and includes stops at Bruggemann Ranch, a major farming operation, and the Allard Pumphouse, which provided irrigation that made farming possible in this dry environment.  
Last updated: February 6, 2023