Place
Narrows (Bug) Light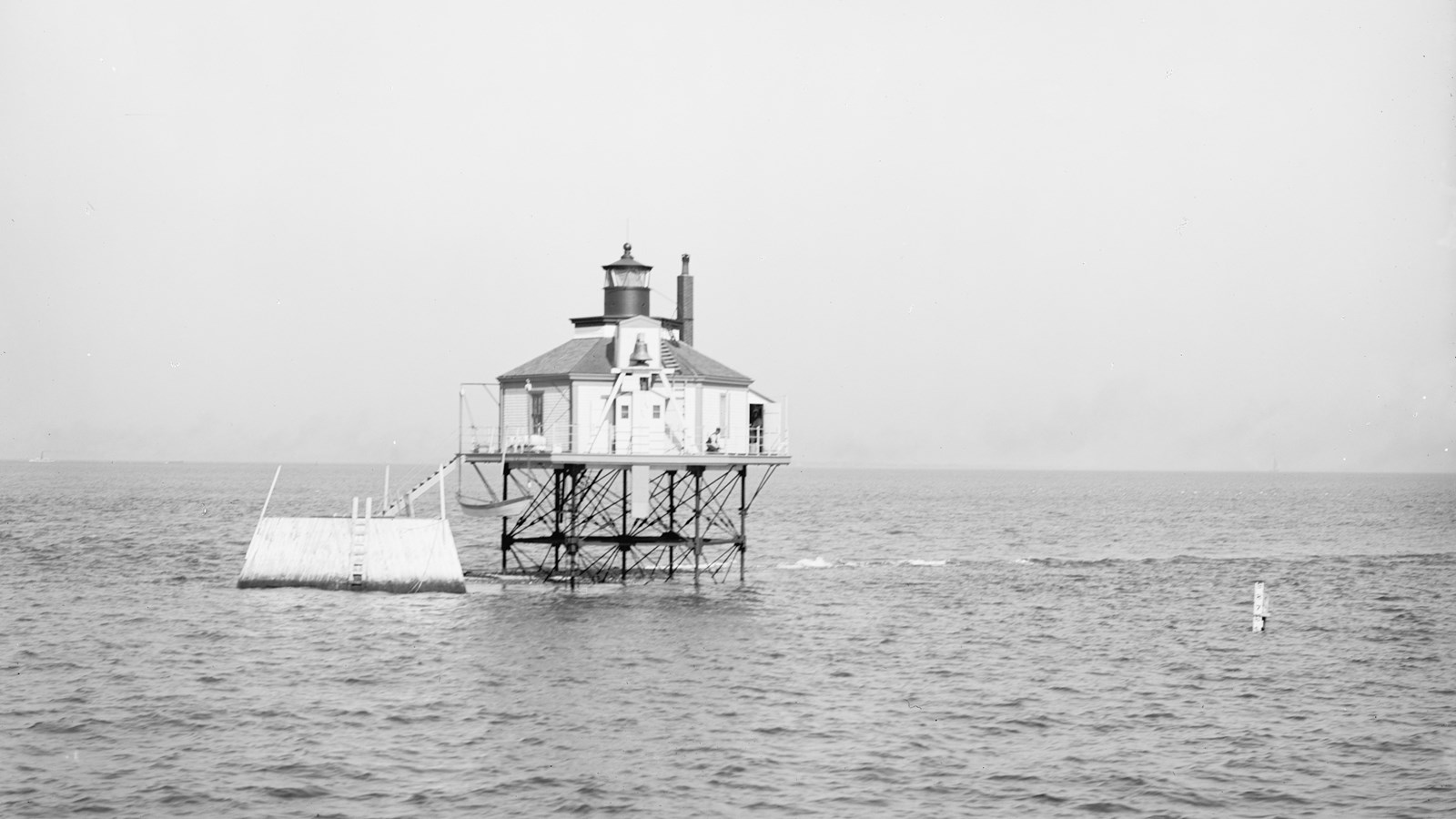 MANAGED BY:
Massachusetts Department of Conservation and Recreation
The Narrows Light once stood at the end of the Great Brewster Spit to light the entrance of the Narrows Channel. Designed by Harrison Loring, the light stood 35 feet above water and its wooden hexagonal structure had seven iron stilts, which resembled a large bug. This is why the light is sometimes called 'Bug Light.'1 
Completed in 1856, builders installed a sixth order Fresnel lens that same year. A sixth order Fresnel is the smallest of the Fresnel lenses, and frequently used to light channels and harbors. Its light is visible for or seven nautical miles. A fog bell, affixed to the side of the light, blew every twenty seconds in times of poor visibility.2 
The first keeper, Nathaniel Hooper, served until 1871. Many others served over the years. Several vessels required assistance, when their boats either became aground or capsized. Sometimes island locals arrived faster, and successfully rescued stuck mariners. Brothers, Arthur and Tom Small both served as keepers of Bug Light. In the winter of 1923, a storm caused Tom's boat to capsize. After life savers of unsuccessfully searched for him, his brother refused to give up and eventually found him clinging onto his boat.
Edward Rowe Snow, a historian and story teller, told a tale of a keeper who had fled from the Great Lakes, escaping a murder charge. In some versions of his tale, the keeper is a pirate who buried treasure on the islands in the harbor.3 Another tale dates to the Civil War. Soldiers stationed on Georges Island heard gunshots across the water. On high alert due to a rumor of a Confederate ship in New England waters, several soldiers sailed over to investigate. To their relief they found no Confederate ship, rather the lighthouse keeper had been shooting at rats in the lighthouse. In jest, soldiers later dubbed the incident, the "Battle of Bug Light."4 
 In June of 1929, during maintenance which included removing exterior paint with a blow torch, the light caught fire and could not be saved. A gas-operated lighted bell buoy immediately replaced the lighthouse in 1930. Standing at the base of the former lighthouse, the buoy had an automatic light and fog bell. It remained in place until a small steel tower with an automatic light replaced it. That small steel tower is present in the harbor today, close to the original spot of "Bug Light."5
---
Footnotes
Edward Rowe Snow, The Lighthouses of New England, 1716-1973 (Carlisle: Commonwealth editions, 1945), 222-224; "Non-Extant Navigational Aids"(National Park Service). Accessed March 29, 2023. Non-extant Navigational Aids - Boston Harbor Islands National Recreation Area (U.S. National Park Service).
Jeremy D'Entremont, "Narrows Light History," New England Lighthouses: A Virtual Guide, Accessed April 29, 2021, History of Narrows ("Bug") Light, Boston Harbor, Massachusetts; "The Fresnel Lens" (National Park Service) Accessed March 30, 2023, The Fresnel Lens - Cape Hatteras National Seashore (U.S. National Park Service).
M F Sweetster, King's Handbook of Boston Harbor (Cambridge: Moses King, 1882), 217; D'Entremont, "Narrows Light History."
Jay Schmidt, Fort Warren: New England's Most Historic Civil War Site, (Amherst, NH: UBT Press, 2003), 106.
D'Entremont, "Narrows Light History." 
Last updated: October 27, 2023