Place
Antietam National Cemetery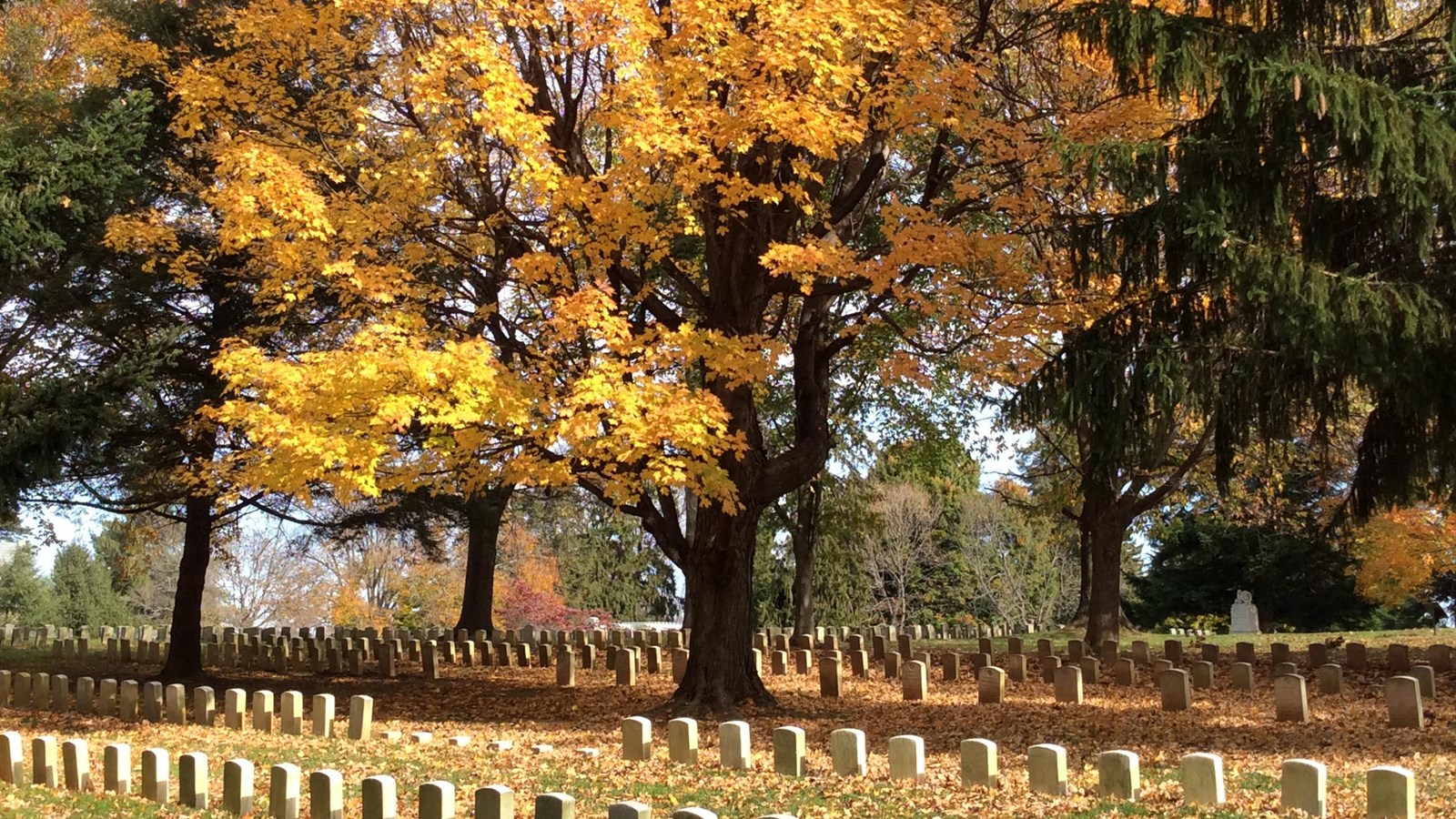 Significance:
Final resting place of 4,776 Union troops killed at the Battle of Antietam and elsewhere in Maryland
Designation:
National Park, National Register of Historic Places, HABS/HAER/HALS
Historical/Interpretive Information/Exhibits, Restroom - Seasonal
In the aftermath of the Battle of Antietam, burial details worked with great speed, if not care, to inter the 4,000 or more Union and Confederate dead from the battle. Mass graves and shallow individual burials were not uncommon and by 1864, many of the graves had become exposed. A suitable, permanent solution was necessary. To that end, Maryland State Senator Lewis P. Firey spearheaded a plan in which the state of Maryland purchased a little more than 11 acres of land for the establishment a cemetery for the men who died in the Maryland Campaign.

In an effort to locate grave sites and identify the occupants, two men, Aaron Good and Joseph Gill, proved invaluable. In the days, months, and years following the battle, they freely gave of their time and gathered a large number of names and burial locations using letters, receipts, diaries, photographs, marks on belts or cartridge boxes, and by interviewing relatives and survivors.

Meanwhile, contributions totaling over $70,000 were submitted from 18 Northern states to the administrators of the Antietam National Cemetery Board. With a workforce consisting primarily of honorably discharged soldiers, the process of removing bodies from the farms and fields began in October 1866 and was complete by August 1867. In all, the Antietam National Cemetery became the final resting place for the remains of 4,776 Union soldiers killed in the Battles of Antietam, South Mountain, Monocacy and other action in Maryland. The identities of only 38% of the burials are known.

Although the original plan allowed for burial of soldiers from both sides, the rancor and bitterness over the recently completed conflict and the devastated South's inability to raise funds to join in such a venture persuaded Maryland to recant. Consequently, only Union dead are interred here. Confederate remains were re-interred in Washington Confederate Cemetery in Hagerstown, Maryland; Mt. Olivet Cemetery in Frederick, Maryland; and Elmwood Cemetery in Shepherdstown, West Virginia. Approximately 2,800 Southerners are buried in these three cemeteries, over 60% of who are unknown.

On September 17, 1867, the fifth anniversary of the battle, the cemetery was dedicated before a crowd numbering in the thousands, including President Andrew Johnson, four members of his Cabinet, and the governors of the 18 states whose solders are buried in the cemetery. In his brief remarks, President Johnson proclaimed, "When we look on yon battle field I think of the brave men on both sides, who fell in the fierce struggle of battle, who sleep silent in their graves...Would to God we of the living could imitate their example, as they lay sleeping in peace in their tombs, and live together in friendship and peace."
Click here to access the cemetery roster.
Last updated: April 30, 2023