Place
Spalding Bay Campsites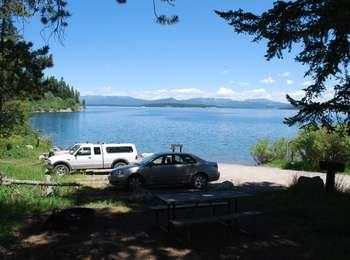 Restroom, Electrical Hookup - Boat/RV,
Location : The Spalding Bay road turns north off the Teton Park Road between the Mountain View and Mount Moran turnouts. The junction is not signed. Follow the dirt road about 2.25 miles to the shore of Jackson Lake. The last part of the road may be rough. Please use caution.

Description : The Spalding Bay campsites face east across the bay and are partly sheltered from the prevailing southwest winds. Enjoy the vista across Jackson Lake toward Donaho Point, and waves lapping on the lakeshore. Conifer trees and grass cover the area.

People who want to camp here need to get a backcountry permit in advance. Backcountry permits are available at three permits offices: Moose and Colter Bay visitor centers and the Jenny Lake Ranger Station. Submit reservations between early January and mid-May, or stop by a permit office to see if a site is available (fee charged).
Facilities
These two campsites are classified as backcountry sites, but they have several improvements. Picnic tables, bear boxes, tent pads, fire grates and a vault toilet make this location a front country/backcountry site! But, there is no running water.

A backcountry permit is required for camping. Please visit our website for more information.
Name Origin
Bishop Franklin S. Spalding was part of the team who documented the first ascent of the Grand Teton in 1898 along with William O. Owen, John Shive and Frank Petersen. Spalding was the climber who figured out the key move. Owen attempted the climb several times before starting in 1891.
Last updated: January 21, 2021