Place
Senator Newlands Memorial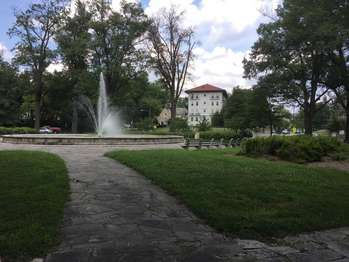 Location:
Chevy Chase Circle
Significance:
Memorial Fountain
Historical/Interpretive Information/Exhibits
Senator Francis Newlands (1846-1917) of Nevada is most well known for his Newlands Reclamation Act of 1902 which created the Bureau of Reclamation and led to the creation of dams and irrigation projects in the American west. He was also the founder of Chevy Chase, Maryland. The memorial has been a source of controversy as Newlands also argued for the restriction of immigration and voting rights for African-Americans.

The fountain is in the center of Chevy Chase Circle, which sits on the border between the District of Columbia and Maryland. Newlands was responsible for developing the area as a streetcar suburb in the 1890s.

The fountain was authorized by Congress in 1932. Legislation provided for the design of a fountain and adequate landscaping around the area. Funds were provided by Newlands' widow, Edith McAllister Newlands. The fountain was dedicated in 1938. 

Be sure to visit our Fountains page to learn the operating status of the fountain in Chevy Chase Circle.

Cost: $12,000 donated by Mrs. Newlands with no expense to the United States.

Dedicated: 1938

Designer: Edward Donn, Jr.
Memorial Description:
In the center of Chevy Chase Circle is a sandstone and concrete fountain. The fountain is 60 feet in diameter and throws a two-inch jet of water 30 feet in the air.
Inscriptions:
Pool edge, south
Francis Griffith Newlands
1848-1917
Senator from Nevada
His Statesmanship Held True Regard for the Interests of All Men
Founder of Chevy Chase
This Fountain Erected in 1933 - Authorized by Act of Congress
Plaque
The Chevy Chase Land Company of Montgomery County, Maryland
On the Occasion of its 100th Anniversary
1890-1990
Rededicates this Circle and Restores this Fountain
In Memory of its Founder
Senator Francis G. Newlands
Pool wall, top
Newlands Memorial Fountain
Last updated: March 16, 2022