Place
Philip A. Hart Visitor Center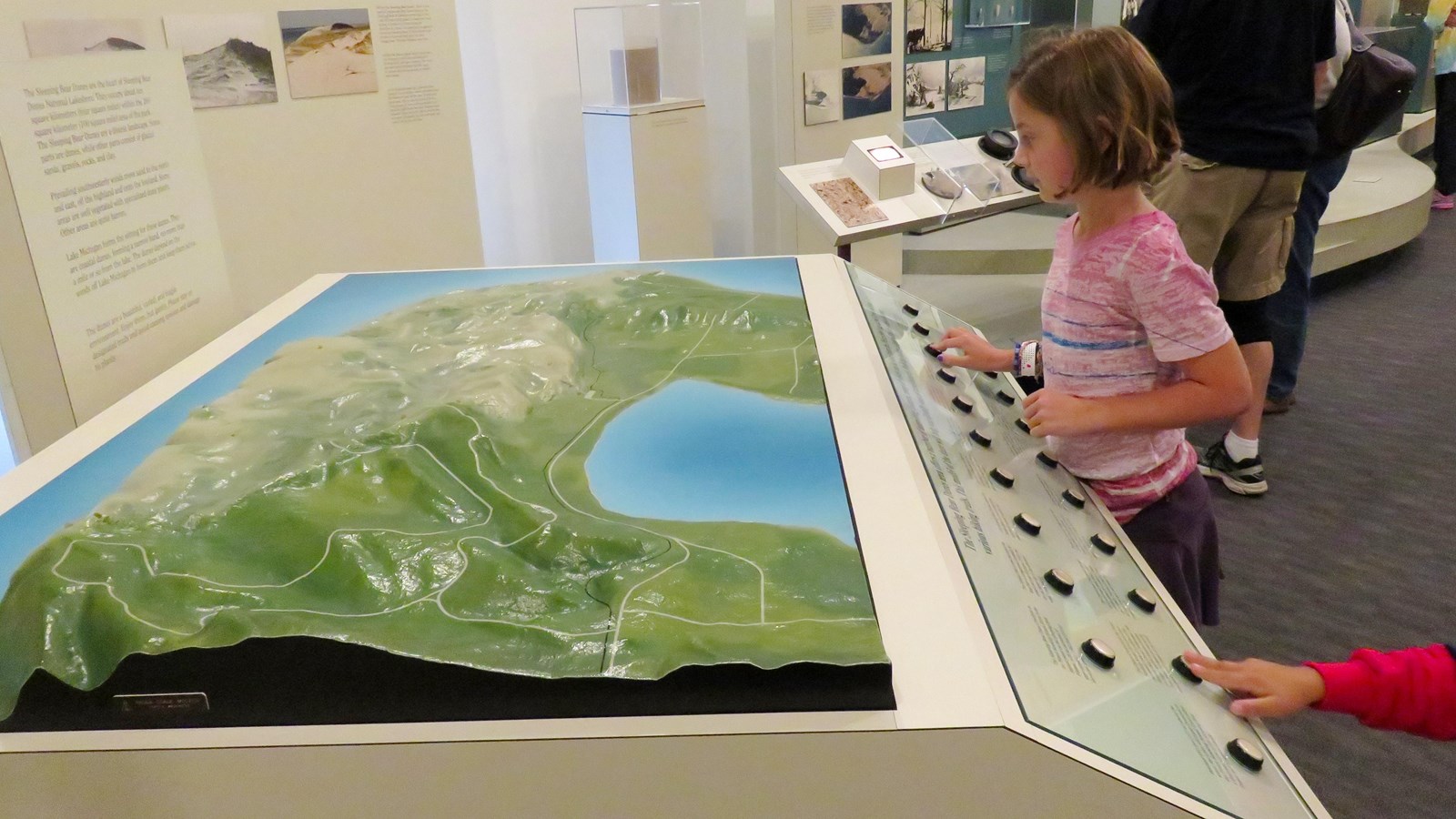 Accessible Rooms, Assistive Listening Systems, Baby Changing Station, Benches/Seating, Captioned Media, Entrance Passes for Sale, Fire Extinguisher, First Aid Kit Available, Gifts/Souvenirs/Books, Historical/Interpretive Information/Exhibits, Information - Maps Available, Information - Park Newspaper Available, Information - Ranger/Staff Member Present, Information Kiosk/Bulletin Board, Internet/WiFi Available, Parking - Auto, Parking - Bus/RV, Picnic Table, Restroom, Restroom - Accessible, Theater/Auditorium, Trash/Litter Receptacles, Water - Bottle-Filling Station, Water - Drinking/Potable, Wheelchair Accessible
Open Daily
9 am-4 pm

The visitor center is open all year except Thanksgiving, Christmas, and New Year's Day.

A year-round attraction, Sleeping Bear Dunes National Lakeshore is a special place where time slows down and where you can connect with each other, yourself, or the park itself.

The Philip A. Hart Visitor Center houses brochures, books, park passes, and all the sound advice you'll need to plan your visit to this special place.

Named after the U.S. Senator who was the driving force and whose determination and work brought about the legislature to create the Sleeping Bear Dunes National Lakeshore, the center has displays of Sleeping Bear Dune's natural history, fauna and flora, geology, history, and stories about people of the park.

Brochures and maps are available to help you make the most of your time at the park, which covers 71,000 acres and includes 35 miles of Lake Michigan shoreline, the big dune, scenic drives, more than 100 miles of marked hiking trails, campgrounds, and North and South Manitou islands.

Stop by and pick up a brochure, ask park rangers questions, pick up a souvenir, or take in the park movie.
Who was Phillip A. Hart?
Philip A. Hart was a U.S. Senator representing Michigan from 1959 - 1976. He was born in Bryn Mawr, PA in 1912. He graduated from Georgetown University in Washington, DC in 1934 and from the University of Michigan Law School in Ann Arbor in 1937 and was admitted to the Michigan Bar in 1938.

During World War II he served in the U.S. Army from 1941 until discharged in 1946 as a lieutenant colonel and was wounded during the D-Day assault on Utah Beach in Normandy.

He served as Michigan Lieutenant Governor 1955 - 1958 and was elected as a Democrat to the U.S. Senate in 1958. He served until his death on December 26, 1976. The third Senate Office Building was named for Senator Hart in 1987.

Senator Hart was instrumental in the establishment of Sleeping Bear Dunes National Lakeshore. Through his tireless efforts, the legislature of the United States of America saw fit to protect the magnificent Sleeping Bear Dunes area in perpetuity.

"Be it enacted by the Senate and House of Representatives of the United States of America in Congress assembled, That (a) the Congress finds that certain outstanding natural features, including forests, beaches, dune formations and ancient glacial phenomena, exist along the mainland shore of Lake Michigan and on certain nearby islands...and that such features ought to be preserved in their natural setting and protected from developments and uses which would destroy the scenic beauty and natural character of the area."
The visitor center is a one stop shop to plan like a Park Ranger for a safe and enjoyable trip.
Last updated: October 3, 2023