Place
Noyes Armillary Sphere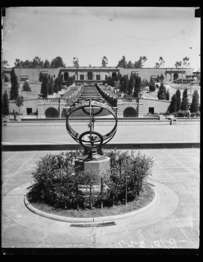 The Noyes Armillary Sphere by Carl Paul Jennewein was installed at the bottom of the Great Cascade in the 1930s. The sphere was vandalized in the 1960s and later disappeared after it had been removed from Meridian Hill Park for repair. The National Park Service is designing and building a replacement armillary sphere thanks to a generous donation.

An armillary sphere is a map of astronomical objects first used in China approximately 200 B.C.E. Similar spheres were used frequently in Europe during the 7th century to illustrate the Ptolemaic theory of the earth-centered universe. The metal rings of the sphere represent the great circles of the heavens arranged in degrees for angular measurement. An armillary sphere appears on Portugal's flag, referencing the importance of maritime navigation in the nation's history.

Cast in bronze, the Armillary Sphere was designed to be 6 feet 6 inches high, 5 feet 8 inches in diameter and 17.79 feet in circumference, and rested on a pedestal of green Conway granite 3 feet 4 inches high designed by the park architect, Horace Peaslee. To this day, the pedestal exists in its original location within Meridian Hill Park.

The sphere contained the signs of the zodiac in bas-relief on the outside of the circle, along with the hours of the day marked in Roman numerals. A bronze arrow formed the axis of the sphere, and in the center was the figure of the winged "Child Greeting the Sun."

The original sphere was laid out in two equal circles that crossed each other at right angles and bisected one another. One circle represented the Meridian and the other the Equator. The meridian was divided into four 90° areas and the equator into 360°. A third circle, the Ecliptic, passed obliquely through the meridian and equator and intersected the equator at an angle of 23 1/4° at two points known as the equinoxes. Two smaller circles at either end represented the Arctic and Antarctic regions and were placed at a position 23 1/4° from their respective poles. A circle representing the line of longitude was placed at right angles to the meridian but bisecting the sphere east and west and thus passing through the north and south poles. A bronze gnomon shows the Axis of the earth and casts a shadow upon the equatorial band. On the inside of this band are represented the minutes of the day in 5 minute increments and there are star symbols that represent the hours of the night.

If you're an armillary sphere enthusiast, check out the Sarah Rittenhouse Armillary Sphere in Montrose Park.
Last updated: November 7, 2021