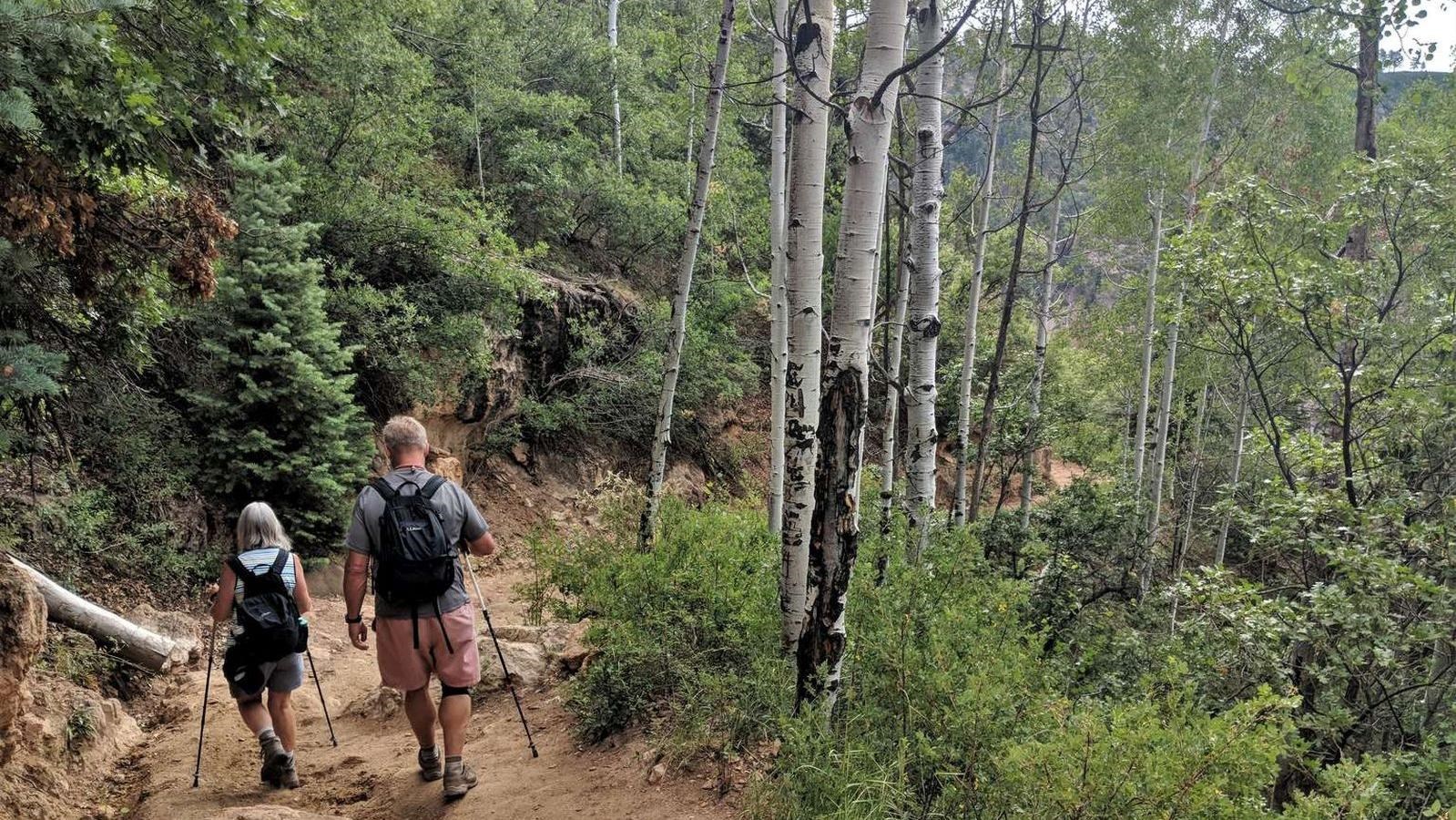 Location:
North Rim, Grand Canyon National Park
Significance:
Hiking Trail
Trailhead, Water - Drinking/Potable
The North Rim is open for Day Use Only - through November 30, 2023 - unless closed earlier by a major snowstorm. Details >
The North Kaibab Trail is the least visited and most difficult of the major inner canyon trails at Grand Canyon National Park. Beginning 1,000 feet (305 m) higher than South Rim trails, hikers can glimpse the vast expanse of Bright Angel Canyon through fir trees, aspen, ferns and wildflowers.

Built throughout the 1920s to match the quality and grade of the South Kaibab Trail, the present-day North Kaibab Trail replaced an older route infamous for crossing Bright Angel Creek 94 times (the present-day trail crosses only 6 times). Though masterfully constructed and maintained, North Kaibab Trail is challenging for day hikers as well as rim-to-rim hikers.
Day Hike Turnaround Points
North Kaibab Trailhead (8,241 feet / 2,510 m)
Be sure to pick up a map before hiking.

Coconino Overlook (7,450 feet / 2,270 m)
1.4 miles (2.3 km) roundtrip / 1-2 hours / 790 vertical feet (241 m)

Supai Tunnel (6,840 feet / 2,085 m)
4.0 miles (6.4 km) roundtrip / 2-4 hours / 1400 vertical feet (425 m)

Redwall Bridge (6,040 feet / 1,840 m)
5.2 miles (8.4 km) roundtrip / 4-6 hours / 2200 vertical feet (670 m)

Check with a park ranger before attempting to hike past Redwall Bridge and back in one day.
Water
Water stations are available at North Kaibab trailhead and North Rim Backcountry Information Center. Potable water may also be available at Supai Tunnel, Manzanita Rest House and Cottonwood Campground. Water is NOT available at Roaring Springs. Never fully rely on these water stations, as pipeline breaks and freezing weather impact them. Always carry a way to treat water from the creek in case water stations are not functioning.

Prior to beginning your hike, check the Visitor Center or Backcountry Information Center for water status updates.
Trail Description
After an initial steep descent down the head of a side canyon via a series of numerous switchbacks through lush greenery and impressive views below the trailhead, the trail approaches the distinctive Supai Tunnel. Here hikers will find potable water (mid-May to mid-October) and pit toilets. No emergency phone is available.

Switchbacks continue to the massive cliffs of Redwall Limestone, where for long stretches the trail has been blasted out of the cliff. The Redwall section is awe-inspiring in every way; fantastic exposure and views contrast with the engineering marvel of providing access to this location.

From Redwall Bridge, the bulk of the trail's descent meets the flatter bottom of Bright Angel Canyon and Roaring Springs. Here, water gushes forth directly out of the cliffs, cascading over moss and fern to form Bright Angel Creek (which will be a constant companion all the way to the Colorado River). This giant spring provides drinking water for every visitor and resident within Grand Canyon National Park. The water is delivered to the South Rim via a pipeline buried beneath the North Kaibab Trail (installed 1965 - 1970). You can see this amazing pipeline as it stretches across the Colorado River on the underside of the Silver Bridge from Bright Angel Trail.
Hike Smart
Please consider seasonal variations in trail conditions. 

During winter months, the upper section of North Kaibab trail can be ice-covered and snowbound. North Rim hikers must be prepared for extreme winter conditions with extra food, clothing layers, and tractions devices.

During hotter months (May - September), it is critical that hikers begin their hike well before dawn or after 3 p.m. Success and enjoyment depends on the amount of time spent planning ahead and preparing for all conditions. Success in the summer can be as simple as staying off the trail and out of the sun between 10 am-4 pm. Hiking the entire North Kaibab Trail in a single day is not recommended, particularly in summer, as it would be extremely difficult to avoid hiking in the heat of the day.

Make a Plan
Once you have researched your trip and are confident in what to expect on the trail, leave your itinerary with someone who will notice if you are overdue and report it to 911.

Check the Weather
Summer temperatures in the shade routinely pass 100°F (38°C). Avoid hiking between 10 am and 4 pm, the hottest times of day.

From July to September, monsoons can build large, violent lightning storms. Seek shelter immediately.

In winter and early spring, temperatures can drop below 32°F (0°C) and upper portions of this steep trail become dangerously icy. Hard ice often conceals potentially hazardous passages. Over-the-shoe traction devices are highly recommended.

Pack Properly
It is critical to determine before your hike your needs for fluids and for snacks high in calories and salts. Consuming twice as many calories as during normal exercise is realistic for summer canyon hikes. The hike out of the canyon will likely take twice as long as the hike down. Wearing sun hats and cool, wet clothing will help regulate your core body temperature during warmer hikes.

Energy Balance
Your body needs energy-balancing proper nutrition and hydration are critical to your hiking success! Eat and drink while resting-sip fluids only when thirsty.
Too little water leads to dehydration and heat stroke. Excessive hydration and insufficient salt intake causes **hyponatremia **-a seizure-producing electrolyte disorder. If you do not feel well: seek shade, get wet, cool off, eat, and rest. Turning around may be your best option.
Mules & Hikers
Mules use this trail regularly.
Expect to encounter aromatic evidence of them on your hike!

Always give mules the right of way.
Encounters between hikers and mules have resulted in injuries to packers and the death to mules. To ensure safety for yourself, other trail users, mules, and mule riders, follow these steps when encountering mules on the trails:
Step off the trail on the uphill side-away from the edge.
Listen for and follow the direction of the wrangler.
Remain completely quiet and stand perfectly still.
Only return to the trail when the last mule is 50 feet (15 m) beyond your position.
Camping
A permit is required for camping in this area. Learn more and apply online or request a permit in person at the Backcountry Information Center.

At-large camping is not permitted on the North Kaibab Trail; camp only in designated campgrounds.
Maps
Hiking Into Grand Canyon (NPS, free)
7.5 Minute Quad, Phantom Ranch (USGS)
Sky Terrain Trails Map, Grand Canyon (Sky Terrain)
Trails Illustrated Map, Grand Canyon National Park (National Geographic)
Last updated: October 26, 2023