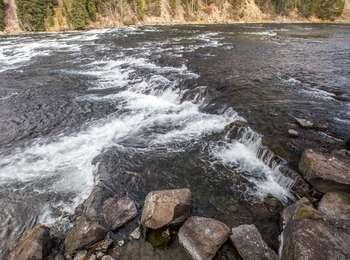 Historical/Interpretive Information/Exhibits
Located on the Yellowstone River, the longest undammed river in the contiguous United States.
In spring, you might be able to see Yellowstone cutthroat trout leaping upstream at LeHardys Rapids. Yellowstone cutthroat trout are the most widespread native trout of the park and were the dominant fish species here prior to Euroamerican settlement.
Some scientists consider LeHardys Rapids to be the geologic northern boundary of Yellowstone Lake because the periodic rise and fall of the rapids appears to control lake outflow.
Yellowstone Cutthroat Trout
Require cold, clean water in streams or lakes.
Spawn in rivers or streams in early May through mid-July.
Most important foods are aquatic insects (mayflies, stoneflies, caddisflies, etc.) and other small aquatic animals, plus terrestrial insects that fall into the water.
Also eat smaller fish, fish eggs, small rodents, frogs, algae and other plants, and plankton.
In the 1960s, fisheries managers determined that angler harvest was excessive and negatively impacting the fishery. Increasingly restrictive angling regulations were put into place, which helped restore cutthroat trout population numbers and age structure.
Whirling disease and illegally introduced lake trout in Yellowstone Lake now pose a serious threat to the cutthroat trout population.
They provide an important source of food for an estimated 20 species of birds, and mammals including bears, river otters, and mink. In the recent past, fishing for cutthroat trout has supported a $36 million annual sport fishery.
Fishing Permits
Fishing permits are required in Yellowstone, state-issued fishing permits are not valid within the park.
Permits are available at visitor centers, ranger stations, general stores, and other locations outside of the park.
Visit https://www.nps.gov/yell/planyourvisit/fishing.htm for more information.
Be Prepared to Encounter Bears
Carry bear spray and know how to use it.
Hike in groups of three or more people.
Make noise to avoid surprise encounters.
Slowly back away from any bears, for they have an instinct to chase.
Accessibility
Visitors with wheelchairs may require assistance due to uneven ground. The southern part of boardwalk has stairs.
Last updated: June 13, 2022