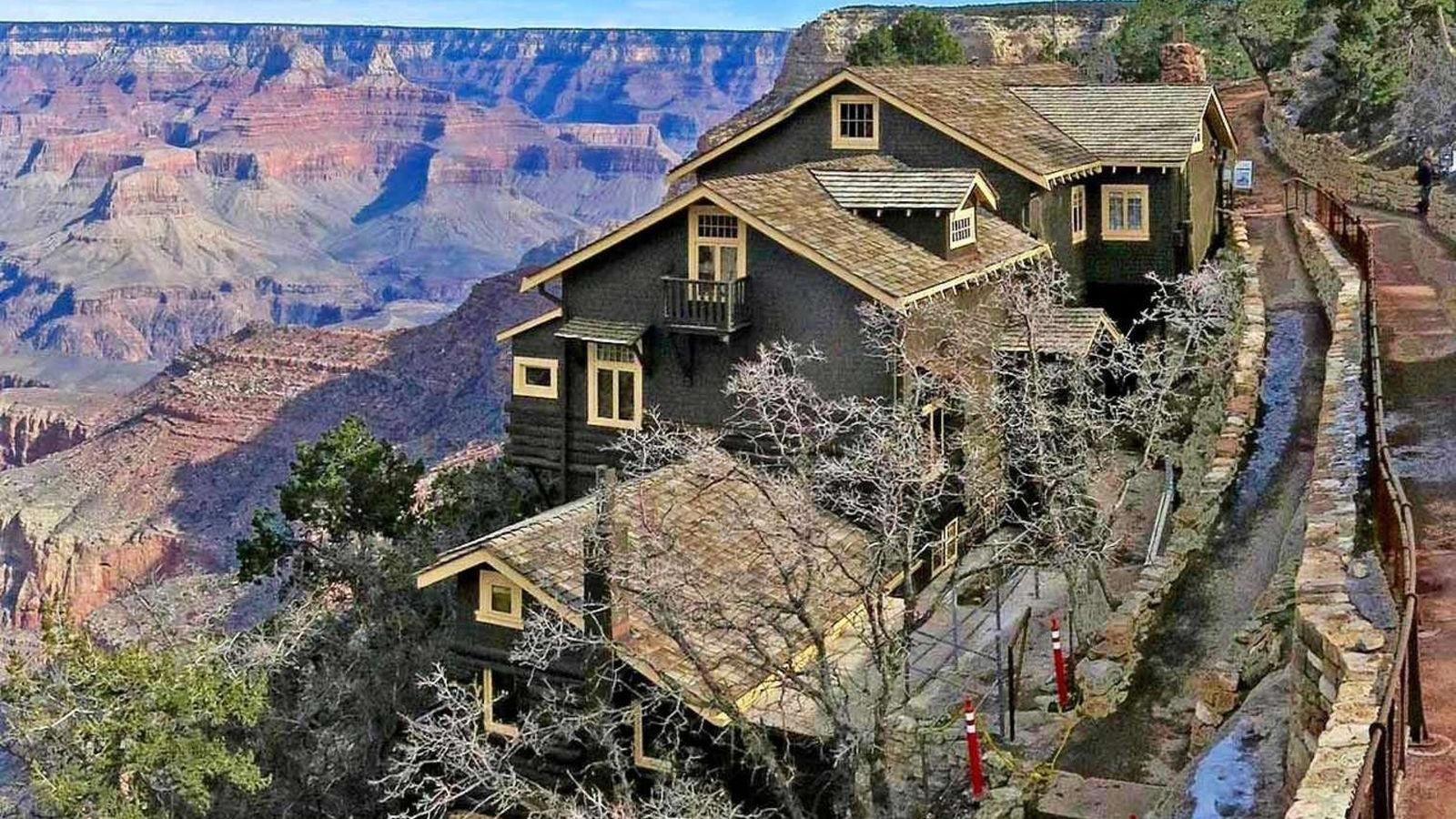 Location:
Village Historic District
Significance:
Historic Home, Photo Studio and Theater
Designation:
National Historic Landmark
MANAGED BY:
Grand Canyon Conservancy
Audio Description, Automated External Defibrillator (AED), Benches/Seating, Fire Extinguisher, First Aid Kit Available, Gifts/Souvenirs/Books, Historical/Interpretive Information/Exhibits, Information, Information - Maps Available, Information - Ranger/Staff Member Present, Parking - Auto
Hours of Operation
8 am to 7 pm daily
Starting Sunday, May 21, hours will change to 9 am to 5 pm daily.

A home, business, toll gate, and photography studio, this historic building has been rebuilt and reimagined many times during its tenure on the rim of Grand Canyon. From humble beginnings, Kolb Studio grew and changed with the family who called it home.

Nearly demolished in the 1960s, this structure stands today as a park icon, art gallery, and bookstore for visitors in the vicinity of Bright Angel Trail.

Currently operated by the park's non-profit partner, Grand Canyon Conservancy, visitors can purchase artwork, books, gifts, souvenirs, and basic hiking gear, or simply stop by for park information and exhibits on the Kolb Brothers' life and adventures on the edge of the canyon.
Kolb Studio Exhibits:
 
The Amazing Kolb Brothers: A Grand Life at Grand Canyon
This Exhibit will run from January 25 through September 6, 2023 
See the Amazing Kolb Brothers Exhibit at Kolb Studio, house-turned-museum perched perilously on a western precipice in Grand Canyon Village. — View their antique cameras, study paintings by plein-air artists, and watch their 1912 motion picture travelogue, about their life and river trips down the Colorado River. 

Grand Canyon Celebration of Art Exhibition and Sale
September 8, 2023, through January 15, 2024
Since 2009, CoA has invited participating artists to paint "en plein air" (outside on location) for a week at the canyon. The works produced from the event will be available for purchase online and on display at historic Kolb Studio during the four-month sale and exhibition. Details > 

Celebration of Art (CoA) is a wonderful tradition at Grand Canyon National Park, providing a vibrant experience for visitors, a venue for artists inspired by the canyon, and a successful fundraiser to benefit a dedicated art venue and arts programming at the park. 
History
In 1901, Ellsworth Kolb arrived at the rim of Grand Canyon by train. By October 1902, he had persuaded his brother Emery to join him. A year later, the brothers established their photography business near Bright Angel Trailhead after receiving permission from Ralph Cameron, who at the time owned Bright Angel Trail. They camped out in a small tent on the canyon rim before building a small wooden house in 1906, which they called Kolb Studio.

Over the next 12 years, the Kolb brothers established themselves as both photographers and adventurers. From capturing unorthodox photos of hard-to-reach areas of the canyon to documenting their 101 days running the Colorado River on film with a motion-picture camera, Ellsworth and Emery revealed images that few had dreamed of. Selling their images in leather-bound books for three dollars each and touring the country to present their film lecture series, the Kolb brothers made a name for themselves and opened the eyes of a nation to this wonder of the world.

For decades, the Kolb brothers continued to make a living out of Kolb Studio on Grand Canyon's South Rim. Later in life, when their contractual agreements with the park ended, the National Park Service actually wanted to demolish this studio in the 1960s. The architecture wasn't quite in line with the style and theme of other buildings in the park. After several years of quibbling between Emery and the agency, the structure was saved when Congress passed the National Historic Preservation Act in 1966, legislation that effectively protected park structures over 50 years old from being destroyed.
Last updated: May 13, 2023