Place
Fairyland Loop Trailhead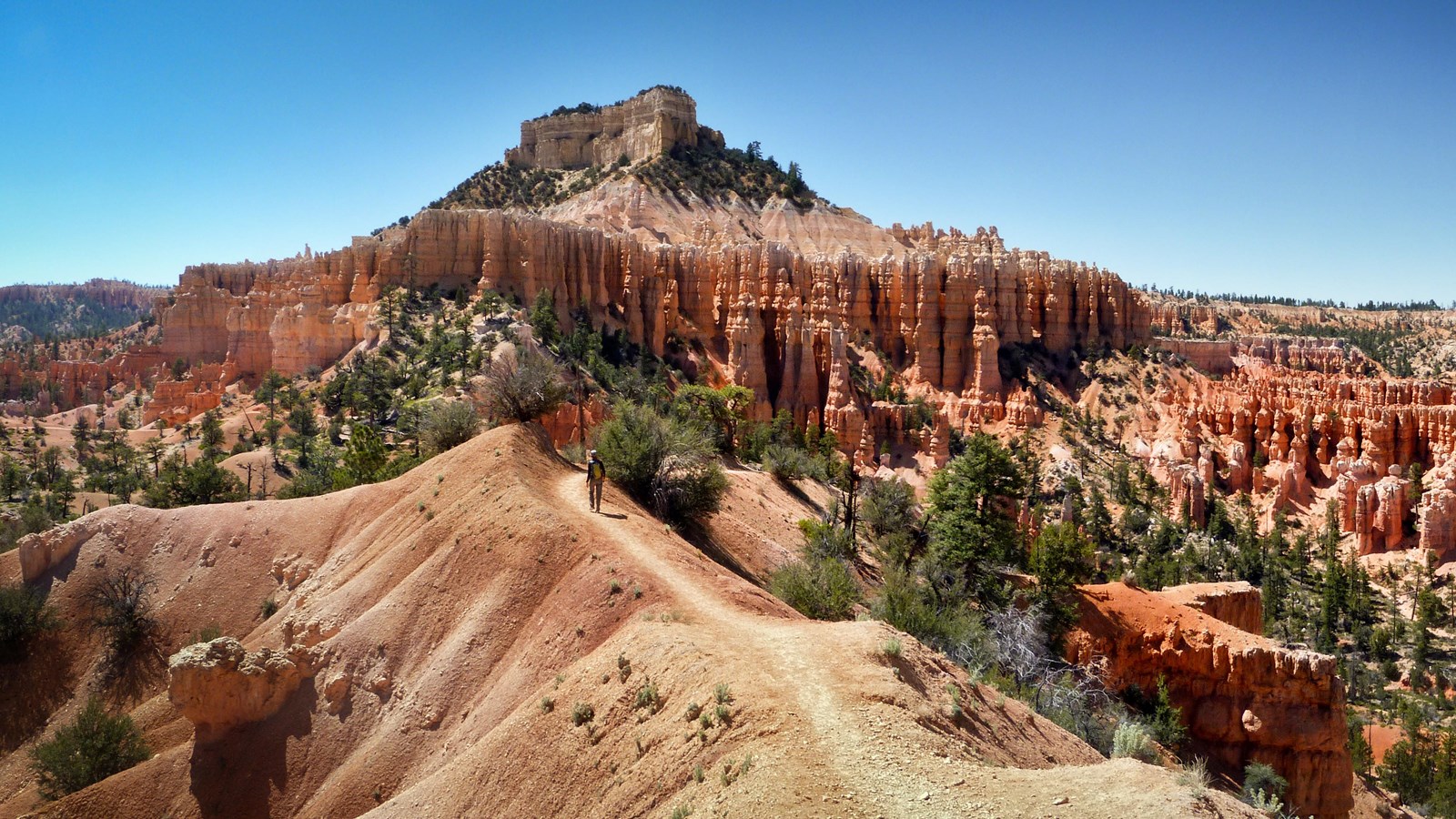 Location:
At Fairyland Point
Significance:
Northern end of the Rim Trail and one of two trailheads for the Fairyland Loop (other at Tower Bridge Trailhead)
Fairyland Loop Trail
Difficulty: Strenuous
Total Distance: 8.0 miles (12.9 km)
Elevation change: 1,716 feet (523 m)
Average time: 4-5 hours

Along the the Peekaboo Loop, the Fairyland Loop provides some of the best strenuous hiking in the park. It can be begun from either the Tower Bridge Trailhead or further notice at Fairyland Point (not accessible by vehicle in winter months). Spending 2.5 miles (4 km) along quiet ponderosa forests on the Rim Trail and the rest below surrounded by hoodoos within Fairyland and Campbell Canyons, it provides an excellent experience of the diversity above and below the rim. The trail can be hiked either clockwise or counter-clockwise, though many prefer the latter for the opportunity to descend rather than climb the Tower Bridge Trail section.
Generally the trail traces a large circle centered on Boat Mesa, the large flat-topped feature capped with the Conglomerate at Boat Mesa. This rock layer is one of the park's youngest, from a time after the freshwater lakes that would deposit the vibrant Claron Formation that forms the park's hoodoos had drained away, leaving large braided rivers that drained mountains to the north. 
More about the trail
The Rim Trail
Difficulty: Varies (Easy to Moderate)
Total Distance: 5.5 miles (8.9 km)
Ascent/Descent (North to South): 1,825 feet (556 m) / 1,330 feet (405 m)
Average time: 3-4 hours

The 5.5 mile (8.9 km) Rim Trail begins in the south at Bryce Point and ends in the north at Fairyland Point. The trail connects all viewpoints in the Bryce Amphitheater area and can be accessed at each of them.
The section between Sunrise and Sunset Points is paved and has minor elevation changes; this portion is wheelchair accessible except in severe weather.
This section between Sunrise and Sunset Points is also the only section of the Rim Trail pets are allowed on; all pets must be on leash and owners must pick up after them. The section from Bryce to Inspiration is closed in winter.
During shuttle season, hikers may use stops here, at Inspiration, Sunset, and Sunrise to complete one-way hikes. Fairyland Point has no shuttle service.
Nature
Bristlecone Pines
Note that bristlecone pines share dolomitic limestones with some of the park's most delicate plants. Stay on the trail and help us to protect them.
Though Bryce Canyon is well known for its geology, the park also contains a fantastic diversity of trees. Among the most impressive of these is the Great Basin bristlecone pine (Pinus longaeva). These trees are known for thriving where few other plants can, and for far longer too. Look for bristlecone pines on exposures of dolomitic limestone. These areas of white to grey stone are found in the park's hoodoo-forming Claron formation as low as the Queen's Garden and Fairyland Loop trails. Dolomitic limestone is high in calcium and magnesium, and low in phosphorus. This chemistry is difficult for other plants to tolerate, giving the bristlecone pine plenty of room to grow as slowly as it likes. You'll also typically find higher-elevation bristlecones growing at the edges of cliffs, where competition is even further reduced. Free to take its time, bristlecones pines can grow as slowly as an inch (2.5 cm) per century if conditions are challenging. This gives these trees incredibly dense heartwood, which is capable of providing structural support to the tree long after a section of limb or trunk has lost its life-protecting bark. The oldest tree at Bryce Canyon was estimated to be 1,600 years old, though trees across its range into Nevada and California have been dated at over 5,000 years old, giving Pinus longaeva the honor of being the longest living non-clonal species on Earth.
You can identify a Bristlecone pine by its densely bundled needles of five (making it a white pine). Unlike many other pines that shed their needles every few years, bristlecone pines can retain needles for up to forty years. Their 1.5 in (1.2 cm) long needles remain vibrant and green for typically a full 12 inches (30 cm) along the branch. This appearance is often compared to that of a bottlebrush or pipe cleaner.
Like the limber pine (another white pine found at Bryce Canyon) seeds of the bristlecone pine may be harvested and dispersed to unlikely places by Clark's nutcrackers (Nucifraga columbiana). The seeds of their bristle-tipped cones are often among the first to colonize recently burnt areas.
Last updated: November 7, 2021