Place
End of the Oregon Trail Interpretive Center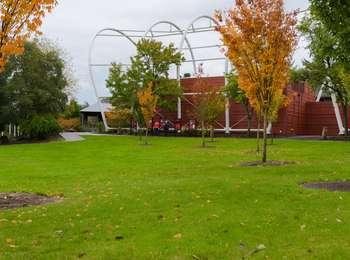 Location:
1726 Washington St, Oregon City, Oregon
Significance:
The designated end of the Oregon Trail
Amphitheater, Food/Drink - Vending Machine/Self Service, Gifts/Souvenirs/Books, Historical/Interpretive Information/Exhibits, Information, Picnic Table, Recycling, Restroom, Trash/Litter Receptacles, Water - Drinking/Potable, Wheelchair Accessible
A map of Passport and Places to Go locations for National Historic Trails.
The End of the Oregon Trail Interpretive Center contains a wealth of displays about the history of the Oregon Trail and the town of Oregon City. Before heading into the center, explore the outside grounds and gardens. Here, interpretive signs tell the stories of the Trail, the Tumwater Chinook and Clackamas Indian people, and the settlement of the Willamette Valley. Follow the sidewalk to reach the garden that contains the designated end of the Oregon Trail, which is marked by two monuments.

From an exhibit at the visitor center:
"Oregon Trail emigrants started arriving on rafts from Fort Vancouver in 1843. They put in at Abernathy's house and climbed up to Abernathy Green. Arriving in late fall or early winter, most of them opted to winter over in encampments at Abernathy Green. During their stay here they would scout out this piece of the Willamette Valley, file their claim at the Government Land Office and resupply in Oregon City at places like Pettygrove's Red Store or Governor Abernathy's Mercantile. Beginning in 1846, two-thirds of Oregon Trail emigrants took Sam Barlow's Mount Hood Toll Road, which ended right here at Abernathy Green."
Site Information
Location (1726 Washington St, Oregon City, Oregon)
Inside the center are several interactive exhibits, opportunities to play period games, a theater that plays the feature film "Bound for Oregon," and a gift shop. Allow several hours for your visit. Modest admission is charged.

Safety Considerations 
Last updated: January 13, 2023