Place
Deschutes River State Park Oregon Trail Kiosk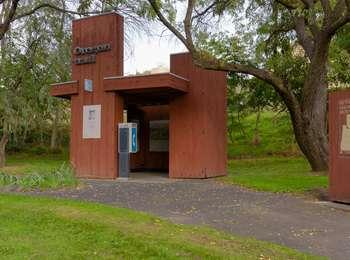 Location:
Highway 206, 4.5 miles west of Biggs Junction
Significance:
River crossing on the Oregon Trail
Designation:
Oregon State Recreation Area
Canoe/Kayak/Small Boat Launch, Historical/Interpretive Information/Exhibits, Picnic Table, Restroom, Telephone, Trailhead, Water - Drinking/Potable
Crossing the Deschutes River, near Deschutes River State Park , was difficult for emigrants. They frequently camped at the mouth of this large tributary of the Columbia River before crossing. In order to cross, some emigrant parties used the rocky islands near the river's mouth as stepping stones, while wagons were floated across and stock animals swam. Others forded the river using rafts. The lure of the nearby rich and fertile Willamette valley drove them ahead.

Today, this area is managed as a state park. The original river crossing is now submerged beneath Lake Celilo, but wagon ruts are still visible on the hill on the opposite side of the Deschutes River. Exhibits at the Oregon Trail interpretive kiosk tell the emigrant story.
Emigrant Remarks
Joel Palmer wrote a detailed description of the crossing on September 28, 1845:
"The river is about one hundred yards wide, and the current very rapid; the stream is enclosed by lofty cliffs of basaltic rock. Four hundred yards from the Columbia is a rapid or cascade. Within the distance of thirty yards its descent is from fifteen to twenty feet. The current of this stream was so rapid and violet, and withal of such depth, as to require us to ferry it. Some of the companies behind us, however, drove over at its mouth by crossing on a bar."
Site Information
Location (Highway 206, 4.5 miles west of Biggs Junction)
The park contains campsites, drinking water, public showers and restrooms. Outdoor activities include camping, hiking, mountain biking, rafting, and fishing.
Last updated: October 8, 2022