Place
Bright Angel Trailhead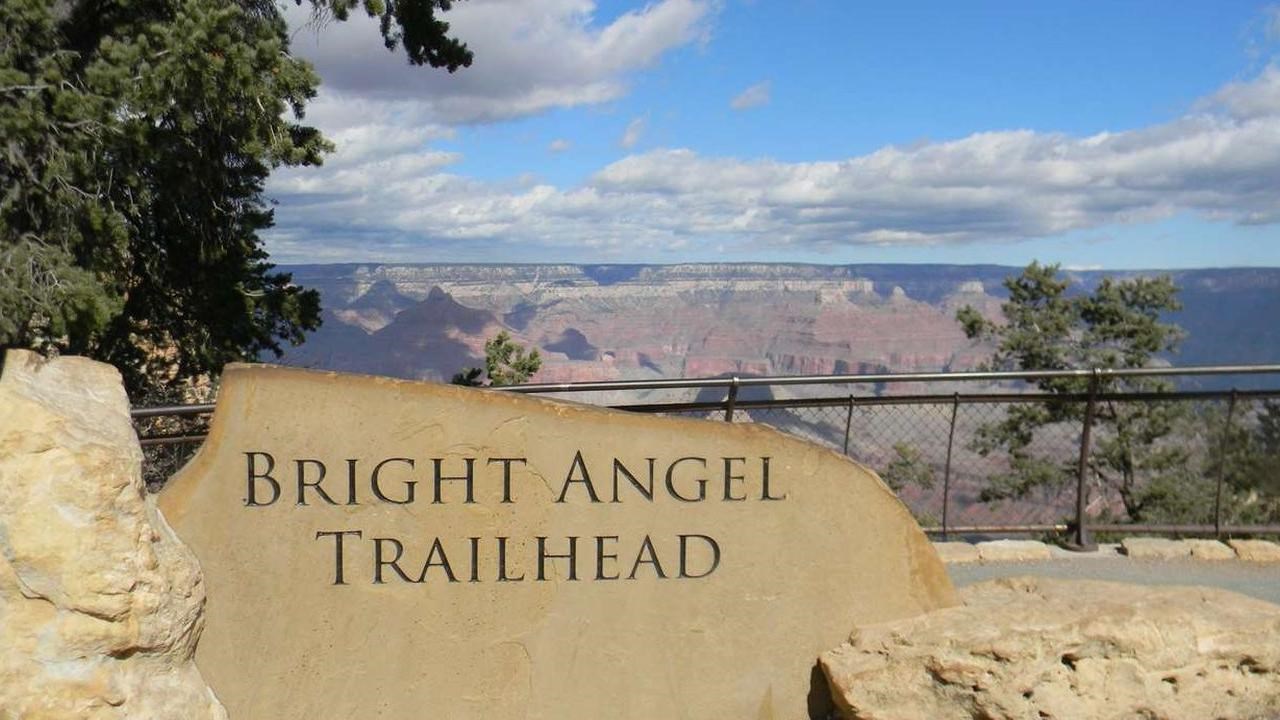 Location:
Grand Canyon Village
Significance:
Historic Trail
Benches/Seating, Bicycle - Rack, Historical/Interpretive Information/Exhibits, Information, Information Kiosk/Bulletin Board, Parking - Auto, Restroom, Restroom - Accessible, Toilet - Flush, Trailhead, Trash/Litter Receptacles, Water - Bottle-Filling Station, Water - Drinking/Potable
Bright Angel Trailhead is located just west of Bright Angel Lodge, Lookout Studio, and Kolb Studio. At 6,840 feet (2,085 m), it provides access for hikers and mules to many Inner Canyon destinations.

From the Hermit Road Interchange shuttle bus stops, it is a short walk to the east and up the hill on a paved footpath to the trailhead. 

Parking is available next to the trailhead, but is very limited and often fills in the early morning. Other options include parking at the Backcountry Information Center (Lot D) and walking 5–10 minutes along the sidewalk past Maswik Lodge to the trailhead, or parking at the Grand Canyon Visitor Center and taking the free Village Route (Blue) shuttle bus, a 20-minute one-way trip.
Know Before You Go
Before heading down into the canyon, consult the signs at the trailhead for trip planning and current weather, trail information and closures. (or visit our Key Hiking Messages webpage).
Plateau Point Trail from the Tonto Trail junction to Plateau Point is CLOSED, October 12, 2023, through March 14, 2025. The closure is for waterline replacement work. 
Thursday, October 26 through Monday, December 1, 2023. Safety flaggers will be stationed along Bright Angel Trail when workers are conducting any over the edge work, and trail users may experience intermittent delays for safety stops.
Visit the restrooms (it's a mile and half until the next one!), and be sure to fill up your water bottles and/or bladders. The new water bottle filling station, at the trailhead, is inside an elk proof metal cage attached to the side of the restroom closest to the stone mule corral. 

There are seasonal water stops along the trail during late spring, summer, and early fall when overnight low temperatures are above freezing. During winter months, the waterline is prone to breakages, so the water is shut off at Mile-and-a-Half, and Three-Mile Resthouses. This year —on October 30, 2023.
Last updated: October 27, 2023