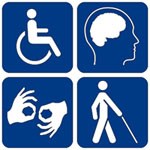 Visitor Centers

Eastern Front Visitor Center: Ramps are available both to the lower level where the public restrooms are located, and to the upper level where both the museum and the auditorium are located. The park's 17 minute overview video is close captioned. In the Spring, 2015, new restrooms will be available with universally accessible stalls.

General Grant's Headquarters Visitor Contact Station: The main entrance on the west wing includes a ramp which also leads to the fully accessible restrooms. However, there is no paved trail leading to General Grant's cabin. Visitors have to travel across a flat grassy area to access the cabin.

Five Forks Visitor Contact Station: The entire building is universally accessible.


Trails

The historic trails located in the Eastern Front Unit at tour stops 1, 5 (Fort Stedman), & 8 (Crater) are paved, however, there are areas of these trails where wheelchairs are discouraged. For more information, please contact a Ranger at the Visitor Center or call Petersburg National Battlefield at (804) 732-3531.