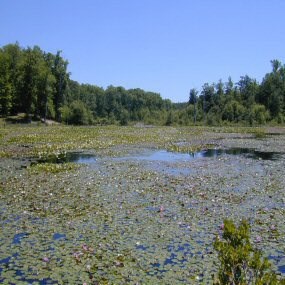 During the siege of Petersburg (1864-65), there were more ponds and wetlands in the area that is now Petersburg National Battlefield than there are today. Both Confederate and Union troops constructed earthen dams to create standing water for both defensive and logistical purposes (water sources for troops and animals). However, today there are only a few small permanent ponds/lakes left on the battlefield's property.
Vernal (or temporary) ponds are more numerous, though. These ponds form in low points in especially wet seasons. These ponds play just as important of a role in the park's natural habitat as do the year-round ponds. They provide breeding ground and habitat for many types of amphibians and insects, and act as a source of food for other animals.
The most notable year-round body of water is present in the Five Forks unit. The pond has been created by a beaver dam that blocks Hatcher's Run. It teems with life, as can be seen in the number of fish species that occupy its waters.