Web Rangers Activity #1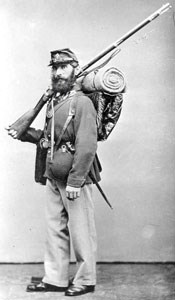 Outfit a Civil War Soldier for Service
Whether you were a an artillery, a cavalry, or an infantry soldier, there were certain uniform items that you must have in order to provide proper service to the Union or the Confederate army. Using the
pictionary
and
soldier life
pages, you must properly equip a soldier for service.
1. Select an artillery, cavalry, or infantry soldier to equip. Refer to the soldier life pages to identify the primary job of the soldier you select.
2. Make a list of the uniform and equipment items that a soldier of an artillery, cavalry, or infantry unit would need to perform his duties.
3. Once your list is completed, draw a sketch of the soldier with all of his equipment. Remember...everyone is an artist.
4. Finally, look over your list and identify three items on the list that were universal needs of all soldiers. The three items you select should be something that soldiers needed regardless of what their primary duties were. Write a brief explanation of why all soldiers would need these uniform or equipment items.
Last updated: February 26, 2015