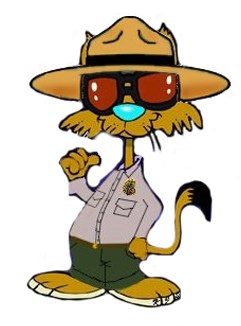 Flat Stanley by Jeff Brown is the story of a boy who is flattened by a bulletin board. Because he is flat, he can travel by mail (which costs a lot less than traveling by plane or car). Like Flat Stanley, Flat Rangers travel across the country by mail. They visit America's National Parks and send home pictures and information about all the places they see.
Send your Flat Ranger to Petersburg National Battlefield for a guided tour of the park, starting at the Eastern Front Visitors Center. Your Flat Ranger will see the site of the longest siege of the Civil War..
Mail Your Flat Ranger or Flat Stanley to:
Petersburg National Battlefield
C/O Ranger McClammy
5001 Siege Road
Petersburg VA 23803
Start Your Adventure:
Make a Flat Ranger or Flat Stanley
You can download our Flat Ranger Cat cutout, use a template from FlatStanley.com, or draw your own.

Decorate your flat friend any way you want. Don't forget to name your Flat Ranger.
Write a Letter
Send a letter with your Flat Ranger asking for information, pictures, and a story of your Flat Ranger's adventures.

You can download our Flat Ranger Letter. Make sure to include your name and a return address!
Pick a Park
Send your Flat Ranger to any of the parks listed on the following document. Not all parks are currently participating in the program and it might take a while for your Flat Ranger to continue their journey if you choose a park not on the list. But don't let that discourage you from trying.

Park List

Mail Your Flat Ranger
You can send your Flat Ranger to one park at a time or you can send him/her on a longer trip.

If you want to send your Flat Ranger on a long trip, be sure to put that in your letter. You can include a list of parks you want your Flat Ranger to visit or you can ask the Ranger to pick a park for you.

(If your Flat Ranger needs to be home by a certain date, put that in your letter, too.)