John Gordon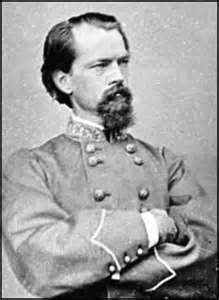 Born in 1832 in Georgia, John Gordon was a lawyer and superintendent of a coal mine before the war. He fought in the Peninsular campaign and was promoted to brigadier general after Antietam. Gordon participated in Chancellorsville, Gettysburg and the Overland campaign. He was promoted to major general in May 1864.
At Petersburg he commanded the Second Corps. In March 1865, at Lee's request, Gordon planned and led the attack on Fort Stedman. This was to be Lee's last grand offensive of the war.
Following the war, Gordon returned to Georgia where he was three times elected to the United States Senate and once elected as governor. He also wrote Reminiscences of the Civil War to tell of his role in the war. Gordon was a prime mover in the organization of the United Confederate Veterans and became its first commander-in-chief, serving from 1890 until his death in 1904.
Last updated: November 26, 2023