Jefferson Davis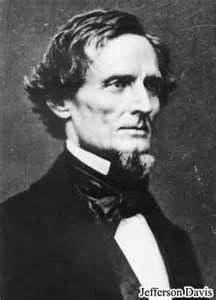 Born in 1808 in Kentucky, Jefferson Davis graduated from West Point in 1828. After seven years in the army he resigned his commission to become a planter in Mississippi. Davis was elected to Congress in 1845 and then left in 1846 to fight in the Mexican War. From 1853 to 1857 he was secretary of war for President Franklin Pierce and then served in the U.S. Senate until 1861. Davis resigned from the senate in January 1861 and was inaugurated February 1861 as president of the Confederacy.
Davis' administration was marked by cronyism, autocracy, hard work, and complete devotion to the cause. Outside his constant support of Lee, Davis often quarreled with his generals and interfered with the War Department to the point where he had six secretaries of war in four years . Still he worked ceaselessly, was able to hold onto talented staff, and promoted a much needed nationalistic view of the Confederacy.
In 1865, his responses to the failed Peace Conference and Gen. Lee's report on the state of the army at Petersburg display Davis' complete dedication to the Confederacy. Even with the surrender of Lee's and Johnston's armies he couldn't accept the end of the Confederacy. After his capture in Georgia he spent two years in prison and was released without being brought to trial. He wrote The Rise and and Fall of the Confederate Government in 1881 and died in 1889.
Back to Biographies
Last updated: February 26, 2015