Gouverneur Warren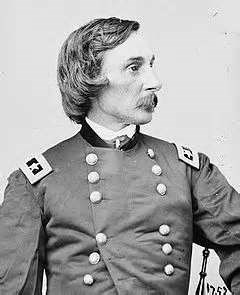 Born in 1830 in New York, Gouverneur Warren graduated from West Point in 1850. He served with the Corps of Topographical Engineers and taught mathematics at West Point until the beginning of the Civil War. He participated in the Peninsula Campaign, Second Bull Run, and Antietam. At Gettysburg he gained fame for helping the Union avert probable disaster on Little Round Top. Subsequently, he was promoted to major general.
He was the commander of the V Corps for most of the remainder of the war. This corps was heavily engaged in most of the fighting around Petersburg. Criticisms of him being too cautious led to his removal, by Gen. Sheridan, of command of the V Corps as the battle of Five Forks was ending.
Warren spent the rest of his army career as an engineer. He requested and finally received a court of inquiry into the charges that led to his removal. The court convened fourteen years after the fact and published its findings in November of 1882. The court had cleared Warren of the principal charges - three months after his death.
Back to Biographies
Last updated: November 26, 2023