Pierre G.T. Beauregard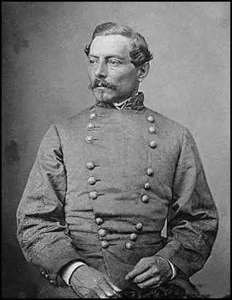 Born in 1818 in Louisiana, Pierre G.T. Beauregard graduated from West Point in 1838, served in the Mexican War, then as Chief Engineer in New Orleans, and briefly as Superintendent of West Point before resigning in February 1861 to join the Confederate service. He commanded the attack on Fort Sumter, fought at the First Manassas, then Shiloh, and then was put in charge of the coastal defenses of the Carolinas and Georgia.
In May 1864 he defeated Gen. Butler at Drewery's Bluff and bottled up the Union at Bermuda Hundred. Beauregard then led the successful defense of Petersburg in the opening assaults of June 15-18, 1864.
Beauregard's postwar career included a railroad presidency, being supervisor of the Louisiana State Lottery, and turning down offers of commands from the Rumanian and Egyptian armies. He died in 1893.
Back to Biographies
Last updated: February 26, 2015