Volunteer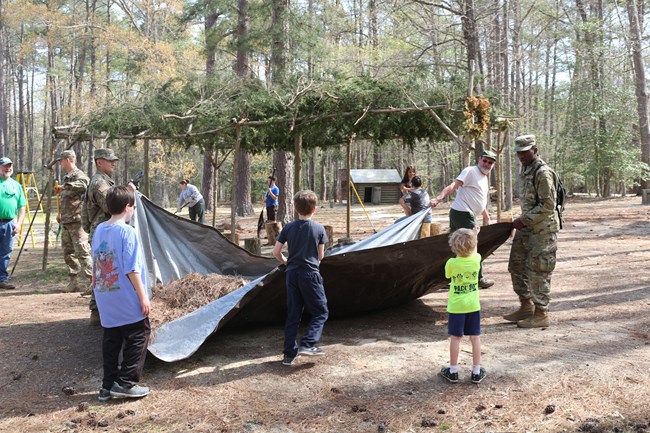 Adopt-A-Trail:
Petersburg National Battlefield has one of the most beautiful and extensive trail systems in south-central Virginia. If you are interested in helping to maintain the trails, consider participating in the Adopt-A-Trail program. Click here for more information.


Volunteer Positions:
For anyone interested in volunteering, please contact the Park Volunteer Coordinator, Betsy Dinger at 804-732-3531 ext. 208 or Elizabeth_Dinger@nps.gov

Internships are offered for either college credit (arranged through your institution) or through the Student Conservation Association. Internship duties can include, but are not limited to, those listed below.






On-Going Positions:
Greet Public at Visitor Center: Provide critical first contact with visitors. Accept fees, handle bookstore sales, orient visitors to park, answer questions. May advance to providing interpretive presentations with adequate experience and training.

Historical Researcher: Study original period documents and reference materials related to the Civil War in general and the Siege of Petersburg in particular. Write papers on findings to add to our knowledge base.

Trail Patrol (Foot, Bike or Horse): Wear proper Volunteer identification. Patrol trails to offer assistance, maps, and directions to visitors. Flag hazard trees or other hazards and map for treatment by Maintenance Division. This position involves NO LAW ENFORCEMENT.

Boundary Assistant: Assist with the marking and clearing of the park boundary. Ensure that corner monuments are clearly marked and visible and the boundary line is clear of vegetation. Assist with the removal of debris and trash.

Resource Management Assistant/Intern: Work with park resource management staff in a variety of natural and cultural resource functions. Duties may include plant and animal inventories, invasive plant removal, GIS/GPS projects, photo documentation of projects, earthwork management projects, assisting with environmental compliance and natural research projects.

Trail Maintenance: Perform a wide variety of trail maintenance activities to include erosion control, sustainability projects and clearing.

Last updated: February 19, 2020