COVID-19 Safety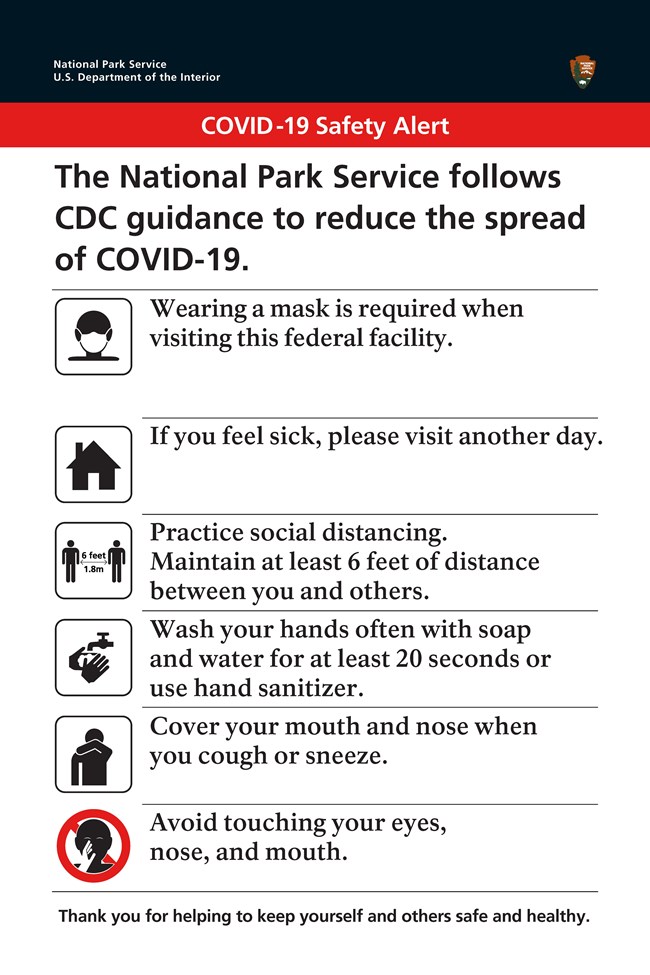 During this COVID-19 pandemic, the health and wellness of our visitors, employees, partners, and communities are of the utmost concern. The National Park Service (NPS) continues to work service wide with federal, state, and local public health authorities to closely monitor the COVID-19 pandemic and is using a phased approach to safely increase access on a park-by-park basis. For more information on the current status of operations at Pearl Harbor National Memorial visit the Current Conditions page.

For information on how to stay safe as you visit Pearl Harbor National Memorial and other National Park Service sites continue reading below.
Individuals over the age of two years must wear masks, except when actively eating or drinking, in the following locations:
1. All common areas and shared workspaces in buildings owned, rented or leased by the National Park Service, including, but not limited to, park visitor centers, administrative offices, lodges, gift shops and restaurants.
2. The following outdoor areas, when others are present, where the superintendent has determined that physical distancing (staying at least six feet apart) cannot reasonably be maintained:
• All areas of the Visitor Center campus between the parking lots and the shoreline. Masks must cover the nose and mouth and fit snugly around the nose and chin with no large gaps around the sides of the face. Masks not designed to be protective, masks with ventilation valves, and face shields do not meet the requirement. Authority: 36 CFR 1.5(a)(2)

Staying Safe in Your Parks
The health and safety of those who visit and work in national parks continues to be paramount, which is why we ask visitors to be our partner in adopting social distancing practices. The CDC has offered guidance to help prevent the spread of infectious diseases while enjoying the outdoors.
Park rangers remain on duty to protect visitors and resources and uphold normal regulations. When recreating, the public is encouraged to follow local area health orders, practice Leave No Trace principles, social distance and avoid high-risk outdoor activities. During these initial phases of resuming operations, visitors should be prepared for limited access to services.
We urge visitors to park only in designated areas, pack out everything you bring into a park, plan a visit at times other than busiest of the day, maintain social distance from other visitors, wear a face covering and if you encounter a crowded trail-head or area, seek another location to recreate.  
We are also encouraging visitors to find their virtual park! Explore Pearl Harbor National Memorial from the comfort of anywhere in the world through our YouTube Channel, the PERL Facebook page, and the Learn About The Park section of this website. You can also learn more through our non-profit partner in education, Pacific Historic Parks and their History Talks Series.
Recreate Responsibly
With the COVID-19 pandemic, the National Park Service encourages all visitors to help keep parks and communities safe by recreating responsibly when visiting your National Parks. For tips on how to recreate responsibly please see the infographic below or visit the NPS Recreate Responsibly Webpage. We're all in this together, mahalo (thank you) for your kōkua (help). For information on how to plan your trip to the island of O'ahu and the state of Hawai'i please use these links: For guidance on the State of Hawaii, City and County of Honolulu's latest COVID-19 announcements, please visit: https://www.oneoahu.org/
For guidance on Hawaii Travel please visit: https://www.oneoahu.org/travel & https://hawaiicovid19.com/travel/getting-to-hawaii/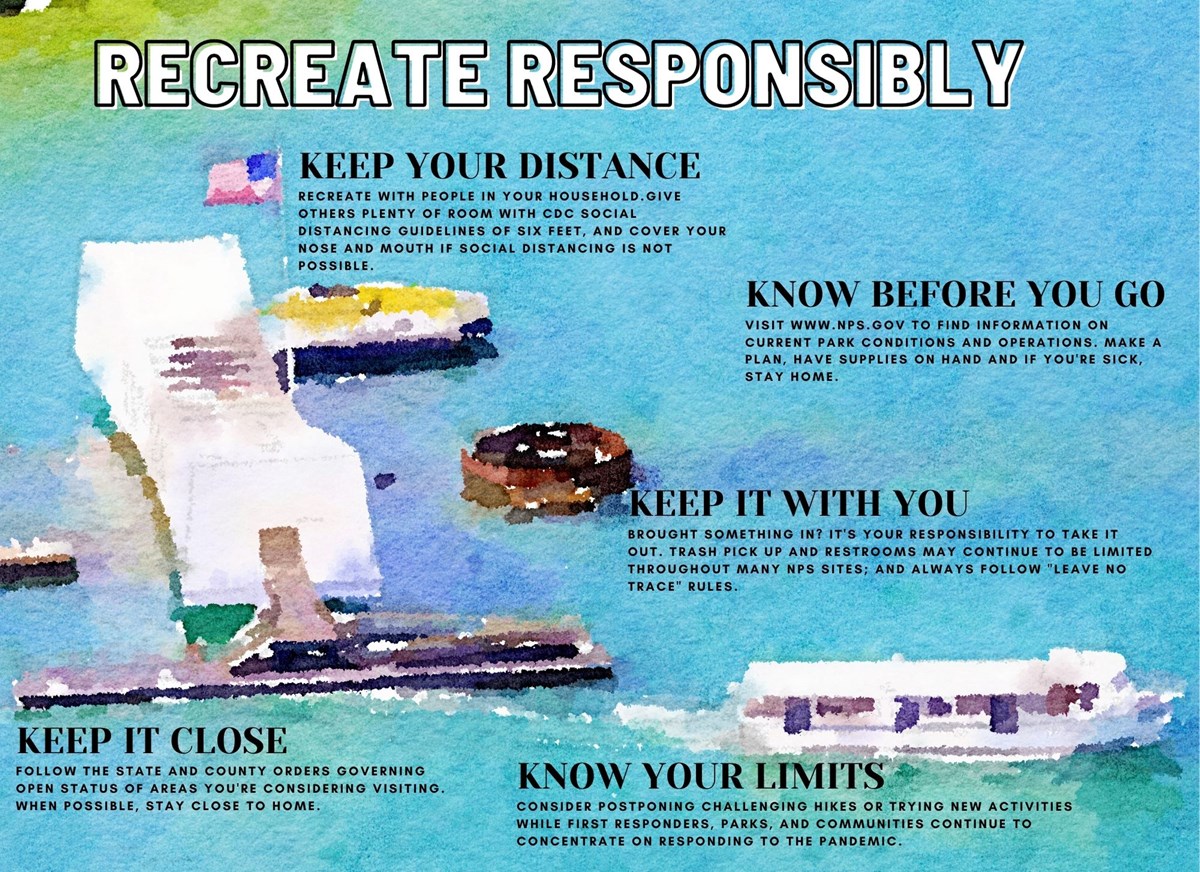 Last updated: October 6, 2021