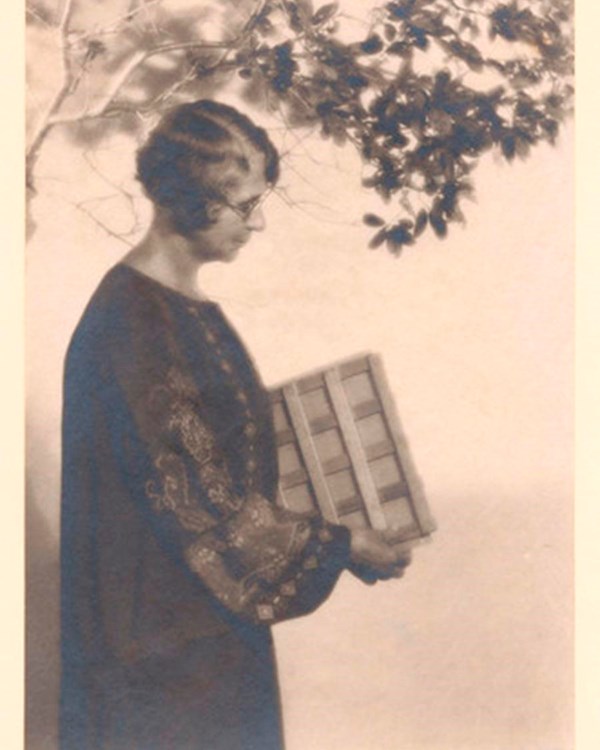 Significance:
Botanist, activist, conservationist, and an early member of the Save the Redwoods League and the Sierra Club
Place of Birth:
Washington D.C.
Date of Birth:
May 24, 1870
Place of Death:
Berkeley, California
Date of Death:
July 12, 1938
Ynes Enriquetta Julietta Mexia was one of the most successful botanists and female plant collectors of her time and she did not begin her career until she was 55 years old. She was accomplished not only in the number of plants she collected but also in the number of miles she traveled. Mexia spent 13 years traveling the Americas, often alone, collecting thousands of plants on her way. She was a fierce conservationist and was an early pioneer in fighting to preserve the redwood forests of Northern California. She was assertive, brave, and not afraid to challenge racism, sexism, ageism and more in her impressive and amazing career.  
 
Ynes Mexia was born in 1870 in Washington DC. She had a turbulent childhood and moved often.  An introverted child, she spent much of her time reading, writing and exploring the outdoors. When she finished her schooling she moved to Mexico to help on her father's ranch and took over the management when he died. She lost her first husband soon after their marriage and divorced her second husband after he financially ruined her family ranch.  Mexia spent almost 30 years living in Mexico, but with all the tremendous changes in her life she suffered from mental health challenges. She traveled to San Francisco to seek treatment and to make a new life for herself.  She started her time in San Francisco as a social worker but soon discovered her passion for environmentalism. 
Ynes Mexia joined the environmental movement. She was an early member of the Sierra Club and Save the Redwoods League. She joined these clubs and went on many excursions through California and to the redwood forests.  Mexia became incredibly active in efforts to save the redwood trees. She remarked after hearing of the clear cutting of redwood forests across Northern California, "I have been much distressed to hear cutting has been going on in Montgomery Grove, I am heartily in sympathy of any effort to save these trees." She spoke passionately about the preservation of these landscapes and was at the forefront of the national park conservation movement.  Her time in conservation inspired her to pursue the study of botany at UC Berkeley in 1921. Mexia went back to school at age 51, a decision that is uncommon to this day, but even more so at the time, especially for a woman.  Her time studying at UC Berkeley encouraged her to collect and categorize plants and to work in the field of botany.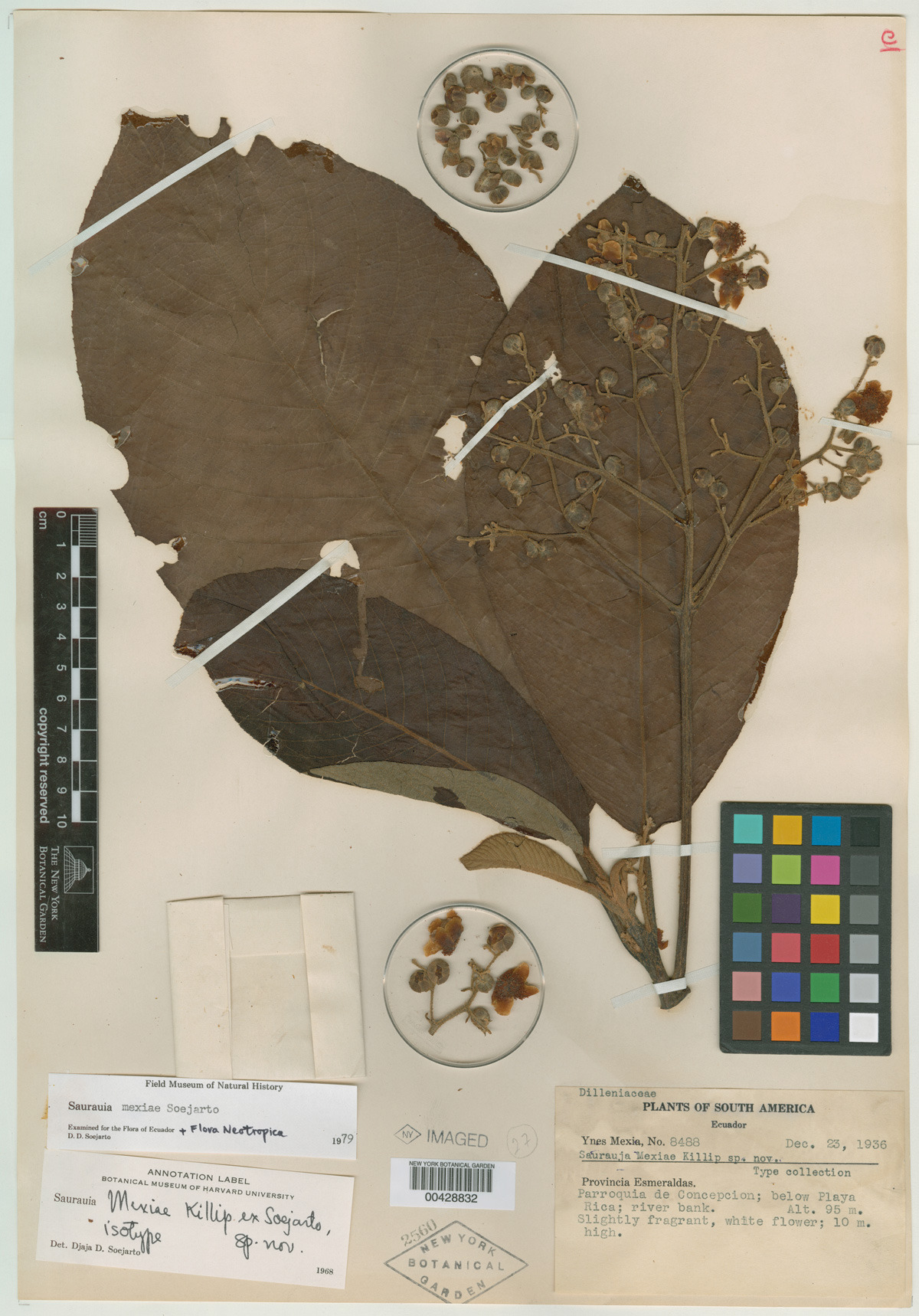 This specimen of Saurauia mexiae in the Steere Herbarium was collected by Mexia and named in her honor. It is a "type specimen," which is a specimen selected to serve as a reference point when a plant species is first named. NY Botanical Garden.
In 1925 Ynes Mexia took her first plant collecting trip to Mexico on a group trip with Stanford. She quickly found out that she preferred to work alone. Mexia broke off from the group and began collecting independently.   In this excursion she collected over 1,500 specimens.  One of them, Mimosa Mexiae, became the first of many plants named after her.  She got the funding she needed and at 56 years old she started doing expeditions on her own.   Her reputation as the first Mexican American female botanist grew and she began to be sponsored more.  This was the beginning of a 13 year career in botany. She once said: 

"My dryers get all filled up and still numbers of plants sit and look at me and announce that they are waiting to be collected. it is terribly trying to a greedy collector like myself."  
Ynes Mexia traveled all over the Americas, and was the first botanist to collect plants in what is now Denali National Park. She often traveled solo or with a few Indigenous guides. She advocated for Indigenous rights in the areas she collected, valuing their knowledge, perspective, and right to the land. She would spend months in the field, riding horseback and sleeping outdoors, something that shocked many because she was a woman doing this work. She once wrote:
"A well-known collector and explorer stated very positively that 'it was impossible for a woman to travel alone in Latin America.' I decided that if I wanted to become better acquainted with the South American Continent the best way would be to make my way right across it."
She made many excursions to Ecuador, Peru, and more. Mexia became a prominent botanist as well as a lecturer and writer. She said, "I have a job where I produce something real and lasting." Over her 13 year career she collected over 145,000 specimen. A new genius was named after her along with over 50 species and she "discovered" and categorized over 500 plants.  On her last trip to Mexico in 1938 she became ill and was diagnosed with lung cancer. She died shortly after at age 68. She left most of her estate to Save the Redwoods League and the Sierra Club. This generous donation is a part of her legacy today.  
Ynes Mexia's contributions to the field of botany and her part in preserving redwoods should not be overlooked or undervalued. Researchers still use her collections to this day, and they can still be seen in many museums and universities.  She was an early member in many important and instrumental conservation organizations in the Bay Area.  Mexia was a pioneer. There was no one like her in her field at the time; a woman of color above 50 traveling the world as a botanist. She increased representation in the fields of conservation and botany, as showing that women should have the freedom to experience the world.  Many people at the time said that a woman could not travel alone. Ynes Mexia said, "I don't think there is any place in the world where a woman can't venture."
Last updated: September 27, 2021