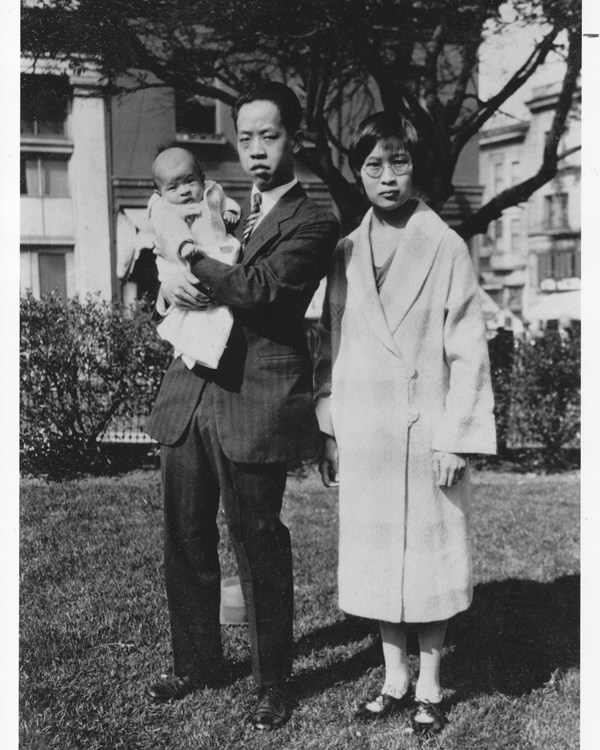 Significance:
Chinese American labor organizer
Place of Birth:
Honolulu, HI
Date of Birth:
March 9, 1920
Place of Death:
El Cerrito, CA
Date of Death:
May 15, 1996
Sue Ko Lee was a Chinese American garment worker and labor organizer with the Chinese Ladies' Garment Workers' Association. In 1938, she participated in a successful fifteen-week strike against the National Dollar Stores garment factory. At the time, it was the longest strike in the history of San Francisco's Chinatown. Lee went on to become a leader in the International Ladies' Garment Workers' Union (ILGWU) in California.

When have you experienced a turning point in your life? How did it change things?

Sue Ko Lee was born in Honolulu, Hawaii in 1910. She grew up the oldest of ten children in Watsonville, California. When she was eighteen, she married Lee Jew Hing, an immigrant from China who worked as a bookkeeper for National Dollar Stores. Lee took a job at the same factory, along with several of her family members.
Chinese Americans and the Labor Movement
Most Chinese workers in San Francisco worked for Chinese employers like Joe Shoong, the owner of National Dollar Stores.[1] They often made low wages and worked in poor conditions, but their options were limited. Most white-owned businesses refused to hire them. In addition, because the Chinese immigrant community was so close-knit, many workers were connected to their bosses through family and friendship ties. Such personal relationships sometimes made workers reluctant to speak out against poor treatment.
Chinese workers like Lee had a complicated relationship with the labor movement. Many unions had supported the Page Act (1875) and the Chinese Exclusion Act (1882) which restricted immigration from China. They had argued that Chinese laborers would undermine white workers' union gains by accepting lower wages and poor treatment. They often used racist imagery in lobbying for the laws. This tension persisted into the 1900s. Chinese and Chinese American workers were locked out of unionized factories by racist hiring practices. They reasonably feared that their jobs would be taken by white workers if all the factories were unionized.
But by the 1930s, unions like the ILGWU were working hard to organize Black, Latino, and Asian American workers. New Deal laws had established a minimum wage and legal protections for unionizing. Empowered unions wanted to expand their ranks. In San Francisco, the ILGWU was concerned that Chinese-owned factories undercut white-owned union shops by charging lower prices for work. They did this by paying lower wages and assigning their workers longer hours. These practices allowed them stay in business in the face of the hardship of the Great Depression—but came at a high cost to their workers.
The Dollar Store Strike
As Sue Ko Lee recalled it, ILGWU organizers struggled to make any headway among Chinese workers until an organizer named Jennie Matyas arrived. Matyas, herself an immigrant from Hungary, worked hard to gain the trust of the workers and their Chinese community. She built personal relationships and made the case for unionization in local outlets like the Chinese Digest.
In 1938, Sue Ko Lee and her coworkers voted to join the ILGWU, using ballots written in both English and Chinese. They became the Chinese Ladies' Garment Workers' Union, Local 341.
Below: Sue Ko Lee and her coworkers, 1940s. Lee is second from right. (Judy Yung Collection. Labor Archives and Research Center, San Francisco State University.)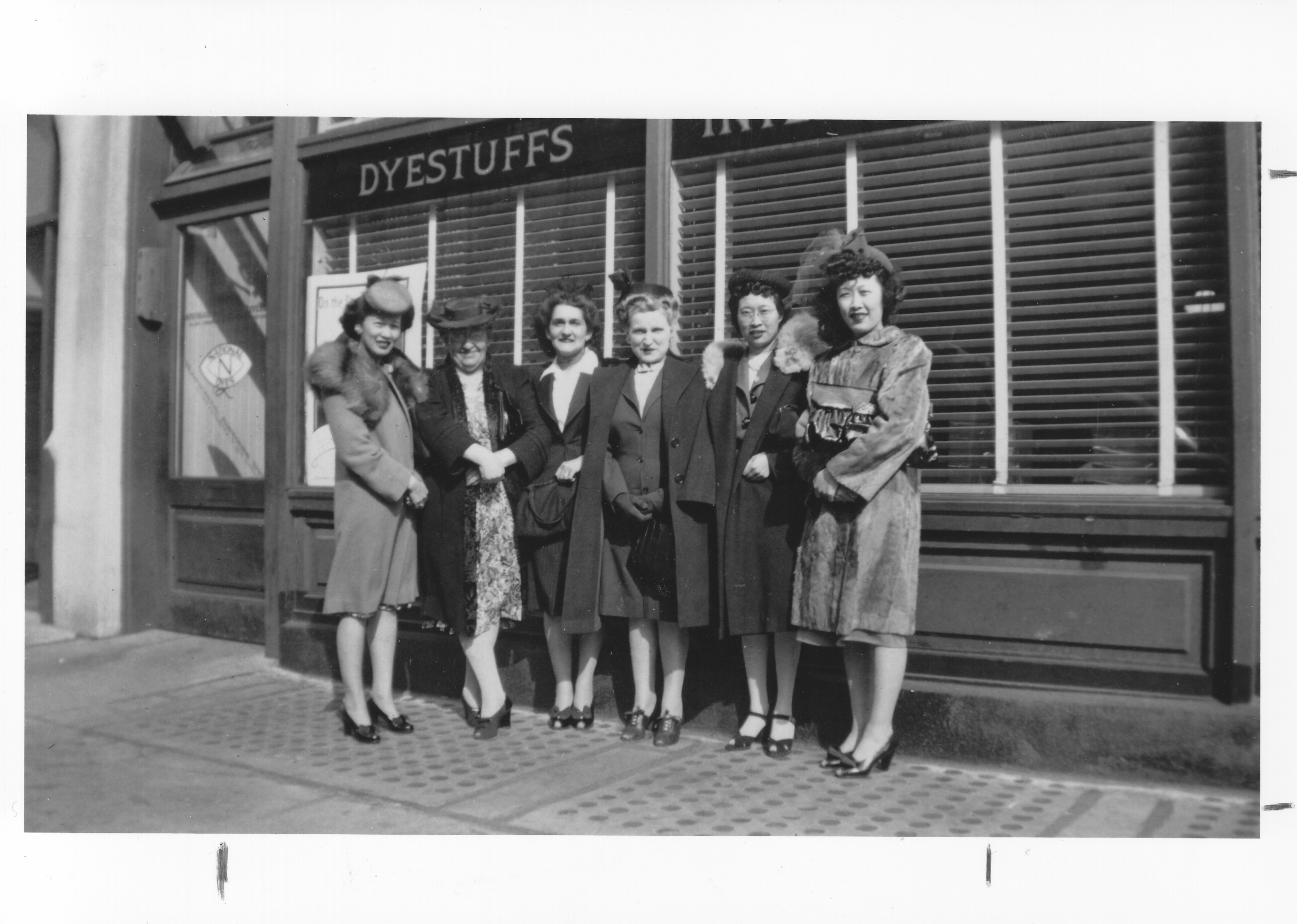 After several bilingual collective bargaining sessions, the union and National Dollar Stores signed a preliminary agreement. But then the factory arranged a "sale" to a group of its managers, which the workers saw as an attempt to get out of the contract. In response, they decided it was time to go on strike. More than 150 of them walked out. Both American-born Chinese workers and Chinese immigrants, many of them older women, joined the strike. With the ILGWU's help, Sue Ko Lee and other strike leaders organized picket lines and breakfasts of donuts and coffee for the strikers.
After more than three months on the picket lines, the strikers prevailed, winning a new contract and a guaranteed pay rate. Unfortunately, the factory closed the following year. While the ILGWU's progress in organizing Chinese workers remained slow, Jennie Matyas was able to help some of the union members, including Lee, get jobs in white-owned factories where they could make more money. In the 1950s, Lee joined the ILGWU as a staff member in Local 101 and attended national conventions.
Later in her life, Lee reflected on the importance of the strike in her own story:
"In my opinion, the strike was the best thing that ever happened. It changed our lives. We overcame bigotry, didn't we? … I know it was a turning point in my life."
Sue Ko Lee and Lee Jew Hing had two children together, Mervyn and Stanley. Lee preserved items and documents about the strike in a scrapbook, and told the historian Judy Yung about her memories of the strike in an oral history interview. Her memories and saved materials provide much of what we know about the events of the strike. Lee died in 1996 at the age of 86.
 
Notes
[1] The city of San Francisco, where the National Dollar Stores factory was located, is a Certified Local Government.
Bibliography
Fong, Patricia M. "The 1938 National Dollar Store Strike," Asian American Review 2, no. 1 (1975): 183-200.
"How Did the International Ladies Garment Workers Union and Chinese Garment Workers Unite to Organize the 1938 National Dollar Stores Strike?" by Thomas Dublin, with research assistance by John Qiu, Julie Joseph, and Michelle Kleehammer. Binghamton, NY: State University of New York at Binghamton, 2004. https://documents.alexanderstreet.com/c/1000636695.
Yung, Judy. "Sue Ko Lee." In Notable American Women: Completing the Twentieth Century. Ed. Susan Ware and Stacy Lorraine Braukman. Cambridge, MA: Harvard University Press, 2004.
Yung, Judy. Sue Ko Lee oral history, sound recording of an oral history conducted Oct. 26, 1989, by Judy Yung. San Francisco State University, Labor Archives and Research Center. San Francisco State University. Labor Archives and Research Center. https://jpll.libraryhost.com/repositories/3/resources/647. 
Yung, Judy. Unbound Feet: A Social History of Chinese Women in San Francisco. Berkeley: University of California Press, 1995.
Yung, Judy. Unbound Voices: A Documentary History of Chinese Women in San Francisco. Berkeley: University of California Press, 1999.

Article by Ella Wagner, Cultural Resources Office of Interpretation and Education.
Last updated: April 14, 2021