Person
Harriet Beecher Stowe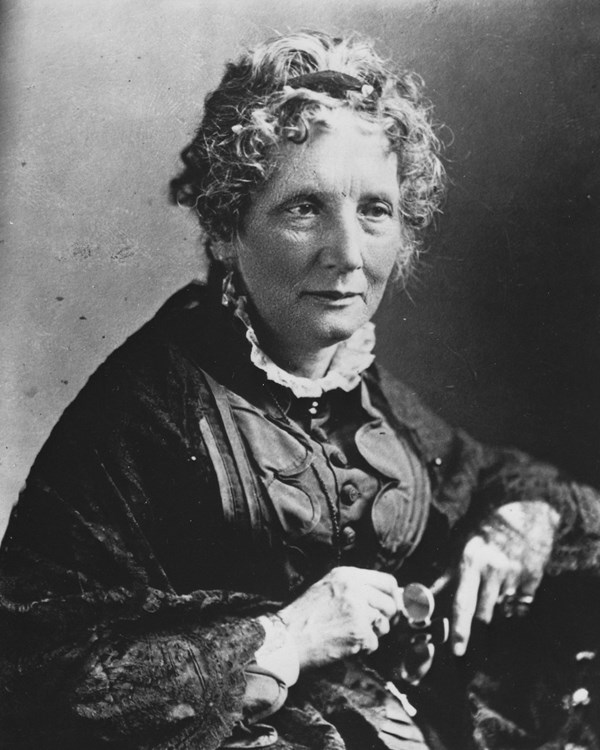 Significance:
Author of Uncle Tom's Cabin
Place of Birth:
Litchfield, CT
Date of Birth:
June 14, 1811
Place of Death:
Hartford, CT
Date of Death:
July 1, 1896
Place of Burial:
Andover, MA
Cemetery Name:
Phillips Academy Cemetery
Harriet Beecher Stowe was best known as the author of Uncle Tom's Cabin, first published weekly as a serial in The National Era in 1851. Her best-seller infuriated Southerners by focusing on the cruelties of slavery, particularly the separation of families.
Published as a two-volume book in 1852, Uncle Tom's Cabin immediately became a best-seller in both the United States and Great Britain. Fellow author Henry Wadsworth Longfellow raved about her book in his journal on February 24, 1853:
Mr. and Mrs. Stowe came to dinner…. How she is shaking the world with her Uncle Tom's Cabin! At one step she has reached the top of the stair-case up which the rest of us climb on our knees year after year. Never was there such a literary coup-de-main as this. A million copies of a book within the first year of its publication.
The fictional story relied on facts and first-person narratives, including the memoir of freedom seeker Josiah Henson, along with widespread and offensive racial stereotypes. In response to critics doubting her portrayal of slavery, Stowe published A Key to Uncle Tom's Cabin; Presenting the Original Facts and Documents Upon Which the Story is Founded in 1854. In it, she provided the background to her "mosaic of facts," conceding in the introduction "that the book is a very inadequate representation of slavery; and it is so, necessarily, for this reason—that slavery, in some of its workings, is too dreadful for the purposes of art."
Stowe was one of the early (unsigned) writers for the Atlantic Monthly whose stated goal was to cast "the light of the highest morals." She spoke against slavery all over the United States and Europe. Though Uncle Tom's Cabin was by far her most famous and successful work, Stowe's published 30 books and many short works over a five-decade literary career, including Sunny Memories of Foreign Lands (1854), The American Woman's Home (1869), and Lady Byron Vindicated (1870).
Harriet Beecher Stowe's home in Brunswick, Maine, where she wrote Uncle Tom's Cabin, was designated a National Historic Landmark on December 29, 1962 and listed on the National Register of Historic Places on October 15, 1966. Her home in Hartford, Connecticut, where she lived for the last 23 years of her life, was added to the NRHP on October 6, 1970 and designated an NHL on February 27, 2013.
Last updated: November 10, 2021