Person
Rachel Walker Revere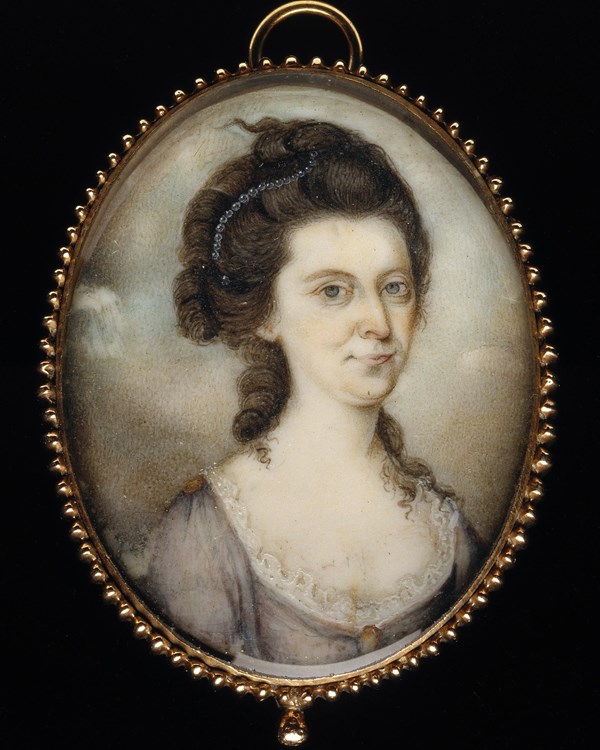 Significance:
Second wife of Paul Revere, mother and stepmother, Daughter of Liberty
Place of Birth:
Boston, Massachusetts
Date of Birth:
December 27, 1745
Place of Death:
Boston, Massachusetts
Date of Death:
June 26, 1813
Place of Burial:
Boston, Massachusetts
Cemetery Name:
Granary Burying Ground
Rachel Walker Revere was the second wife of Paul Revere, mother of eight children, and stepmother to six surviving children from her husband's previous marriage. Running a household during her husband's frequent absences as "Messenger of the American Revolution" is a testament to Rachel Revere's strength of character and an example of how a woman's skillful home management was a vital contribution to the American Revolution.
Rachel Walker was born in Boston on December 27, 1745, the daughter of Richard and Rachel Carlisle Walker. According to family tradition, Paul Revere and Rachel Walker met on a summer evening in 1773, as he headed home from his silver shop. Sarah Revere had died on May 10, 1773, five months after the birth of Isanna, her eighth child, who died the following September. Revere's courtship included an original rhyming riddle poem whose answers spelled out Rachel's name. On October 10, Paul Revere and Rachel Walker married.1 Paul made Rachel's wedding ring, engraved with the words: "[L]IVE Co[n]tented."2
At twenty seven years old and not much older than some of her step children, Rachel Revere immediately assumed maternal duties, assisted by her mother-in-law, Deborah.3 Her husband's work as courier and spy over the next sixteen months left Rachel Revere in charge at home. The task was especially burdensome due to Paul's declining income as political activities took precedence over business.4 She gave birth to the first of her eight children, Joshua, on December 7, 1774.5
On April 19, 1775, Paul Revere and a network of individuals spread the alarm that British troops were on their way to either arrest John Hancock and Samuel Adams in Lexington or seize munitions in nearby Concord.6 After the subsequent Battles of Lexington and Concord, Rachel Revere organized the family's move to Watertown, headquarters of the Massachusetts Provincial Congress.
On May 2, 1775, Revere asked her husband: "Why have you altered your mind in regard to [Paul Jr.'s] coming with us?" Paul Revere may have wanted his son to look after the family's Boston property. Rachel Revere also expressed the indignation of a Daughter of Liberty when she admonished her husband: "I cannot say I was pleased at hearing you aplyed [applied] to Capt. Irvin for a pass as I should rather confer 50 obligations on them than to receive one from them."7
For nearly a year, the Reveres lived in John Cook's crowded Watertown house with several other lodgers. While Paul engraved copper plates to print paper currency for Massachusetts, Rachel cared for six children, ranging in age from teenager to toddler, and became pregnant with her second child.8 When the British evacuated Boston on March 17, 1776, they returned to Boston.
Over the next decade Rachel Revere lost two sons and a daughter but gave birth to two sons and two daughters who all survived to adulthood. Her children had more education than Sarah Revere's children, benefitting from their father's post-Revolutionary success as the owner of a foundry and copper-rolling mill.9
In 1800, the Reveres sold their North Square home, spending winters at Charter Street in Boston and summers in Canton, Massachusetts, the site of Revere's copper-rolling mill. In a c. 1810 poem about country life in Canton, Paul Revere described his wife as: "My Better Half, takes pains to please, Content with lolling in her chair."10
Sixty-eight-year old Rachel Revere died on June 26, 1813, weeks after Gilbert Stuart completed portraits of Rachel and her husband. Five months earlier, her stepson, Paul Jr. died. He had named two daughters Rachel, a tribute to his stepmother's success in creating a loving family.11
Footnotes
Paul may have known Rachel because she had family in his North End neighborhood. On genealogical information, see Donald M. Nielsen, "The Revere Family," The New England Historical and Genealogical Register 145 (1991): 296-301. On courtship and marriage, see Esther Forbes, Paul Revere and the World He Lived In (Boston: Houghton Mifflin 1942), 177-179.
On Rachel's ring, see https://collections.mfa.org/objects/39234.
Rachel was only 12 years older than Deborah, her oldest stepchild. On the Revere Family, see Nielsen, "The Revere Family," 292-301.
Revere's income fluctuated dramatically from 1761-1775, from a high of £294 in 1762 to a low of nearly £11 in 1770. On Revere's income, see Jayne E. Triber, A True Republican: The Life of Paul Revere 35, and footnote 43. For overview of his political activity, see Triber, A True Republican, 92-101.
Nielsen, "Revere Family," 301.
Revere's ride was the last of three rides to Lexington and Concord in April 1775. See Paul Revere's Three Accounts of his Famous Ride: A Massachusetts Historical Society Picture Book (Boston: Massachusetts Historical Society, 1976); David Hackett Fischer, Paul Revere's Ride (New York: Oxford University Press, 1994), passim, especially 78-260; Triber, A True Republican, 101-105.
Rachel to Paul Revere, May 2, 1775, Revere Family Papers II, 1775-1964, roll 4, Revere Papers, Massachusetts Historical Society (MHS).
Triber, A True Republican, 115; Nielsen, "Revere Family," 298-301.
On Rachel's children, see Nielsen, "Revere Family," 301-302. Joshua, Joseph Warren, and John Revere attended Boston Latin. John, the youngest son graduated from Harvard and received a medical degree from the University of Edinburgh. He became a prominent professor of medicine. Maria attended the Young Ladies Academy in Woburn, Massachusetts. See, Triber, A True Republican, 15, 163, 182; Elizabeth Grundy and Jayne Triber, "Paul Revere's Children: Coming of Age in the New Nation" (unpublished manuscript, Paul Revere Memorial Association, Boston, 1983).
Triber, A True Republican, 179, 193-194. The poem, "Cantondale" is in roll 2, Revere Papers, MHS.
Triber, A True Republican, 194-195; Nielsen, "Revere Family," 309.
Last updated: August 10, 2021