Paul Green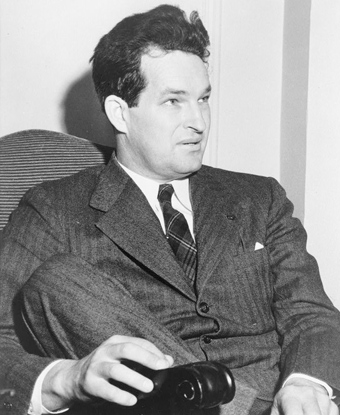 Quick Facts
Significance:

Playwright; Wrote The Lost Colony Drama

Place of Birth:

Lillington, North Carolina

Date of Birth:

March 17, 1894

Place of Death:

Chapel Hill, North Carolina

Date of Death:

May 4, 1981
Paul Eliot Green is one of the South's best known literary artists. A prolific writer, his works include dramas, screenplays, essays, poetry, short stories, and novels. In 1927, he was awarded the Pulitzer Prize for Drama for his Broadway play In Abraham's Bosom. Shortly after, he developed an experimental dramatic form, the symphonic drama. It includes music and dance, and is popularly known today as the musical.  
Often based on a historical event, Green's symphonic dramas were typically performed onsite. The Lost Colony, which includes original music, dance, pantomime, and poetic dialogue, is Green's most celebrated outdoor symphonic drama. It has been performed annually at Fort Raleigh Historic Site since 1937.
Just as his writing questioned traditional literary form, Green's endeavor to expose the deplorable conditions of the African American in the South is a trademark of his work. 
Acknowledged as the Dramatist Laureate of North Carolina, Paul Green amassed awards and honors that distinguished him as one of the most successful artists in the history of North Carolina. Not only was he awarded the Pulitzer Prize (1927), he received two Guggenheim Fellowships (1928-1929), was a member of the National Institute of Arts and Letters (1940), received the North Carolina Award for Literature (1960), the State of North Carolina Distinguished Citizen Award (1976), and was inducted into Broadway's Theatre Hall of Fame (1993) and the North Carolina Literary Hall of Fame (1996). Green was posthumously named North Carolina's "Pioneer of the Century" (2000).
Green's commercial success belies his humble beginnings. He was born in 1894, in rural Harnett County, North Carolina. Raised on a cotton farm, hard work and simple living encouraged his strong work ethic and love of Southern tradition. He readily mastered his studies at nearby Campbell University in Buies Creek. After serving in the armed forces during World War I, he attended the University of North Carolina in Chapel Hill, and later studied at Cornell University.  
Green's literary works span many genres. With 41 plays and symphonic dramas, 12 screenplays, and more than 50 bound editions of poetry, short stories, essays, North Carolina folklore, and novels, Green is considered one of the most prolific Southern writers of his time. Most of his dramas have been staged on and off Broadway, and his screenplays have been produced with Will Rogers, Bette Davis, and Janet Gaynor in featured roles.  
After his initial literary success, Green began to experiment with Expressionism and the dramatic form. By coupling music and dance within a dramatic script, he developed the contemporary American musical, calling it a symphonic drama. Green asserted that the development of this uniquely American form was a progression of American society: ''The narrow confines of the usual Broadway play and stage are not fitted to the dramatic needs of the American people. They cannot contain the richness of our tradition, folkways, singing, dancing and poetry." When he added the feature of actual historical events, he intentionally made the the work philosophical, educational, and entertaining. His best known drama, The Lost Colony (1937), chronicles the journey of the ill-fated colony of settlers at Roanoke Island in 1587. Performed onsite at the Waterside Theater at Fort Raleigh National Historic Site, this popular drama continues to attract audiences to this day. In 2013, The Lost Colony was awarded the Tony Honor for Excellence in the Theater.
Green's interests included not only his literary studies, but also contemporary human rights issues, which he incorporated in almost everything he wrote. He became known as an artist who represented the South with depictions of realistic, everyday life and to this effect, incorporated Southern dialect in his dialogues. As one of the first Southern writers to attain national acclaim, he was a prominent contributor to early efforts of social change and civil rights and, more specifically, racial discrimination. As such, he is considered an early activist in the Civil Rights movement, and was one of the first white playwrights to write works for black actors. Themes in his later works included the cruelty of capital punishment and the inequality of poverty. He considered himself a humanist and was an outspoken opponent of American militarism during the Vietnam War. 
Paul Green died at his home in Chapel Hill NC on May 2, 1981. He was a professor at UNC Chapel Hill for many years, and encouraged a generation of young scholars to go beyond social and artistic norms of the day. As a literary master, he not only produced a body of work that explores the beauty of Southern traditions but also introduced the concept of using music and dance in the dramatic form to develop depth of theme and content. Just as producing his historical symphonic drama on location was unique, his portrayal of the social issues of racism and civil rights was controversial. While describing his work, he said, "I try to write about men and women struggling not only to be themselves, but to be on the side of something that counts for others."
Last updated: September 14, 2017