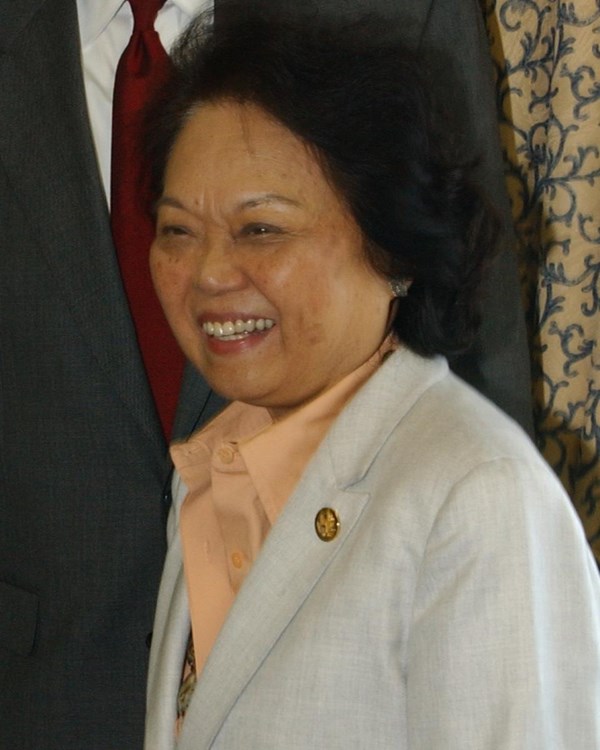 Significance:
lawyer, first woman of color and first Asian American elected to the U.S. House of Representatives, advocate for education and gender equality 
Place of Birth:
Pā'ia, Maui, Hawai'i 
Date of Birth:
December 6, 1927
Place of Death:
Honolulu, Hawai'i 
Date of Death:
September 28, 2002
Place of Burial:
Honolulu, Hawai'i
Cemetery Name:
National Memorial Cemetery of the Pacific
Patsy Matsu Takemoto was born in Pā'ia, Hawai'i Territory on the island of Maui on December 6, 1927. Her parents, Suematsu and Mitama Takemoto, were second-generation Japanese immigrants. Hawai'i became a U.S. territory in 1900 but was not admitted as a state until 1959. 
During college, Patsy encountered racial and gender discrimination, which inspired her later advocacy for civil rights and equal opportunity. As a junior at the University of Nebraska at Lincoln, she successfully challenged racial segregation in student housing. After receiving her bachelor's degree in zoology from the University of Hawai'i at Mānoa, Patsy applied to several medical schools. Because she was a woman, her applications were all rejected.  
Patsy switched gears and applied to the University of Chicago Law School. Even though she was born in Hawai'i, she was mistakenly accepted as part of a 'foreign student quota.' There was only one other woman in her class, Minna Rodnon Buck. During law school, Patsy met and married John Mink, a graduate student. Their daughter Gwendolyn was born in 1952.  
After earning her law degree, Chicago law firms refused to hire Patsy because of her race and interracial marriage. The Minks moved to the Territory of Hawai'i, where Patsy became the first woman in Hawai'i licensed as an attorney. She was admitted to the bar in 1953, permitting her to practice law in the Territory. Yet, firms continued to turn her down. Undeterred, Patsy taught business law, started her own private practice, and joined the Democratic Party.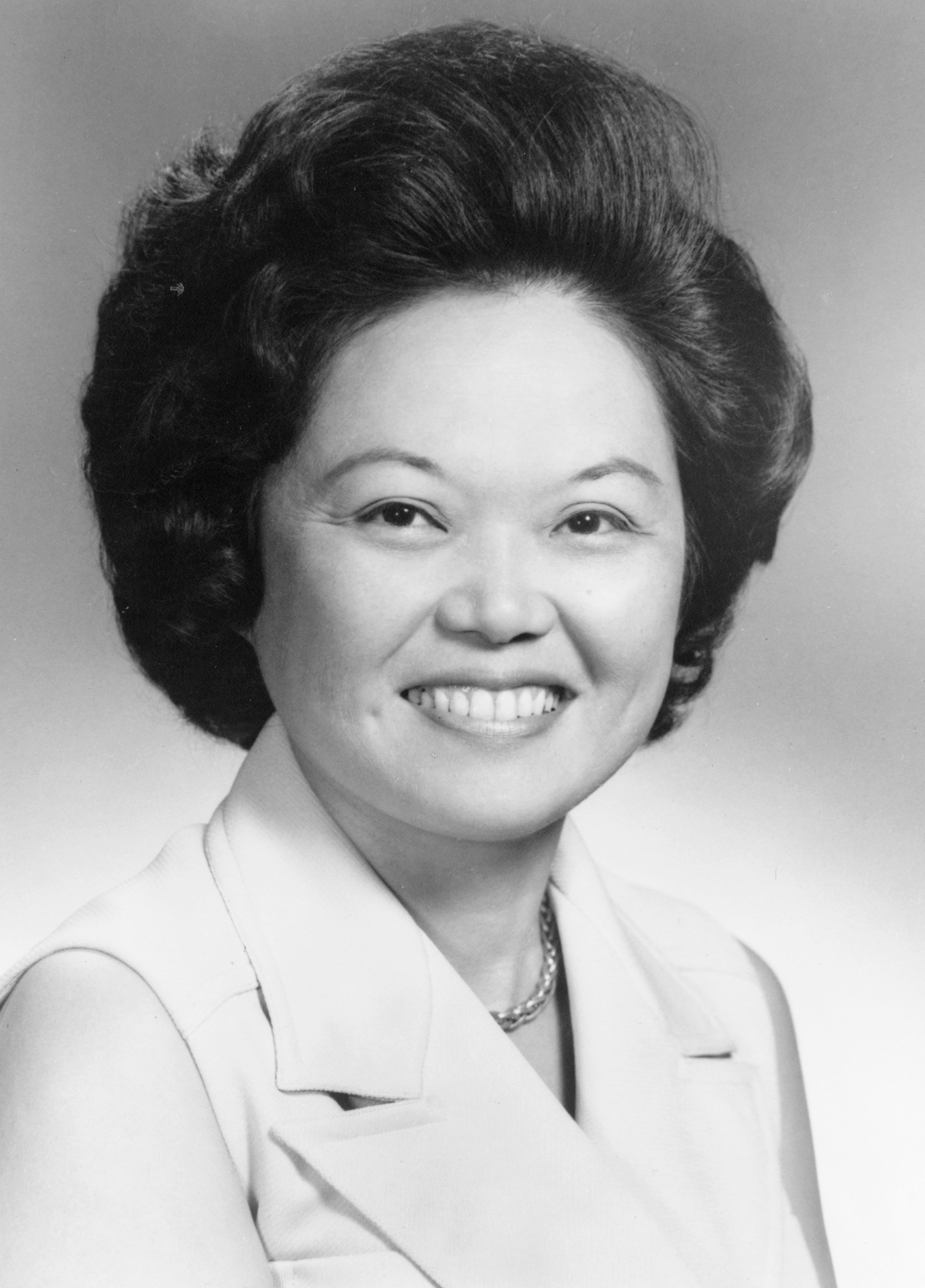 In 1955, Patsy became an attorney for the Hawai'i territorial legislature. The following year, she was elected to the territorial House and later to the territorial and state Senates. When Congress admitted Hawai'i as a state in 1959, Patsy ran for the sole seat in the U.S. House of Representatives. Because she sometimes broke with other Democrats in the Hawai'i legislature and resisted their efforts to influence her politics, local party leaders resisted her campaign and contributed to her defeat. After the 1960 census, Hawai'i obtained a second member in the U.S. House. In 1964, Patsy successfully ran for this new seat. She served in the House from 1965 until 1977, the first woman of color and the first Asian American to do so.  
As a Congresswoman, Patsy was a fierce advocate for women, children, and minorities. She was a strong supporter of President Lyndon B. Johnson's Great Society programs and promoted civil rights legislation. Some of Patsy's most notable accomplishments were as a member of the Committee for Education and Labor. She fought for various educational reforms, including a national daycare system, Head Start, and the Women's Educational Equity Act.   
Patsy Mink is perhaps best known for her work with Representative Edith Green and Senator Birch Bayh on Title IX of the Education Amendments of 1972. Title IX prohibits discrimination on the basis of sex in educational institutions that receive federal funding. As its major author and sponsor, Patsy has been called, "The Mother of Title IX."  
Even when it put her at odds with her own party, Patsy was unafraid to speak out.  She was one of the only members of Congress to oppose the Vietnam War. She also testified against the Supreme Court nomination of Judge George Harrold Carswell, citing his discrimination against women. In 1971, she sued the Environmental Protection Agency to release documents about nuclear testing under the Freedom of Information Act. That year, she became the first Asian American woman to run for president. Running as an anti-war candidate, Patsy opposed the Nixon administration's reversals of civil rights legislation and continuation of the Vietnam War.   
In 1976, Patsy gave up her House seat to run in the U.S. Senate primary. She lost to her fellow congressman, Spark Matsunaga. After this defeat, President Jimmy Carter appointed Patsy the Assistant Secretary of State for Oceans and International, Environmental, and Scientific Affairs. After leaving this post in 1979, Patsy spent several years supporting community and political organizations in Hawai'i. She was elected to and eventually chaired the Honolulu City Council.  
Even when out of elected office, Patsy remained focused on lawmaking. In 1989, she founded The Public Reporter. This watchdog organization reported on the actions of legislative committees to help the public better understand the lawmaking process.  
In 1990, Patsy returned to the U.S. House. During her second tenure in Congress, Patsy continued to advocate for gender equality and education. She also cofounded the Congressional Asian Pacific American Caucus in 1994, and served as its chair. Patsy died from complications of chicken pox just one week after she won the House primary election in 2002. It was too late to remove her name from the general election ballot, and on November 5, 2002, she was posthumously re-elected to Congress. Her vacant seat was filled by Ed Case after a special election. After her death, Title IX was renamed the Patsy T. Mink Equal Opportunity in Education Act.  
Patsy is buried at the National Memorial Cemetery of the Pacific in Hawai'i. 

Sources:   
Cruz, Tania and Eric Y. Yamamoto. "A Tribune to Patsy Takemoto Mink." Asian-Pacific Law & Policy Journal 4, no. 2 (Summer 2003): 569-579. Accessed July 2, 2020. http://blog.hawaii.edu/aplpj/files/2011/11/APLPJ_04.2_cruz.pdf.   
The Library of Congress Manuscript Reading Room. "Patsy T. Mink Chronology." Chronology. Last updated October 14, 2010. https://www.loc.gov/rr/mss/mink/biography.html.    
Nakamura, Kelli Y. "Patsy Mink." Densho Encyclopedia. Last updated April 2014, 21:37 PDT. http://encyclopedia.densho.org/Patsy_Mink/.    
United States House of Representatives, History, Art, & Archives. "MINK, Patsy Takemoto." People. Accessed July 1, 2020. https://history.house.gov/People/detail/18329.   
Last updated: August 20, 2020