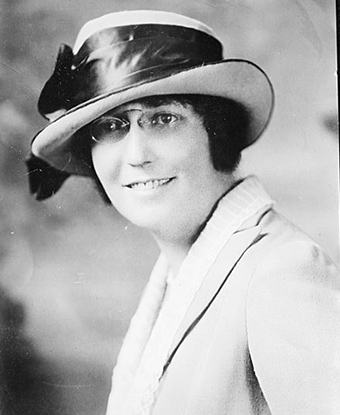 Significance:
Suffragist, author, business woman, homesteader
Place of Birth:
"La Constancia," her family's hacienda near Los Lunas, New Mexico
Date of Birth:
October 23, 1881
Place of Death:
Santa Fe, New Mexico
Date of Death:
January 3, 1965
Place of Burial:
Santa Fe, New Mexico
Cemetery Name:
Rosario Cemetery
Deftly negotiating between Hispano, Anglo, and American Indian worlds throughout her life, Adelina Isabel Emilia Luna Otero was born on October 23, 1881 on her family's hacienda near Los Lunas, New Mexico.
The Otero family were wealthy and politically powerful in the Rio Abajo (Lower River) region of what is now New Mexico. The family of her mother, Eloisa Luna Otero, were descended from some of the earliest colonists in New Mexico; the family of her father, Manuel B. Otero, traced his lineage to the Spanish occupation of the area in the 1700s. As a child, she was known as Adelina Otero; as an adult, friends and family called her Nina.
Once railroads arrived in the region in 1881, white immigrants (known as Anglos) began traveling west in large numbers, actively displacing the Native American, Spanish, and Mexican populations who were already there (though the Spanish had already displaced many of the Indigenous people of the area). When Nina was not quite two years old, her father was shot and killed by an Anglo squatter who had moved on to the family's land. A few years later, in 1886, her mother remarried. Alfred Maurice Bergere, who had family roots in Italy, was an Englishman who immigrated to the United States when he was sixteen years old. An Anglo, he was among those who moved west, arriving in New Mexico in 1880. Nina grew up in a household of twelve children, including her two younger brothers and her nine half siblings.
All of the Bergere children were educated. Nina attended St. Vincent's Academy in Albuquerque until she was eleven years old, when she went to St. Louis Missouri to attend Maryville College of the Sacred Heart (now Maryville University) for two more years. She returned home to her family's hacienda when she was 13. She helped educate her siblings and contributed to the work on the family ranch -- experiences she recorded in her book, Old Spain in Our Southwest.
The family moved to Santa Fe in the New Mexico Territory when Nina was sixteen, after Alfred Bergere was hired as a judicial clerk.[1] Nina became a regular fixture in the social life of the Santa Fe elite, described as "a graceful, intelligent young woman with an indomitable disposition," and "high spirited and independent." She met her husband, Rawson D. Warren, in 1907. Thirty five years old, he was the commanding officer of the Fifth US Cavalry stationed at Fort Wingate, near Gallup, New Mexico.[2] Nina, who was 26 at the time, married Warren on June 25, 1908 becoming Nina Otero-Warren.  After their Santa Fe wedding, Nina and Rawson moved back to Fort Wingate. Unhappy in her marriage, Nina divorced her husband after only two years, and returned to Santa Fe.
Since divorce was strongly frowned upon in both Anglo and Hispano cultures, Nina described herself as a widow, and kept Otero-Warren as her last name. She became active in New Mexico politics, and worked towards women's suffrage. In 1912 she moved to New York City to keep house for her younger half-brother, Luna Bergere, who was studying at Columbia University. While in New York City, Nina volunteered at a settlement house in the city.[3] When Nina's mother died in 1914, she -- the eldest daughter -- moved back to Santa Fe, and as was expected of her, took over the household duties, which she took up as well as her activist work. Her suffrage work caught the attention of Alice Paul, who tapped Nina in 1917 to head the New Mexico chapter of the Congressional Union (precursor to the National Woman's Party). Paul and other suffragists had realized that the support of Hispano's in New Mexico was crucial to winning suffrage; Nina was an ideal choice. She insisted that suffrage literature be published in both English and Spanish, in order to reach the widest audience.
Nina certainly had enough family money that she did not have to work. And yet, in 1918, while still working for suffrage and taking care of her family, Otero-Warren took the job as Superintendent of Public Schools in Santa Fe County -- a job she held until 1929, working to improve the conditions in rural Hispano and Native American communities. During this time, the federal government was pressuring for assimilation of non-whites, including Native American and Hispano people, into white America. This assimilation meant loss of traditional language, customs, and often family ties. As Superintendent of Public Schools, Nina worked to balance the demands of the federal government and her pride in her Spanish cultural heritage. For example, she argued that both Spanish and English be allowed in schools, despite the federal mandate of English-only. For a few years beginning in 1923, she was also appointed Santa Fe County's Inspector of Indian Schools. She was angered by what she observed in the schools, and criticized the federal government's Indian school system for the terrible conditions she observed.
 
In 1921, Otero-Warren ran for federal office, campaigning to be the Republican Party nominee for New Mexico to the US House of Representatives. She won the nomination, but lost the election by less than nine percent. She remained politically and socially active, and served as the Chairman of New Mexico's Board of Health; an executive board member of the American Red Cross; and director of an adult literacy program in New Mexico for the Works Projects Administration.
Throughout her life, Nina was known both for her proper, mannered expectations of others and her unconventional personal life. Nina never remarried or had children of her own, but served as "La Nina" or godmother to her siblings, nieces and nephews, and arguably to her community. In the early 1930s, she and her partner Mamie Meadors  -- whom she had met in the 1920s -- homesteaded, establishing a ranch called "Las Dos" (The Two Women) twelve miles outside of Santa Fe. They paid $67.40 for two homestead applications, and agreed to spend an average of five months a year living on their homestead, and to improve the land by building two houses, fencing the property (1,257 acres), cultivating the land, and maintaining the road for five years. Meeting these homesteading requirements, spelled out in the Homesteading Act of 1862, meant that they received title to the land. In 1947, Nina and Mamie established a real estate and insurance company, also called "Las Dos" in Santa Fe. When Mamie died in 1951, Nina continued running the business until her death. Whether their relationship was intimate is unknown, but they lived and worked together for over twenty years. Later in life, Nina was as a "regular annual apparition" at Santa Fe's Hysterical/Historical parade with openly-gay poet, Witter Bynner.
 
It was in the 1930s that Nina took to writing. In May 1931, she wrote "My People" for an issue of Survey Graphic with the theme of "Mexicans in Our Midst: Newest and Oldest Settlers of the Southwest." Other contributors to this issue included D.H. Lawrence, Ansel Adams, Diego Rivera, and Georgia O'Keeffe. Her book, Old Spain in Our Southwest was published in 1936.
Nina died on January 3, 1965 in the Santa Fe home she grew up in. She had been administering the property after the death of her brother two years' prior.

Notes:
[1] New Mexico did not become a state until 1910. The Alfred M. Bergere House, 135 Grant Ave, Santa Fe, New Mexico was listed on the National Register of Historic Places on October 1, 1975.
[2] Fort Wingate Historic District was added to the National Register of Historic Places on May 26, 1978.
[3] Settlement houses were established by middle-class women in low-income urban areas. Settlement workers would live in the houses, with the goal of sharing knowledge and culture with their working class and poor neighbors. Settlement houses provided services like education, daycare, and health care for the communities in which they were located. One of the best known settlement houses in America was Jane Addams' Hull House in Chicago.
Sources:
Historic Santa Fe Foundation. "A.M. Bergere House," Historic Santa Fe Foundation.
Las Dos, New Mexico. "The Homestead Legacy: Luna Bergere Otero Family."
Las Dos, New Mexico. "Las Dos: Two Women Homesteaders."
Massmann, Ann M. "Adelina 'Nina' Otero-Warren: A Spanish-American Cultural Broker." Journal of the Southwest, Vol. 42, no. 4 (2000): 877-896.
Morningstar, Amadea. "Nina Otero-Warren: A Graceful Non-Conformist." The Santa Fe New Mexican, August 20, 1995.
New Mexico Historic Women Marker Initiative. "Nina Otero-Warren."
Ybarra, Priscilla Solis. "Nina Otero," New Mexico History.

Visit our keyboard shortcuts docs for details
Duration:

5 minutes, 14 seconds
We often think of homesteaders in covered wagons traveling west to the Great Plains. Suffragist and homesteader, Nina Otero-Warren, whose family history dated back to Spanish colonial times, was already an important member of her Santa Fe community, before claiming land under the Stock Raising Act.
Last updated: October 12, 2022