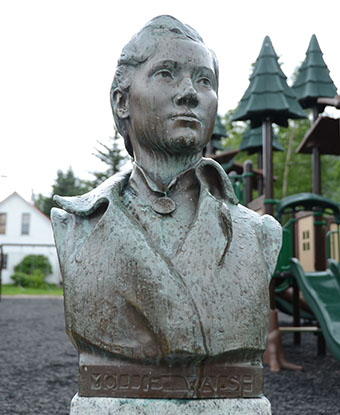 Significance:
Business owner during the Klondike Gold Rush
Place of Death:
Seattle, WA
Date of Death:
October 27, 1902
Unlike the established trade route of the Chilkoot Trail, used by Alaska Native Tlingit, the White Pass Trail was less steep. This trail became a wagon road on more solid ground and attracted pack animals and horse traffic. The lucrative freight and passenger White Pass trail supported businesses and services for stampeders on their way to Lake Bennett. One of the bright little businesses located about 30 miles from Skagway was owned by Mollie Walsh. Mollie Walsh arrived with friends in Skagway in 1897 and got a job in a restaurant. A year later, she bought supplies, hired a packer to transport them beyond the Canadian border where she opened up a primitive "grub tent" café for freighters. She served basic meals to freighters passing through and gained a reputation for her home cooked meals served up with cheerfulness.
When the railroad replaced the freighters and stampeders going over the White Pass Trail, Mollie moved to Dawson, opened a restaurant and married Mike Bartlett. Bartlett had been only one of her suitors; her other suitor was known as Packer Jack Newman. Mollie and her husband Bartlett enjoyed prosperity from his packing business and the couple re-located to Seattle. After several travels and various endeavors, the Bartlett's marriage ended a few years later when Mollie left him with another man, John Lynch. She took Bartlett's money and their 13 month-old son. Bartlett pursued the couple and in March 1902, forced reconciliation with Mollie in Seattle. The marriage again turned bad and Mollie had her husband arrested due to drunkenness and abusive threats against her life. A few days later, she withdrew her complaint which was a grave mistake. Bartlett chased her down an alley and shot her in the back. Mollie died. After a lengthy trial, Bartlett was acquitted of murder by reason of insanity.
Mollie's gold rush suitor, Packer Jack Newman, had remained in love with her. He commissioned a statue of her in Skagway which stands today with the following inscription:
Alone and with help, this courageous girl ran a grub tent near Log Cabin during the Gold Rush of 1897-1898. She fed and lodged the wildest gold-crazed men. Generations shall surely know this inspiring spirit. Murdered October 27, 1902.
Last updated: July 24, 2020