Person
MaVynee "Beach Lady" Betsch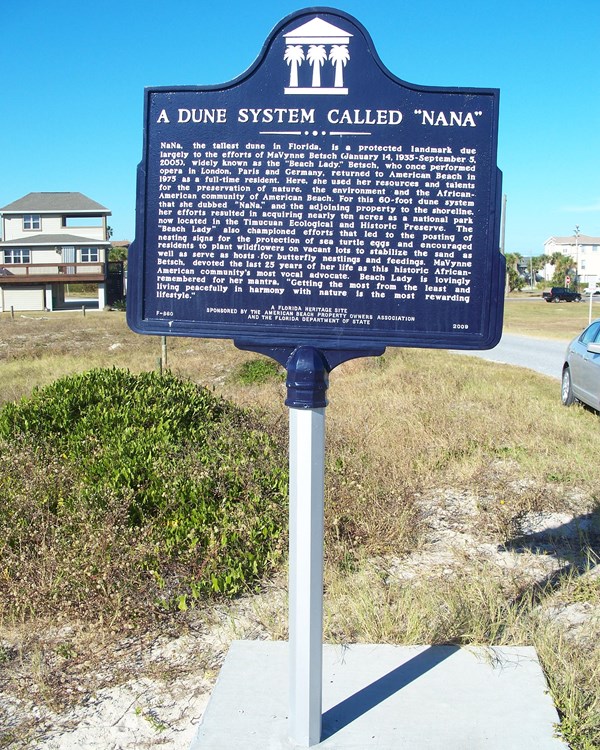 Significance:
environmentalist who fought to preserve a historic Black beach
Place of Birth:
Jacksonville, FL
Date of Birth:
January 13, 1935
Place of Death:
American Beach, FL
Date of Death:
September 5, 2005
MaVynee Oshun Betsch, better known as the "Beach Lady," was an environmental activist. She worked to preserve and protect a historically African-American beach on Florida's Atlantic coast.
Background and Creation of American Beach
Born Marvyne Elisabeth Betsch on January 13, 1935, Betsch was part of a prominent and wealthy Black family. Her great-grandfather, Abraham Lincoln Lewis, was Florida's first Black millionaire. Segregation shaped Lewis's life. He was determined to help his community thrive despite it. In 1901, he founded the Afro-American Life Insurance Company to serve Black customers locked out of many mainstream banks. Between 1935 and 1940, the company purchased more than 200 acres of beachfront property on Amelia Island, a barrier island near Jacksonville. Originally a retreat for company employees and investors, "American Beach" was soon made available to other Black beach-lovers looking to buy property.[1]
After World War II, American Beach became a thriving destination for Black vacationers. A building boom and a rush of new businesses attracted beachgoers from across the country. Like Sag Harbor on Long Island and Oak Bluffs on Martha's Vineyard, American Beach was a haven in the age of Jim Crow segregation. The town advertised itself as a place for "recreation and relaxation without humiliation." Visitors fished and swam, collected shells, and ate ice cream. They dined and danced at a range of establishments. Celebrities like Hank Aaron and Zora Neale Hurston and activists like Mary McLeod Bethune visited American Beach.
After three decades as a bustling destination, by the mid-1960s American Beach was in decline. Hurricane Dora damaged the town in 1964. The bigger factor, however, was the Civil Rights Act that passed the same year. The law prohibited discrimination in public facilities. With Florida's beaches desegregated, Black vacationers had other options for summer fun. With fewer visitors, businesses shuttered. Residents sold their homes.
The "Beach Lady" and Conservation
Activist MaVynee Betsch, however, was determined that her great-grandfather's legacy be preserved. Betsch grew up in Jacksonville. As a teenager she embarked on a career as an opera singer, studying at Oberlin Conservatory of Music and performing in Europe. She returned to Florida in the 1960s. She soon fell in love with the area's natural beauty, especially its birds and insects. Betsch decided to give up her singing career and connect herself to the environmental movement. She donated her substantial inheritance to support environmental causes worldwide.
Before long, Betsch focused her energy closer to home. She gave historical tours of American Beach and beautified the struggling town by planting trees. She sold her family's home to donate the money to environmental charities, and spent time living in friends' homes and in a trailer. She even slept on the beach itself for a time. Six feet tall, dressed in bright colors, draped in jewelry made from shells and beach stones, and always ready to share her passion for the landscape and its history, she soon earned and embraced the nickname "Beach Lady." She also changed her birth name of Marvyne to MaVynee (pronounced Ma-veen). The extra "e" was to honor the environment. She dropped the "r" in protest of what she viewed as the damaging environmental policies of the Reagan administration.
Betsch's advocacy for American Beach has had sweeping and enduring results. She campaigned against the development of "NaNa Dune," part of the tallest dune system of Florida's Atlantic Coast. It is now owned by the National Park Service.[2] Her efforts to preserve and share the town's history through walking tours and a small museum in her trailer also bore fruit. American Beach Historic District was added to the National Register of Historic Places in 2002. A permanent museum to the town's history opened in 2014. In 2020, a grant from the African American Civil Rights Grant Program was awarded to conduct a historic structure report on Evans' Rendezvous, one of the most popular nightclubs of the town's golden age.
Betsch died of cancer in 2005.
 
Notes
[1] American Beach Historic District was added to the National Register of Historic Places in 2002.
[2] NaNa Dune is owned by the National Park Service and is part of Timucuan Ecological and Historic Preserve.
Bibliography
Day, Adrienne. "The unsung hero who saved a Florida beach." Grist.org. Feb. 19, 2021. https://grist.org/fix/mavynee-betsch-unsung-hero-who-saved-a-florida-beach/
Kahrl, Andrew W. The Land Was Ours: How Black Beaches Became White Wealth in the Coastal South. Chapel Hill, NC: University of North Carolina Press, 2012.
Phelts, Marsha Dean. An American Beach for African Americans. Gainesville, FL: University Press of Florida, 1997.
Rymer, Russ. American Beach: A Saga of Race, Wealth, and Memory. New York: HarperCollins, 1998.
Rymer, Russ. "Beach Lady." Smithsonian Magazine, June 2003. https://www.smithsonianmag.com/history/beach-lady-84237022/
Taylor, Kieran. Interview with MaVynee Betsch, transcript of an oral history conducted Nov. 22, 2002 by Taylor Kieran, Southern Oral History Program Collection, Center for the Study of the American South, University of North Carolina at Chapel Hill, 2002. https://docsouth.unc.edu/sohp/html_use/R-0301.html.
Williams, Carolyn. "History of American Beach." NPS.gov, last updated April 15, 2015. https://www.nps.gov/timu/learn/historyculture/ambch_history.htm
Williams, Nikesha Elise. "The Spirits of American Beach." Bitter Southerner, May 19, 2020. https://bittersoutherner.com/2020/the-spirits-of-american-beach-florida
Last updated: July 26, 2021